You are here:
Clean Air Excellence Awards
Congratulations to all the winners of the 2015 Clean Air Excellence Awards!The Clean Air Excellence Awards Program, established at the recommendation of the Clean Air Act Advisory Committee, periodically recognizes and honors outstanding innovative efforts to help make progress in achieving cleaner air.
Award-winning entries must directly or indirectly reduce pollutant emissions, demonstrate innovation, offer sustainable outcomes, and provide a model for others to follow.
On This Page:
Award Categories and Recent Recipients
---
General Selection Criteria and Process
Criteria
Entries will be judged based on both general criteria and criteria specific to each individual category. The following general criteria will be used in assessing each entry:
The entry directly or indirectly (i.e., by encouraging actions) reduces emissions of criteria pollutants, hazardous air pollutants, and/or greenhouse gases.
The entry is innovative and unique.
The entry provides a model for others to follow (i.e., it is replicable).
The entry's positive outcomes are continuing/sustainable.
Although not required to win an award, the following general criteria will also be considered in the judging process:
The entry has positive effects on environmental media other than air.
The entry demonstrates effective collaboration and partnerships.
The individual or organization submitting the entry has effectively measured/evaluated the outcomes of the project, program, or technology.
Process
EPA staff will conduct an initial screening of all applications received, and will consult with outside experts to the extent necessary. A special CAAAC workgroup will provide advice to EPA on the award entries. The EPA Assistant Administrator for Air and Radiation will make the final award determinations.
Award recipients will be recognized by the U.S. EPA at a special awards ceremony held in Washington, DC.  Awards are honorary and do not include monetary recognition.
---
Apply for an Award
Entry Requirements
Use the provided Application guidelines and entry forms
Submit each entry under only one award category.
You may submit any number of different projects as separate entries.
You may combine multiple projects into one entry if all of the projects fall under the same category.
Supporting documentation may include:

images/video
documents (e.g., an evaluation of the outcomes of the initiative; product literature; development plans; press releases; copy of the state, local, or tribal policy)
any other information that may assist program judges in making award decisions.

If your entry does not win an award, you may reapply with the same or different project in future years.
If your entry does win an award, you may still apply with different projects in future years. 
Eligibility
The Clean Air Excellence Awards Program is open to both public and private entities. Entries are limited to efforts related to air quality in the United States.
Submitting Entry Materials
- OR - 
Mail entry form and supporting documents to: 
Clean Air Excellence Awards Program 
ATTN: Catrice Jefferson
US EPA, Office of Air and Radiation (6103A)
Mail Code 6103A, Room 5442
1200 Pennsylvania Ave., NW
Washington, DC 20460
---
Clean Air Technology Award
In addition to the general criteria, the following criteria will be used in assessing each entry:
The technology is commercially viable and can be widely applied.
The technology is cost-effective relative to other air pollution control technologies that already exist.
The technology is developed at the prototype stage or beyond.
2015 Recipient: Penske Truck Leasing Company, L.P.
The Clean Air Technology Award applies to technological developments (including products or processes) that reduce air pollution from stationary, mobile, or area sources.
Penske's Clean Air Technology Commitment: 
Penske Truck Leasing (Penske) has been assisting customers with alternative fuels for over two decades, and today has an alternative fuel vehicle (AFV) fleet of over 500 natural gas, hybrid, propane, and electric vehicles ranging from tractor-trailers, straight trucks, buses, and delivery vehicles. Additionally, Penske has been demonstrating and encouraging partnership in the EPA's SmartWay Transport Partnership for over seven years, participating as an affiliate, truck carrier and logistics partner. In May 2014, Penske made a significant deployment to their rental fleet of 85 compressed natural gas Freightliner Cascadia tractors with Cummins Westport 12-liter engines.
---
Community Action Award
The Community Action Award applies to community partnership efforts that directly or indirectly (i.e., by encouraging actions) reduce emissions of criteria pollutants, hazardous/toxic air pollutants, and/or greenhouse gases. In addition to the general criteria, the following criteria will be used in assessing each entry:
Diverse stakeholders participate in planning and decision-making efforts aimed at improving air quality.
Partnerships among business, industry, government and non-government organizations are established and help to leverage community resources where appropriate.
Projects identify and address the community's priority air quality concerns.
Project has significantly improved the community quality of life.
2015 Recipients:
Clean Air Partners Program
The CLEAN AIR Force of Central Texas developed the Clean Air Partners Program in 2001 after learning most pollutants that create harmful ground-level ozone come from on-road vehicles. The CLEAN AIR Force recruited six major employers to charter the program and develop strategies to reduce emissions. The program is open to all employers of any type in the 5-county Central Texas region.
Club Ride Commuter Services
Club Ride is a free program of the Regional Transportation Commission of Southern Nevada designed to improve air quality and encourage commute alternatives, such as riding transit, carpooling, vanpooling, walking, bicycling, working compressed work weeks and telecommuting. Club Ride partners with nearly 300 employers and more than 24,000 registered commuters in Clark County to meet these goals.
---
Education/Outreach Award
This category applies to efforts to educate and/or disseminate information to the intended targeted audience(s) about air quality and related issues. In addition to the general criteria, the following criteria will be used in assessing each entry:
The education/outreach program increases public awareness about the importance of clean air.
The program improves access to information on clean air issues.
The program successfully reaches the intended targeted audience(s).
Development of the program is completed or substantially underway.
2015 Recipient: Air Quality Partnership of the Delaware Valley
The Air Quality Partnership of the Delaware Valley (AQP) has been actively educating the public in the Greater Philadelphia region about ways to reduce emissions that lead to ozone pollution and fine particle pollution (PM2.5) since its formation in 1997. The AQP is a program of the Delaware Valley Regional Planning Commission and consists of a coalition of agencies, businesses and non-profits. The Partnership's network of members, employees and stakeholders encourage voluntary actions to reduce emissions by taking alternative forms of transportation, conserving energy in the home, educating the public about wastefulness of idling vehicles, and sharing ways to reduce emissions while refueling, among other efforts.
---
Regulatory/Policy Innovations Award
The Regulatory/Policy Innovations Award applies to regulatory or policy initiatives and programs implemented across all levels (state, local, tribal, non-profit, industry, etc.). In addition to the general criteria, the following criteria will be used in assessing each entry:
The regulation or policy encourages actions that go beyond compliance with applicable laws and regulations.
The regulation or policy provides flexibility to the regulated community.
The development process for the regulation or policy has included a stakeholder (e.g., public) involvement component.
The regulation or policy has been put into effect.
2015 Recipient: Oil and Gas Emission Reduction Initiative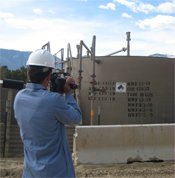 In 2014, the State of Colorado adopted new rules to further minimize air quality impacts associated with oil and gas development. The regulations resulted from Governor John Hickenlooper's continuing emphasis on collaborative solutions to ensure responsible oil and gas development. Colorado's rules expand upon existing state law and the EPA's New Source Performance Standards. The rules were developed after an extensive stakeholder process led by the Colorado Department of Public Health and Environment, working closely with diverse partners. A broad coalition of industry, environmental and local government stakeholders supported the rules, which were adopted by Colorado's Air Quality Control Commission.
---
Transportation Efficiency Innovations Award
The Transportation Efficiency Innovations Award applies to programs and projects that make transportation systems more efficient and reduce air pollution in the process. In addition to the general criteria, the following criteria will be used in assessing each entry:
The project or program increases the number of available transportation options, improves transportation efficiency (e.g., fewer vehicles miles traveled or better fuel consumption), and/or reduces travel time and costs, with the result of improving air quality.
Development of the project or program is completed or substantially underway.
2015 Recipient: Fleet Hybrid Electric and All Electric Vehicle Program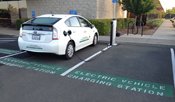 The County of Sonoma has been a leader in transportation-related emission reductions in California for more than 24 years. Starting in 1990, the County tested a prototype all-electric van in a fleet environment. In 2006, the County adopted a Climate Protection Action Plan that established a target of reducing greenhouse gas emissions from its on-road fleet by 20% before the end of 2010. The target was more aggressive than the State of California's AB 32 Global Warming Solutions Act of the same year with a compliance date 10 years sooner than the state. Fleet related GHG emissions have been reduced by over 1,815 tons even though overall vehicle miles traveled increased by 10 million miles during the last 11 of 13 years.
---
Thomas W. Zosel Outstanding Individual Achievement Award
The Thomas W. Zosel Outstanding Individual Achievement Award recognizes up to one individual for outstanding achievement, demonstrated leadership, and a lasting commitment to promoting clean air and helping to achieve better air quality.
In addition to meeting the general criteria, the candidate should be an innovative leader in his or her field and demonstrate a lifetime of achievement in promoting clean air. Candidates for this award must be nominated by a third party.
This was last awarded in 2014.
---
Gregg Cook Visionary Program Award
The Gregg Cooke Visionary Program Award recognizes the air quality project or program that most successfully blends aspects from two or more of the existing awards categories (i.e., Clean Air Technology, Community Action, Education/Outreach, Regulatory/Policy Innovations, and Transportation Efficiency Innovations). The program must also meet the general criteria.
2015 Recipient: Tribal Air Program and Healthy Homes Project
The Alaska Native Tribal Health Consortium (ANTHC) is a nonprofit tribal organization owned and operated by Alaska Native people. The Consortium is the largest, most comprehensive tribal health organization in the United States and it delivers a broad range of services, from specialty medical care and community health programs, to construction of clean-water and sanitation facilities. As part of ANTHC, the Environmental Health Consultation Team (EHC) provides cutting-edge air quality services to improve the lives of Alaska Native people and their communities. The EHC Statewide Tribal Air Program delivers technical consultation, air monitoring assistance, training, assessment, funding, and overall support to tribal communities throughout Alaska to address air quality concerns.