FY 2014 Financial and Program Performance Highlights

Read Administrator Gina McCarthy's and Acting Chief Financial Officer David Bloom's messages introducing the Highlights and summarizing EPA's key FY 2014 accomplishments.
---
EPA's FY 2014 Financial and Program Performance Highlights, provided through the tabs above, offers a snapshot of the Agency's FY 2014 performance in five environmental areas, four cross agency strategies, as well as highlights of how the Agency manages its internal operations.
Measuring progress and reporting the results are essential to EPA's public accountability and a critical component of the Agency's planning and budgeting cycle.
EPA uses performance measures to assess progress toward the goals outlined in its FY 2014–2018 Strategic Plan to inform decision-making and communicate results to stakeholders. In its FY 2014 Annual Plan and Budget, EPA committed to 197 annual performance measures. The graph to the right depicts the number of these measures met and not met, as well as those awaiting data as of January 15, 2015. EPA discusses its results in more detail, including reasons for missing or exceeding FY 2014 targets, in its FY 2014 Annual Performance Report.
In addition to annual performance measures, the Agency tracks performance on the FY 2014–2015 Agency's Priority Goals (APGs), a component of the Administration's performance management framework which supports improvement in near-term outcomes related to the strategic plan. More information on the Agency's APGs is available at performance.gov.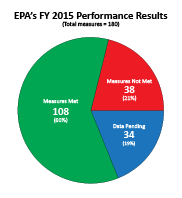 Brownfields re-development and cleanup activities resulted in more than 12,300 jobs leveraged, and grant recipients indicated that $1.29 billion dollars were leveraged through Brownfields cleanup and redevelopment activities in FY 2014.
In May, 2014, the inter-agency Chemical Facility Safety and Security Working Group released a status report to the President, highlighting progress and a plan to improve chemical facility safety under Executive Order 13650: Improving Chemical Facility Safety and Security.
EPA issued a final rule to help create a consistent national framework ensuring the safe and effective deployment of carbon capture and sequestration (CCS) technologies to help reduce carbon pollution and move us toward a cleaner, more stable environment.
Under EPA's Sustainable Materials Management (SMM) program, the Food Recovery Challenge participants diverted 375,000 tons of food from landfills, the Electronics Challenge participants increased electronic waste collection by 7.5 percent from FY 2013, and under the Federal Green Challenge federal agencies reduced their environmental footprint, resulting in $42 million in cost savings.
The Department of the Interior and EPA co-lead the Climate Change Subgroup under the White House Council on Native American Affairs to coordinate Administration efforts to assist tribes in climate resilience and mitigation efforts. The Subgroup identified proposed pilots to further federal interagency cooperation and support working with tribal partners. 

The agency is updating the original list of 83 chemicals as candidates for assessment under the Toxic Substances Control Act Work Plan and completed chemical assessments for four VOCs: trichloroethylene (TCE), dichloromethane (DCM), antimony trioxide (ATO), and 1,3,4,6,7,8-Hexahydro-4,6,6,7,8,8-hexamethylcyclopenta-γ-2-benzopyran (HHCB.)
EPA expanded the ChemView database to include more than 8,300 chemicals, including 298 Consent Orders, 73 test rule chemicals, and an additional 1,000 New Chemical Significant New Use Rules.
EPA's Design for the Environment (DfE) Program recognized 164 additional products that meet the criteria for the Safer Products Labeling Program, bringing the total number of products bearing the DfE logo to approximately 2,500 and added 49 chemicals to the Safer Chemicals Ingredients List. EPA proposed four new logo designs and is soliciting public comment to introduce a new logo in FY 2015.

EPA's FY 2014-2018 Strategic Plan sets forth the following four cross-agency strategies, which set clear expectations for changing the way EPA does business in achieving its results.  Select highlights under these strategies are outlined under this tab. A full list of FY 2014 accomplishments and challenges are included in EPA's FY 2014 Annual Performance Report.
Working Toward a Sustainable Future
Via the online ideation platform, GreenSpark, staff from across the Agency shared ideas on ways to conserve resources; reduce energy, water, and waste; and otherwise reduce the environmental footprint of EPA facilities, including actions to reduce their own environmental impact at work. From those ideas, winners were selected after being evaluated for cost, feasibility, and popularity. These include increasing paperless correspondence and composting.
EPA participated in the Green Infrastructure Collaborative, which brought external stakeholders and the federal family together to encourage and assist in the adoption of green infrastructure in communities as a means of supporting water quality, resiliency, and community development goals.  
Working to Make a Visible Difference in Communities
EPA improved and provided training for GeoPlatform, which provides a common platform for mapping EPA investments and activities, resulting in an increase in users of over 1,300 (a 50 percent increase in overall usage from 2013). It now hosts 48 programmatic geospatial tools, including mapping community-level grants and technical assistance projects. GeoPlatform supports rapid deployment of public map views, as well as advanced applications such as EPA's EJSCREEN, NEPAssist, and GeoGrants.
EPA provided significant input to HUD's Notice of Funding Availability for the Community Development Block Grant Disaster Recovery Funds and HUD/DOT/USDA are participating in EPA high-level strategy meetings to support implementation of Task 1.
Launching a New Era of State, Tribal, Local, and International Partnerships
Embracing EPA as a High-Performing Organization
In FY 2014, EPA successfully launched Skills Marketplace, GreenSpark, and SharePoint to increase employee engagement and collaboration; piloted new workplace designs in efforts to reduce our environmental footprint; applied Lean techniques to streamline our business processes; and implemented new strategic sourcing approaches to achieve efficiencies and economies in our acquisition programs.

Sound Financial Management
EPA carries out its mission to protect human health and the environment with the support of strong financial management. For the 15th consecutive year, EPA's Office of Inspector General (OIG) issued an unqualified or "clean" opinion on the Agency's financial statements. A clean opinion means that the Agency's numbers are reliable.
Some of EPA's most significant financial achievements in FY 2014 include:
Implemented a robust set of controls, improved the quality of data, and reported to the Office of Inspector General and the public on conference spending.
Evaluated the Agency's control over sensitive employee payment areas such as travel, payroll, parking and transit subsidies. 
Established a Natural Resource Damage Revolving Trust Fund to receive funds obtained from responsible parties for use by the EPA in addressing environmental damage and advancing assessment and restoration work as a result of the Deepwater Horizon oil spill.
EPA's Financial Statements
The chart to the right displays assets, liabilities, net position, and net cost of operations as of September 30, 2014. EPA's assets totaled $15.21 billion at the end of FY 2014, a 9.24 percent decrease from FY 2013. EPA's liabilities totaled $2.19 billion at the end of FY 2014, a 7.9 percent decrease from FY 2013. The net cost of operations shows EPA's gross cost to operate, minus exchange revenue earned from its activities.
The EPA Holds Itself Accountable
The Federal Managers' Financial Integrity Act and Office of Management and Budget Circular A-123 require agencies to report to the President and Congress on the effectiveness of internal controls over programmatic operations and financial activities, and the conformance of the Agency's financial systems to government-wide standards.  During FY 2014, the Agency reviewed 10 key financial processes and 237 key controls and found no new material weaknesses. Subsequent to the Agency's review, EPA's Office of the Inspector General identified one new material weakness during the FY 2014 Financial Statement Audit related to the recording of transactions and capitalization of software costs.  Based on the results of the FY 2014 evaluation and reviews, the Administrator provided reasonable assurance on the adequacy and effectiveness of the Agency's internal controls over programs, financial activities, and financial systems.
The Agency also responded to management challenges, which EPA's OIG identifies each year. The following are the Key Management Challenges (PDF) (17 pp, 4.4 MB) identified in FY 2014:
Oversight of states authorized to accomplish environmental goals 
Limited controls hampers the safe reuse of contaminated sites 
Regulatory and resource limitations constrain EPA's assessment and management of chemical risks 
EPA needs to improve it workload analysis to accomplish its mission efficiently and effectively
EPA needs to enhance information technology security to combat cyber threats
EPA needs improved management oversight to combat fraud and abuse in time and attendance, computer usage, and real property management.