You are here:
Background on the Libby Asbestos Site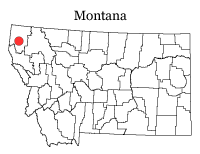 Set in the northwest corner of Montana, 35 miles east of Idaho and 65 miles south of Canada, is the small town of Libby. The town lies in a picturesque valley carved by the Kootenai River and framed by the Cabinet Mountains to the south. Libby has population of less than 3,000, and 12,000 people live within a ten-mile radius. Libby is the Lincoln County seat. The community's assets include clean water, beautiful scenery, and recreational opportunities such as fishing, hiking, hunting, boating and skiing.
---
In response to local concern and news articles about asbestos-contaminated vermiculite, the U.S. Environmental Protection Agency sent an Emergency Response Team to Libby, Montana in late November 1999. The team immediately began collecting information.
EPA's first priority was to assess the current risk to public health from asbestos-contaminated vermiculite in Libby. Next, the agency began taking necessary actions to reduce this risk.
In December 1999 EPA began collecting samples—nearly 700—from air, soil, dust and insulation at homes and businesses. Indoor air sample results were released in January—first to property owners and then to the media and general public. EPA also moved immediately to locate areas in and near Libby that were likely to have high levels of contamination such as two former vermiculite processing facilities.
EPA also looked at general asbestos exposures in the community and at health effects seen in people who had little or no association with the vermiculite mine in Libby. EPA worked closely with local, state and federal agencies to understand how people might come into contact with asbestos-contaminated vermiculite and what can be done to prevent future exposures—in Libby and elsewhere.
Libby Asbestos was added to EPA's National Priorities List in October 2002.
EPA established a program to inspect all properties in Libby. Approximately 3,500 properties were inspected in 2002 and 2003. Over 12,000 soil samples were collected and analyzed and the results are being sent to property owners.
As of 2014, the former vermiculite processing plants and other highly contaminated public areas have been cleaned up. Cleanups have also been completed at over 2,000 residential and commercial properties. Preliminary site assessment work has also begun at the vermiculite mine itself.
Based on current information, EPA estimates that 1,200–1,400 residential and business properties will need some type of cleanup. The total number depends upon the final cleanup standards to be set by EPA when the risk assessment is finalized.
EPA works closely with local, state and federal agencies, including:
City of Libby.
Lincoln County Commissioners and the Department of Environmental Health.
Montana Department of Environmental Quality (DEQ).
Montana Department of Public Health and Human Services (DPHHS).
Agency for Toxic Substances and Disease Registry (ATSDR).
Libby History
Gold miners discovered vermiculite in Libby in 1881; in the 1920s the Zonolite Company formed and began mining the vermiculite. In 1963, W.R. Grace bought the Zonolite mining operations. The mine closed in 1990.
While in operation, the Libby mine may have produced 80 percent of the world's supply of vermiculite. Vermiculite has been used in building insulation and as a soil conditioner. Unfortunately, the vermiculite from the Libby mine was contaminated with a toxic form of naturally-occurring amphibole asbestos.