You are here:
Drinking Water Program
If you are interested in learning more about the administration of public water systems in Wyoming, please visit the Wyoming Drinking Water Program webpage. Anyone interested in Tribal water systems can find more information on the Tribal Drinking Water Program webpage.
EPA Region 8 oversees public drinking water programs administered by Colorado, Montana, North Dakota, South Dakota, and Utah. We directly implement the Safe Drinking Water Act in Wyoming and on Tribal lands in Region 8. To learn more about how treatment and delivery of your drinking water is regulated, click on your state in the map below or in the Drinking Water Programs links box to the right.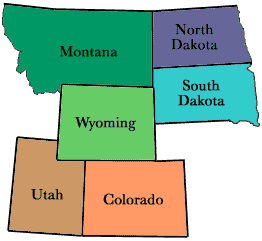 The Safe Drinking Water Information System (SDWIS) contains data about public drinking water systems. You may use the Envirofacts SDWIS Search to obtain data about the system that provides your water or any public water system.
You may also learn about the quality of water delivered to your community through annual reports that are mailed, printed in a local newspaper, or posted in a common area. A community public water system is one that serves at least 25 people or 15 residences year-round. This classification includes cities, towns, villages, subdivisions, water and sewer districts, and mobile home parks. Systems delivering water to over 100,000 consumers are also required to make their reports available on the Internet. If your system is large, you may able to Find your local Consumer Confidence Report.
Your water system may also provide you with Public Notification if instances of noncompliance with certain drinking water requirements occurs.