You are here:
National Environmental Policy Act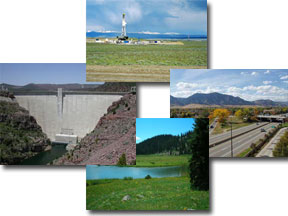 What is NEPA?
The National Environmental Policy Act (NEPA) of 1969 requires federal agencies to take into account the environmental impacts of federal decisions which could significantly affect the environment. In implementing NEPA, federal agencies have to assess the environmental impacts of decisions and inform the public of any impacts. The public has the right to comment on any proposed EIS before action is taken.
In enacting NEPA, congress also established the U.S. Council on Environmental Quality (CEQ), which oversees federal agency implementation of the environmental impact assessment process and acts as a referee when agencies disagree over the adequacy of such assessments. CEQ's NEPA home page contains links to relevant NEPA laws, regulations, and guidance including:
EPA's role in NEPA review
EPA has a unique role in the NEPA process. Section 309 of the Clean Air Act requires the Agency to review and publicly comment on all EISs to determine if there are unacceptable levels of environmental impacts from the proposed project or decision. EPA is also required to review the adequacy of information and public disclosure in the EIS. EPA also reviews other NEPA analyses such as Environmental Assessments.
EPA Region 8's NEPA program works with federal, state and tribal agencies to ensure that environmental analyses for major federal actions provide a solid basis for the collaborative management and mitigation of environmental impacts in our states and tribal nations. Region 8's NEPA program formally reviews and comments on approximately 100 proposed federal actions related to land management, energy development, water, transportation, and other issues each year. These projects include new highway alignments and expansions, oil and gas development activities, water development projects, federal land management actions, power generation projects, and more.
EPA Comment Letters: All Environmental Impact Statement comment letters issued by EPA are posted online in the Environmental Impact Statement (EIS) database. For additional information about Region 8 comment letters, please contact us directly.
EIS Rating System Criteria: EPA has developed a set of criteria for rating draft EISs. The rating system provides a basis upon which EPA makes recommendations to the lead agency for improving the draft EIS.
EPA Compliance with NEPA
Like all federal agencies, EPA is required to comply with the requirements of NEPA for adequate environmental review of proposed agency actions. In Region 8, EPA's most common action that requires NEPA review is the issuance of Special Appropriation Act Projects (SAAP) grants. Our national EPA Compliance with NEPA website provides more detail on activities which trigger NEPA for EPA.
NEPA Documents Prepared by EPA Region 8:  All of our NEPA documents, including Categorical Exclusions and Environmental Assessments/Findings of No Significant Impact, are posted online for public review and disclosure, beginning January 1, 2011.
Contacting the EPA Region 8 NEPA Compliance and Review Program
Submit an EIS in Region 8: Where to send EISs for projects in Colorado, Montana, North Dakota, South Dakota, Utah and Wyoming.
Contact Information: NEPA Compliance and Review Program staff.