You are here:
Sole Source Aquifer Program
As of March 2009, EPA has designated 77 Sole Source Aquifers nationwide. Five of these are in Region 8 (which includes Colorado, Montana, North Dakota, South Dakota, Utah and Wyoming).
Pending Petitions
There are currently NO sole source aquifers designated in Colorado, North Dakota or South Dakota and no pending petitions in any of the six states.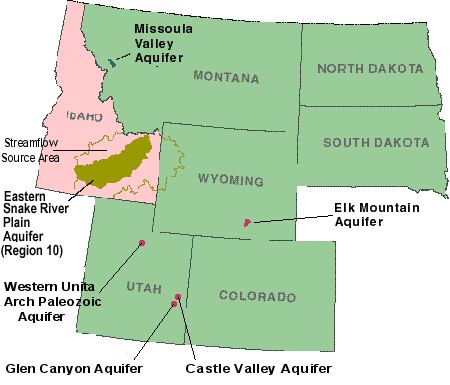 | | | | |
| --- | --- | --- | --- |
| State | Sole Source Aquifer Name | Federal Reg. Cit. | Publ. Date |
| MT | Missoula Valley Aquifer | 53 FR 20895 | 06/07/1988 |
| UT | Castle Valley Aquifer System | 66 FR 41027 | 08/06/2001 |
| UT | Western Uinta Arch Paleozoic Aquifer System at Oakley, UT | 65 FR 232 | 12/01/2000 |
| UT | Glen Canyon Aquifer System | 67 FR 736 | 01/07/2002 |
| WY* | Eastern Snake River Plain Aquifer Stream Flow Source Area | 56 FR 50638 | 10/07/1991 |
| WY | Elk Mountain Aquifer | 63 FR 38167 | 07/15/1998 |
*The Eastern Snake River Plain Aquifer is jointly managed with Region 10. While listed in both regions, it is counted only once in the national total of 77.
---
Overview of the SSA program
The Sole Source Aquifer (SSA) Protection Program is authorized by Section 1424(e) of the Safe Drinking Water Act of 1974 (Public Law 93-523, 42 U.S.C. 300 et. seq).
EPA defines a Sole Source Aquifer as one which supplies at least 50 percent of the drinking water consumed in the area overlying the aquifer. EPA guidelines also stipulate that these areas can have no alternative drinking water source(s) which could physically, legally, and economically supply all those who depend upon the aquifer for drinking water.
Petition for Designation
Although the agency has statutory authority to initiate SSA designations, EPA has a longstanding policy of only responding to petitions. Any person may apply for SSA designation. A "person" is any individual, corporation, company, association, partnership, state, municipality, or federal agency. A petitioner is responsible for providing EPA with hydrogeologic and drinking water usage data, and other technical and administrative information required for assessing designation criteria.
In 1987, EPA published the Sole Source Aquifer Designation Petitioner Guidance to assist those interested in preparing and submitting petitions to EPA regional offices. The document provides procedures and criteria for proposing aquifer boundaries, determining whether an aquifer is the sole or principal source of drinking water, and for evaluating alternative sources of drinking water.
In general, the designation decision process takes a minimum of six months from the time that the petitioner submits a complete petition to EPA. The process may take considerably longer, depending on the technical complexity of the petition, and on the number of petitions that may be undergoing review within the EPA regional office at a particular time.
Project Review Authority and Coordination
If an SSA designation is approved, proposed federal financially-assisted projects which have the potential to contaminate the aquifer are subject to EPA review. Proposed projects that are funded entirely by state, local, or private concerns are not subject to EPA review. Examples of federally funded projects which have been reviewed by EPA under the SSA protection program include:
highway improvements and new road construction
public water supply wells and transmission lines
wastewater treatment facilities
construction projects that involve disposal of storm water
agricultural projects that involve management of animal waste
projects funded through Community Development Block Grants
Most projects referred to EPA for review meet all federal, state, and local ground water protection standards and are approved without any additional conditions being imposed. Occasionally, site or project-specific concerns for ground water quality protection lead to specific recommendations or additional pollution prevention requirements as a condition of funding. In rare cases, federal funding has been denied when the applicant has been either unwilling or unable to modify the project.
Limitations of the Program
Sole source aquifer designation provides only limited federal protection of ground water resources which serve as drinking water supplies. It is not a comprehensive ground water protection program. Protection of ground water resources can best be achieved through an integrated and coordinated combination of federal, state, and local efforts.
Although designated aquifers have been determined to be the "sole or principal" source of drinking water for an area, this does not imply that they are more or less valuable or vulnerable to contamination than other aquifers which have not been designated by EPA. Many valuable and sensitive aquifers have not been designated simply because nobody has petitioned EPA for such status or because they did not qualify for designation due to drinking water consumption patterns over the entire aquifer area. Furthermore, ground water value and vulnerability can vary considerably both between and within designated aquifers. As a result, EPA does not endorse using SSA status as the sole or determining factor in making land use decisions that may impact ground water quality. Rather, site-specific hydrogeological assessments should be considered along with other factors such as project design, construction practices, and long-term management of the site.
---
Region 8 SSA Contacts
Colorado
Greg Oberley
303-312-7043
oberley.gregory@epa.gov
Montana
Carol Russell
303-312-6310
russell.carol@epa.gov
North Dakota
Eric Steinhaus
303-312-6837
steinhaus.eric@epa.gov
South Dakota
Greg Oberley
303-312-7043
oberley.gregory@epa.gov
Utah
Carol Russell
303-312-6310
russell.carol@epa.gov
Wyoming
Carol Russell
303-312-6310
russell.carol@epa.gov