UV Index
The UV Index, developed by the National Weather Service and EPA, indicates the strength of solar UV radiation on a scale from 1 (low) to 11+ (extremely high). You can use the UV Index to take appropriate sun-protective behaviors and avoid overexposure to UV radiation.
Look up UV Index | Forecast map | About UV Index | Related links
Look up your UV Index
Enter ZIP Code or city name and state to get the UV Index forecast for your community or for a place you are visiting.
Tip: If your ZIP Code is not found, try searching for your city and state. Some ZIP Codes may not be in our database.
Special Note on the UV Index Smartphone Apps
EPA developed smartphone apps to get the UV Index out to the public. By giving people an easy way to access the UV Index, it's more likely to be checked.
The UV Index is presently available from EPA as a free app for Blackberry and Android phones, as well as other web-enabled phones. EPA is finalizing a terms of service agreement with Apple for an iPhone app. Additionally, EPA has a strong desire to keep the UV Index smartphone apps up-to-date and is therefore, interested in cooperating with app developers to ensure that the public continues to have access to the UV Index on the latest smart phones. Note that EPA can only work with app developers who expressly agree not to submit claims for compensation for the development of said apps. The EPA does not endorse any commercial products, services or enterprises.
Please contact Robert Burchard at burchard.robert@epa.gov, or (202) 343-9126 if you are interested in joining a cooperative effort to keep this free, easy-to-use public health tool up-to-date.
UV Index forecast map
The forecast map shows contour lines of predicted UV Index values during the solar noon hour. The map is created daily from National Weather Service forecast data. Click the buttons for Day 2, Day 3, or Day 4 to see the UV Index forecast for following days. You may notice a brief delay as each map loads. (To find the time of solar noon at your location, use the sunrise-sunset-solar noon calculator at the NOAA Web site.)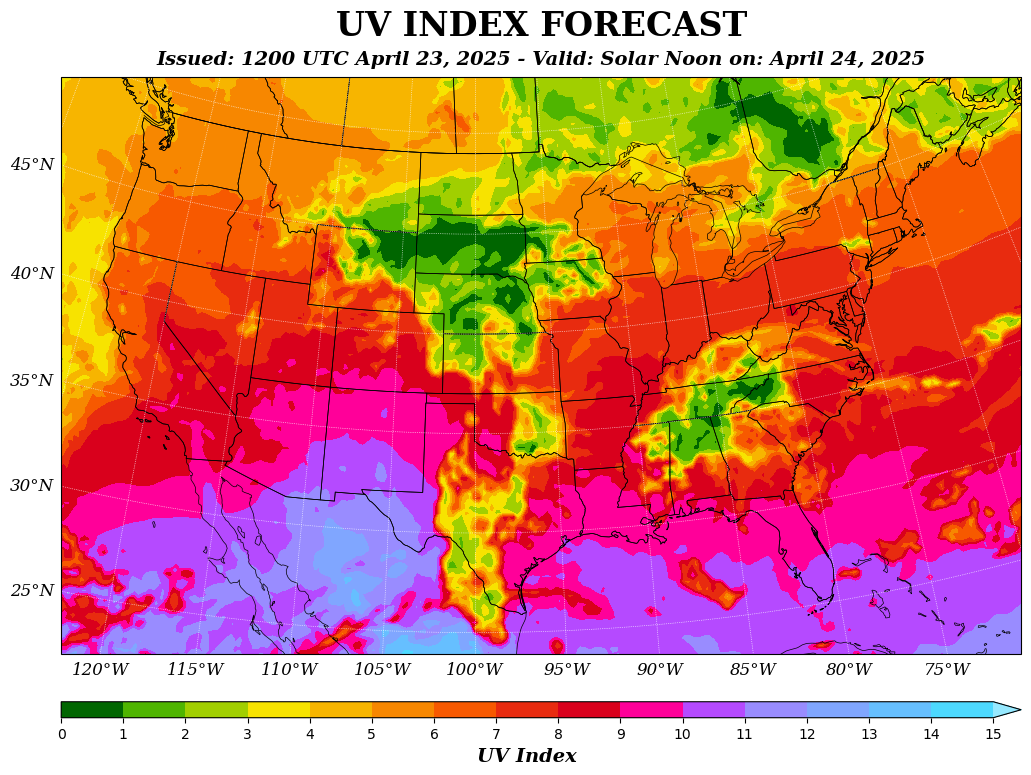 About the UV Index
The ozone layer shields the Earth from harmful ultraviolet (UV) radiation. Ozone depletion, as well as seasonal and weather variations, cause different amounts of UV radiation to reach the Earth at any given time. The UV Index, developed by the National Weather Service and EPA, indicates the strength of solar UV radiation on a scale from 1 (low) to 11+ (extremely high).
Every day the National Weather Service calculates the predicted UV Index for the next day in each area of the U.S. This UV Index forecast is published in mid-afternoon (Eastern time zone) at the EPA Web site. If the level of solar UV radiation is predicted to be unusually high, and consequently the risk of overexposure is greater than normal, the forecast includes a UV Alert. (You can sign up below to receive e-mail notification of UV Alerts for your community.)
Related information
To report UV measurements for your school, please see the SunWise data entry page.
Listen to Paul Gross, meteorologist at WDIV-TV in Detroit, discuss the importance of sun safety in this short audio recording.
You can also look up UV Index using the following resources.
The following UV Index archives and other information are available from National Weather Service: