UV Index
UV Index Resources
Stay up to date with our UV Index applications
Other UV Index Forecasts
You can also look up UV Index using the following resources.
UV Alert map - Areas in the U.S. where predicted UV intensity will be well above normal, and where you will need to be especially careful to avoid over-exposure. (National Weather Service)
Cities forecast bulletin - A plain text listing of forecast UV Index values for 58 U.S. cities. (National Weather Service)
UV Index Archives
National Weather Service provides the following UV Index archives:
Every day the National Weather Service calculates the predicted UV Index for the next day in each area of the U.S. This UV Index forecast is published in mid-afternoon (Eastern time zone) at the EPA website. The ozone layer shields the Earth from harmful ultraviolet (UV) radiation.
If the level of solar UV radiation is predicted to be unusually high, and consequently the risk of overexposure is greater than normal, the forecast includes UV Alerts.
Ozone depletion, as well as seasonal and weather variations, cause different amounts of UV radiation to reach the Earth at any given time. The UV Index, developed by the National Weather Service and EPA, indicates the strength of solar UV radiation on a scale from 1 (low) to 11+ (extremely high).
Tip : If your ZIP code is not found, try searching for your city and state. Some ZIP Codes may not be in our database.
UV Index Forecast
The forecast map shows contour lines of predicted UV Index values during the solar noon hour. The map is created daily from National Weather Service forecast data. Click the buttons for Day 2, Day 3, or Day 4 to see the UV Index forecast for following days. You may notice a brief delay as each map loads. (To find the time of solar noon at your location, use the sunrise-sunset-solar noon calculator at the NOAA website.)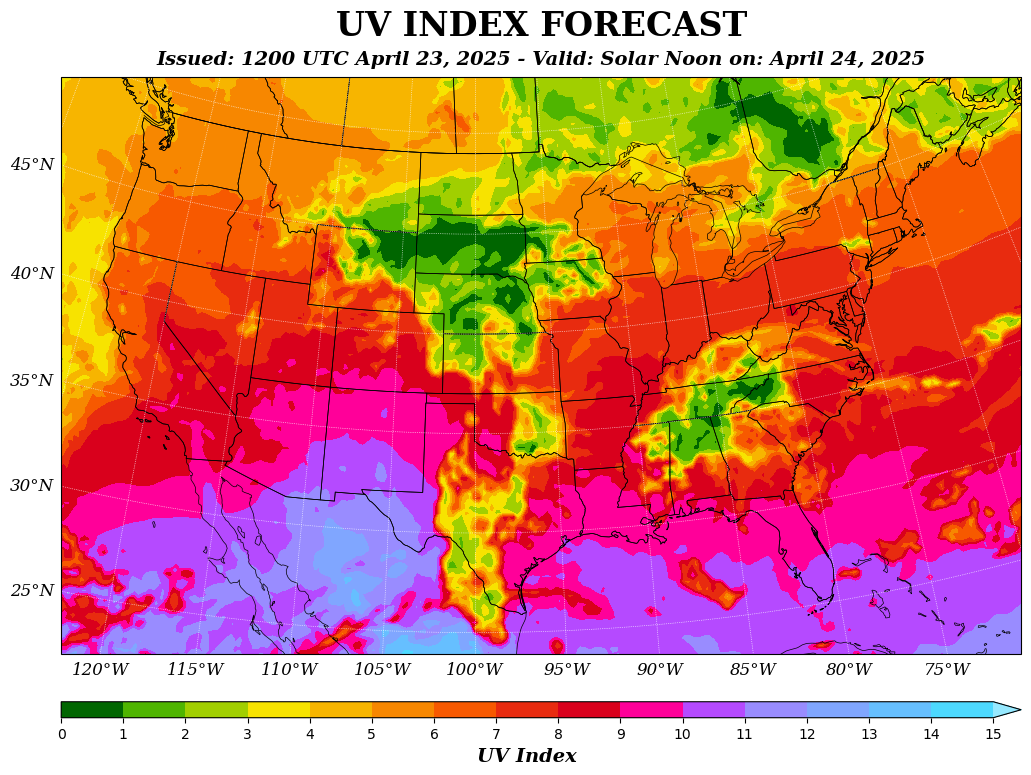 UV Index Forecast for US Cities
The map below shows predicted UV Index values during the solar noon hour for about 50 U.S. cities. It is created daily by the National Weather Service.