Driving Private Sector Leadership Beyond Compliance
America's private sector is unrivaled in its ability to innovate. As EPA battles the climate crisis, the private sector can—and must—play a significant role. But regulations alone won't lead to the breadth and scale of innovation, investment, and leadership required. As of 2021 EPA's Climate Partnership Programs have spent 30 years moving the private sector beyond compliance, creating allies who work alongside EPA to push the envelope, lower costs, generate economic growth, and ease the path to compliance for others. 
Each program provides a standardized framework, actionable information, and recognition for market leaders. Together, these elements can break down market barriers and unleash the full power of the private sector.
Create a Standardized Framework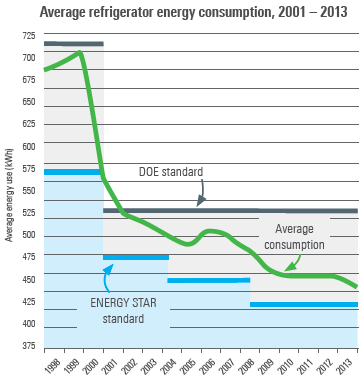 Each program starts by developing a framework that has widespread industry consensus. The framework must be transparent, rigorous, and agreeable to all stakeholders—effectively mimicking a competitive marketplace. 
ENERGY STAR Inspires Manufacturers to Accelerate Advances in Product Efficiency
Through ENERGY STAR, EPA partners with product manufacturers to continually advance product efficiency. As improved efficiency becomes the norm, the Federal government responds with minimum efficiency standards, locking in the floor for a market transformed toward greater and greater efficiency.  
The graph at right shows the effect of ENERGY STAR product specifications on the average energy consumption of residential refrigerators over a 15-year period. Once average consumption began to decrease significantly, DOE responded by updating Federal minimum efficiency standards.
Provide Actionable Information
Once the marketplace is defined, EPA supplies the information that its private sector partners need to compete. Programs continually assess market needs and provide helpful tools, resources, and guidance.
Rating Buildings from 1 - 100
In 1999, EPA transformed how we look at the energy use of commercial buildings. Prior to that, there was no way to assess or compare the energy performance of one building to another. A building that cut its energy use by 50% could still be more of an energy hog than a similar one that only cut it by 3%. The 1–100 ENERGY STAR score solved that problem, accounting for differences in building attributes, operating characteristics, and weather variables to deliver a single, easy-to-understand percentile ranking. A score of 50 is average; 75 means you outperform 75 percent of similar buildings nationwide. The simplicity, transparency, and accesibility of this metric facilitates the energy programs of entire cities, states, energy services companies, and utilities. 
Motivate Market Leaders with Recognition
Companies who lead the way for their industries earn coveted EPA recognition. Thanks to each programs' rigorous framework and methodologies, EPA can effectively measure and validate performance in a way that can be trusted in the market. EPA can also define leadership, rewarding companies that excel and demonstrate successful approaches with coveted recognition. 
Green Power Partners Vie for the Spotlight
Every quarter, EPA's Green Power Partnership program ranks its partners according to their green power use (above and beyond what's required by renewable portfolio standards). Earning a spot on this list confers brand-enhancing bona fides to organizations as diverse as Google and the Northeast Ohio Regional Sewer District. While renewable portfolio standards were responsible for 189 billion kWh of new, non-hydro renewable electricity demand in 2019, EPA's highly competitive Green Power partners generated an additional 61 billion kWh.
Download The Power of Partnership for more examples.
Learn More
Download The Power of Partnership for infographics, stories, and more examples of how EPA's Climate Partnership Programs drive private sector action.