About EPA's Associate Deputy Administrator
Doug Benevento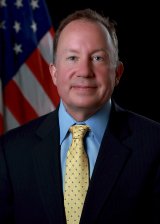 Doug Benevento is EPA's Associate Deputy Administrator. Doug was formerly the Regional Administrator in Region 8, where his responsibilities included overseeing the states of Colorado, Montana, North Dakota, South Dakota, Utah, and Wyoming, and 27 tribal nations; and the Senior Counselor for Regional Management and State Affairs. Among his current duties, he continues to manage the Regions and serve in an ombudsman role between the Regions and national programs on the implementation of Agency priorities.
Doug brings a wealth of experience to his new position, both from his work at EPA and having worked in the public and private sectors. Most recently, Mr. Benevento worked for Xcel Energy, a gas and electric utility. He also practiced environmental law at the international law firm of Greenberg Traurig. 
Mr. Benevento worked for Colorado Governor Bill Owens at the Colorado Department of Public Health and Environment (CDPHE); from 1999 to 2002 he served as the Director of Environmental Programs and from 2002 to 2005 as CDPHE Executive Director. During this time, Colorado attained compliance with all federal health based air quality standards.
Mr. Benevento worked in Washington, D.C. from 1991 to 1999, for Congressman, and then Senator, Wayne Allard. During this time, he worked to secure funds and establish the clean-up requirements for the Rocky Flats Plant Superfund site with the U.S. Department of Energy. He also worked on the House Agriculture Committee chaired by Congressman Pat Roberts and was instrumental in the development of the 1996 Farm Bill.
Mr. Benevento has a bachelor's degree from the University of Colorado, a master's degree in government administration from Johns Hopkins University, and a law degree from the University of Denver.