Air Sensor Loan Programs for Communities
EPA has established several air sensor loan programs through various collaborations with community groups, schools, libraries and others to enable the public to learn about air quality in their communities. These programs are provided to bring new air sensor technology advances to the public for educational purposes. The advancement of portable and lower-cost air sensor technology is making it possible for citizen scientists to measure air quality in their neighborhoods and communities where they live, work and play. 
 EPA's Region 5 Office  Air Sensor Loan Program for the Midwest and Upper Midwest States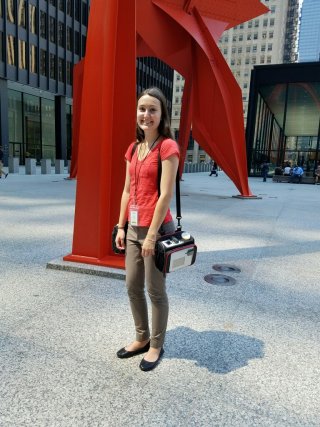 Person carrying AirMapperEPA's Regional 5 Office, headquartered in Chicago, Illinois, has portable Particulate Matter (PM) sensors available for loan to community groups, schools, and other organizations in Illinois, Indiana, Michigan, Minnesota, Ohio, and Wisconsin.  The loan program empowers students, educators, community groups, and others to gain knowledge to drive positive change and improve public health by collecting indoor and outdoor air quality data.
What is Particulate Matter? PM is a complex mixture of extremely small particles suspended in air.  Some particles form in the atmosphere as a result of complex reactions from chemicals such as sulfur dioxide and nitrogen oxides, which are pollutants emitted from powerplants, industries, and automobiles.  Other particles found indoors may be created when cooking, smoking, or burning candles.  While particles such as dust, dirt, soot, or smoke are large or dark enough to be seen with the naked eye, others are so small they can only be detected using an electron microscope.  Once inhaled, particles can affect the heart and lungs and cause serious health effects.  
Sensors available for loan include:
Portable PM sensors for 

i

ndoor/outdoor use that maps and graphs data.  Also measures relative humidity, noise, and temperature.  Battery or AC power operated.
Stationary PM sensors for indoor/outdoor use that measure relative humidity.  Battery operated.
Training and Additional Information: Virtual or in-person training in sensor operation and care, data collection, and safety is required.  EPA staff will be available to provide assistance and ideas to help you get started.  Cost of shipping to participants is covered.  Participants are responsible for the cost of return shipping or delivery to EPA's regional office in Chicago after the loan is complete.  
Sensors in this program are not intended for regulatory use.  They are intended to be used for environmental education purposes.
Los Angeles Public Library Air Sensor Loan Program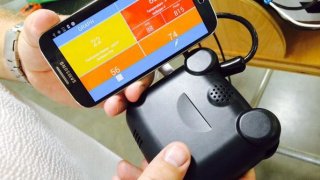 Lower-cost PM sensorAlthough air quality around Los Angeles (LA) has improved notably over the past four decades, the region still faces ongoing air quality challenges. Mobile sources of emissions are a significant concern, particularly for the 1.2 million people living within 500 feet of a freeway in Southern California.
Citizen groups want increased access to neighborhood-scale air quality information that will help them make informed choices and improve health outcomes.
The Los Angeles Public Library system is one of the largest in the country with its 72 branches serving four million residents. EPA and the LA Public Library are collaborating on a pilot program that allows residents to check out air sensor equipment just as they would check out a book. 
Through this project, select branches of the LA Public Library will receive air sensors, instruction on their use, and training on implementing a related environmental education curriculum. Library staff will use and/or adapt materials to train and educate library patrons. Air sensors will then be loaned out to patrons with the goal of increasing LA communities' understanding of local air quality while testing a model and developing best practices for other communities. 
This project is an EPA Regional-State Innovations Project.
Contact: Innovation@epa.gov 
EPA partners with Vermont to monitor smoke from wood stoves
During the winter in Vermont many residents use wood burning stoves to heat their homes. When smoke gets trapped in the state's valleys from an atmospheric inversion, levels of fine particle pollution (PM 2.5) increase. The pollutant is emitted from the burning of fossil fuels, including wood, and is harmful to health at levels above the national air quality standard, especially for those most vulnerable including the elderly, children, people with lung and heart disease and pregnant women. 
EPA is partnering with the Vermont Department of Environmental Conservation in 2019-2020 to loan and deploy portable air sensor monitors in valleys across the state that will measure PM2.5. By supplementing the measurements of established and regulatory-grade PM2.5 monitors in the state with additional air sensor monitors, the state can enhance its air monitoring capabilities in the valleys. s.   
The air sensor monitors will provide local and state officials with needed information on air quality conditions that can be used to develop smoke-reduction strategies such as designating no burn days, switching to cleaner fuels, utilizing better burning practices, or encouraging the use of EPA-certified woodstoves that burn cleaner.
Contact: Bob Judge, judge.robert@epa.gov