Air Sensor Toolbox: Resources and Funding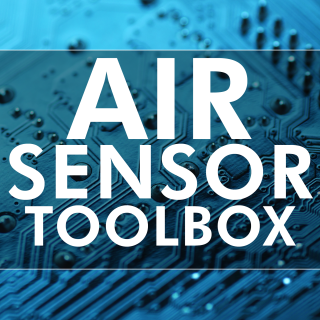 EPA has provided guidance and other information to make decisions about using air sensors and  conducting a citizen science project to measure air quality
On this page:
---
Air Sensor Guidebook
The Air Sensor Guidebook is a comprehensive resource for anyone interested in monitoring local air quality. Topics covered include background on air pollutants and uses for air sensors, what to look for in a sensor, how to collect useful data using sensors, sensor performance guidance, and maintaining your sensing device.
---
Peer Review and Supporting Literature Review of Air Sensor Technology Performance Targets
To help improve data quality for sensors applied in a nonregulatory fashion, which is growing in prevalence, the United States Environmental Protection Agency (EPA) is considering development of a new voluntary sensor certification program for air sensors. The objective of the report provided here was to evaluate peer-reviewed literature and other sources to identify performance attributes and metrics needed to obtain air monitoring data that are fit for a specific purpose or application. This literature review focused on reports associated with ambient and near-source air monitoring for particulate matter (PM2.5 and PM10), carbon monoxide (CO), nitrogen dioxide (NO2), sulfur dioxide (SO2), and ozone (O3).
---
Instruction Guide and Macro Analysis Tool for Community-led Air Monitoring
EPA has developed a guide and analysis tool for citizen scientists to evaluate the performance of low-cost air sensors and interpret the data they collect to help learn about local air quality. While EPA developed both of these resources to be suitable for citizen scientists and communities, they are also useful to the broader air sensor user community, both experts and non-experts.
Learn more and download the guide and analysis tool
---
Advice and Frequently Asked Questions (FAQs) for Citizen-Science Environmental Health Assessments
This paper presents two citizen science Environmental Health Assessments and reflects on a decade of collaborations. This work culminated in three lessons learned and a set of Frequently Asked Questions (FAQs), focused on public communication for citizen science projects. This work is not intended as a framework or conceptual approach, a step-by-step method, or a roadmap. It provides advice to translate research into action, and help manage expectations, facilitate understanding, and target resources.
---
Village Green Manual and Training Video
A manual and training video provide information on how to construct, operate and maintain a Village Green station. The Village Green Project is a community-based activity to demonstrate the capabilities of new real-time monitoring technology for residents and citizen scientists to learn about local air quality.
Related Resources:
---
Presentation from "Emerging Sensor Technologies 2014-2018 Progress Report" Webinar
On April 30, 2018, EPA researchers held two webinar sessions to present general findings across a range of air sensor research activities from 2014-2018. The webinar covered topics including sensor evaluations, data analytics, ammonia detection, citizen science, and detection of select emission sources. 
---
Technical Evaluation Reports
These reports provide summaries of performance evaluations of several low-cost air sensors currently available on the market. The sensors were tested at EPA and compared to the gold standard regulatory monitors to determine how well they perform.
---
Reports for the Citizen Science Air Monitoring Project in Newark, N.J.
These reports highlight a pilot project that involved EPA scientists collaborating with a community action group in Newark, NJ, to conduct a citizen science air monitoring project.
---
Standard Operating Procedures for Air Sensors
EPA scientists created operating guides for several low-cost air sensors listed below that are currently on the market. These guides are meant to assist users with operating, troubleshooting and calibrating the sensors.
---
Recent Technical Findings
---
Training Videos from Community Air Monitoring Workshop, July 9, 2015
Other Resources:
---
Funding Opportunities
---
Related Resources
Articles
Fact Sheets
Blogs​
Slideshows
Podcasts
Videos
These resources provide field-conducted sensor performance evaluations on multiple low-cost sensors currently available on the market. Detailed reports as well as condensed versions are available for viewing.
The following links exit the site Exit
The European Commission's Joint Research Centre Publications Repository includes resources on field and laboratory-conducted sensor performance evaluations on multiple low-cost sensors currently available on the market, as well as a protocol on how to evaluate and calibrate low-cost sensors for monitoring air pollution.