America Recycles Pledge
We invite U.S.-based organizations to sign the America Recycles Pledge. Join others that have signed the pledge to work toward a more resilient materials economy. By submitting the pledge form below, you are signifying your interest to participate in ongoing dialogues and to take action with other pledge signers to improve America's recycling system.
On this page:
---
Pledge Signatories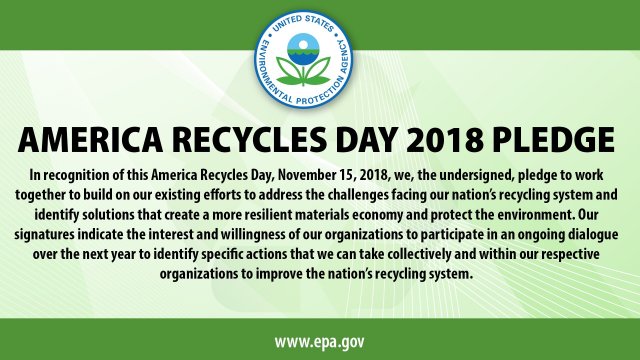 Below is the current list of signatories, totaling 215.
During the America Recycles Day Summit on November 15, 2018, 45 organizations, including EPA, signed the pledge, as seen in the graphic to the right.
Thank you to all our pledge signers!
8-hz
Allegany County, Maryland
The Aluminum Association
Amazon
American Beverage Association
American Chemistry Council
American Forest & Paper Association
American Iron and Steel Institute
AMERIPEN
AMP Robotics
Ames Laboratory
Argonne National Laboratory
Arkansas Department of Energy and Environment, Division of Environmental Quality
Associated Builders and Contractors
Associated Recyclers of Wisconsin
Association of Plastic Recyclers
Association of State and Territorial Solid Waste Management Officials
Artist at Heart, LLC
Austin Rubber Company
Axion Structural Innovations LLC
Ball Corporation
Battery Council International
Benton County, AR Solid Waste District
Berry Global
Cabka
Can Manufacturers Institute
Carilion Clinic
Carton Council of North America, Inc.
Cascadia Consulting Group
Chemehuevi Indian Tribe
Circular Matters LLC
City of Boston, Massachusetts
City of Lebanon, New Hampshire
City of Milwaukee, Wisconsin
City of New York Department of Sanitation
City of Phoenix, AZ
City of San José Environmental Services Department
Civil Agents
Clackamas County, Oregon
Closed Loop Partners
Coalición de Reciclaje de Puerto Rico
The Coca-Cola Company
Colgate-Palmolive Company
Colorado Department of Public Health and Environment
Comanche Nation Environmental Program
Compology
Construction & Demolition Recycling Association
Construction and Demolition Recycling, Inc.
Continuus Materials
County of Greenville, SC
Cozzi Recycling, LLC
C-Square International Trading
CTC Foundation
Curb My Clutter
Danone North America
Dart Container Corporation
Deer Valley Resort
Delaware River and Bay Authority
Delta Institute
Display Pack
District of Columbia Department of Public Works
Diverse Recycling Solutions, LLC
Don't Waste Durham
Donegan Elementary School (Bethlehem, PA)
The Dow Chemical Company
Dutton Polymer Group
EcoRich
EFS-plastics Inc.
End of Waste Foundation, Inc.
Environmental Council of the States
Environmental Packaging International - Lorax
Environmental Research and Education Foundation
ePower Systems & Battery Inc.
ExxonMobil
Fabri-Kal Corp.
First Solar
Food Rescue
Foodservice Packaging Institute
Ford Motor Company
Fort Peck Tribes Office of  Environmental Protection
Fortune WEEE Solutions Inc.
General Mills
General Motors
Glass Packaging Institute
Glass WRX SC
Global Co Lab Network
GO Box Reuse Systems
Green Minds Group
GreenBlue Institute
Hallotex
Healthy Communities of Brownsville, TX
Highland Park Student Recycling Committee
Igloo Products Corp.
Illinois Environmental Protection Agency
Innovative Injection Technologies (i2-tech)
Institute of Scrap Recycling Industries
Interior Removal Specialist, Inc.
JEE Foods
JRMA
Kansas City Church of the Ascension
Kathleen Stroud Global
Keep America Beautiful
Keep California Beautiful
Keep Thomas County Beautiful
Keurig Dr Pepper
Kheops International, Inc.
Lane County, Oregon
Li-Cycle
Lid Vizion, LLC
LifeFund NPO
Machinex Technologies Inc
MariMatic Oy
Mars, Inc.
Maryland Environmental Services
Massachusetts Department of Environmental Protection
Mattress Recycling Council
McDonalds
Mercury Polymers, LLC
The Metropolitan Environmental Trust
Minnesota Pollution Control Agency
Miss Mother Nature, Inc.
mobius pbc
Monroe County, New York, Department of Environmental Services
Monterey Regional Waste Management District, California
Montgomery County Environmental Services, Ohio
More Recycling
MSW Consultants
National Association of Counties
National Association of Convenience Stores
National Association of Manufacturers
National Association of Regional Councils
National Center for Electronics Recycling
National League of Cities
National Recycling Coalition
National Waste & Recycling Association
Nestle
Net Your Problem
Nevada Division of Environmental Protection
New York Department of Environmental Conservation
North Carolina Department of Environmental Quality
Northeast Recycling Council, Inc.
Ohio Recycling Coalition Primary
Oregon Department of Environmental Quality
Oxner Legha Law Firm
PakTech
Paper Recycling Coalition
PepsiCo
Plastics Industry Association
PourAway
Precious Plastic Southwest
The Procter & Gamble Company
Professional Recyclers of Pennsylvania
Puerto Rico Solid Waste Management Authority
Recollect Systems Inc.
Recology
Recycle Across America
Recycle Coach
RecycleGO
Recycling Equipment, Inc.
The Recycling Partnership
Recycling Rules
Recyclist
Refresh Glass, LLC
re:nü Waste Management
Repolytex, LLC
Republic Services
Revolution Plastics
Revolution Systems
Rubicon Global
Samsung Electronics America
SBK Recycle
SBM Management Services            
SCRAPP
Sequoia Custom Cabinetry
Shark Solutions
Sherando DECA Chapter
Sipayik Environmental Department (Perry, Maine)
Smithsonian Conservation Commons
Solid Waste Association of North America
Sonoran Studio Foundation
Sony Electronics Inc
Southeast Recycling Development Council
South Carolina Department of Commerce
South Carolina Department of Health and Environmental Control
South Carolina Department of Labor, Licensing and Regulation
Specialty Graphics Imaging Association
Steel Manufacturers Association
Sunshine Recycling
Target Corporation
TCL North America
Technologies International Corporation (TIC)
Tejas
Think Zero LLC
Titus MRF Services
TOMRA
Tri-State Area Scholarship Organization
Unilever
Upcyclers Network
U.S. Chamber of Commerce
U.S. Chamber of Commerce Foundation
U.S. Conference of Mayors
U.S. Environmental Protection Agency
Van Dyk Recycling Solutions
Verdex Technologies Inc.
Verizon
Vermont Department of Environmental Conservation
The Vinyl Institute
Walmart Inc.
Washburn University
WasteCap Resource Solutions
Waste Management Recycle America
Wilborne Consulting
Winters Bros.
Zero Waste Society
Zhang and Company
*Please note that the list of pledge signers was last updated on June 16, 2020.
---
The Pledge
My organization pledges to work together with EPA and the other America Recycles Pledge signatories to build on our existing efforts to address the challenges facing our nation's recycling system and to identify solutions that create a more resilient materials economy and protect the environment. My submission of this form indicates the interest and willingness of my organization to participate in an ongoing dialogue to identify specific actions that we can take collectively with EPA and the other signatories, and within our respective organization, to improve the nation's recycling system.
Sign the Pledge
Please complete the below form in its entirety, including selecting your organization type and choosing one or more action areas in which your organization is most interested in being involved.
Please read the above pledge language carefully before you submit the form. Submission of the below form indicates your pledge signature.