News Releases from
Region 02
EPA Provides $4 Million to Puerto Rico and the U.S. Virgin Islands to Help Recovery Efforts by Assessing Underground Storage Tank Leaks
(New York, N.Y.) The U.S. Environmental Protection Agency (EPA) has allocated nearly four million dollars to investigate and fix underground petroleum storage tanks in Puerto Rico and the U.S. Virgin Islands that were either damaged by, or had problems made worse by, Hurricanes Irma and Maria. While immediate environmental risks from the hurricanes were addressed, this ongoing program assesses current conditions and makes federal dollars and resources available to protect public health and the environment. 
"EPA is actively partnering with our territorial, public and private partners to protect human health and the environment from leaking underground storage tanks," said EPA Regional Administrator Pete Lopez. "Underground storage tanks are important business infrastructure and are essential for fueling vehicles and other necessary items, such as backup electrical generators, but when these tanks are not properly maintained or repaired, people and the environment can be at risk from leaks of hazardous substances that can make their way into our air, water, and land."
"This funding will allow the Environmental Quality Board to investigate, test and correct, in a period of five years, the underground storage tank systems identified by the agency's technical personnel. We are already working directly with EPA in the documentation of these systems in order to commence work as soon as possible. This work is possible thanks to the collaboration we have with federal agencies and their representatives in Puerto Rico," said Tania Vázquez Rivera, Secretary of the Puerto Rico Department of Natural and Environmental Resources.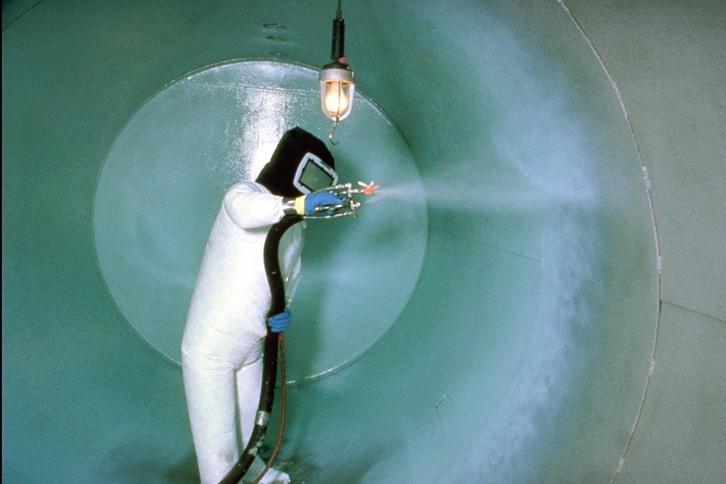 Example of a technician applying non-corrosive lining on the inside of an underground storage tank (Photo credit: courtesy of EPA)
EPA recently awarded $3.5 million in funds to the Puerto Rico Department of Natural and Environmental Resources and $450,000 to the U.S. Virgin Islands Department of Planning and Natural Resources to do the underground tank assessment and cleanup work. These partner agencies will administer the funds.
Underground assessment work will include testing of underground storage tank system components such as tanks and piping, sampling and analysis of soil and groundwater samples.  Cleanup work can include monitoring, treatment or removal of contaminated soils and groundwater. 
In Puerto Rico there are about 4,500 federally regulated underground storage tanks located at over 3,000 facilities and in the U.S. Virgin Islands there are about 140 active federally regulated underground storage tanks at its approximately 65 facilities. Work will take place over the next several years.
For more information on underground storage tanks, visit https://www.epa.gov/ust
Follow EPA Region 2 on Twitter at http://twitter.com/eparegion2 and Facebook at http://facebook.com/eparegion2.
18-095