News Releases from
Region 07
Two Kansas Projects Are Invited to Apply for WIFIA Loans to Finance $275 Million in Water Infrastructure Upgrades
Environmental News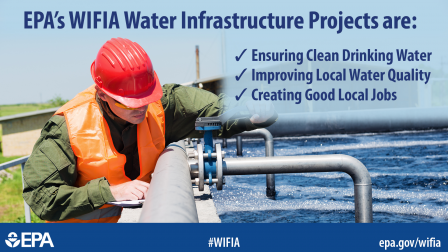 (Lenexa, Kan., Nov. 1, 2018) - The U.S. Environmental Protection Agency (EPA) is inviting two Kansas projects to apply for $275 million in Water Infrastructure Finance and Innovation Act (WIFIA) loans. The city of Wichita's Northwest Water Treatment Facility (NWWTF) is invited to apply for a $270 million loan, and an invitation was sent to Frontenac, Kansas, city officials for a $5 million loan for their Water Supply, Treatment, Distribution and Storage Improvements and Additions project.
The Northwest Water Treatment Facility is a greenfield water treatment plant that will serve the city of Wichita, surrounding communities, industries, and wholesale customers. The new plant will provide 120 million gallons per day (MGD) of firm capacity and will replace the existing, aging Main Water Treatment Plant. The purpose of the project is to replace aging infrastructure to provide reliable delivery of drinking water from a diversified water supply portfolio.
The small city of Frontenac has a population of fewer than 3,500 people and is representative of the Agency's interest in helping small drinking water systems with WIFIA funding. The city's drinking water system project includes a new well; water treatment facility upgrades; water distribution system improvements; improvements on a 75,000-gallon elevated water storage tank; and a new 250,000-gallon elevated water storage tank. All proposed improvements are designed to greatly increase the useful life of the system. The purpose of this project is to reduce water hardness and reduce combined radium to levels below EPA's maximum contaminant level. It also increases water supply redundancy, water storage for firefighting and supply to customers, and the useful life of the entire water system.
The Kansas projects were two of 39 projects in 16 states and the District of Columbia who will receive WIFIA loans totaling approximately $5 billion to help finance over $10 billion in water infrastructure investments and create up to 155,000 jobs.
"Through WIFIA, EPA is playing an integral role in President Trump's efforts to improve and upgrade our nation's water infrastructure and ensure all Americans have access to clean and safe water," said EPA Acting Administrator Andrew Wheeler. "This year, EPA will help finance over $10 billion in water infrastructure investments that will create up to 155,000 jobs, upgrade aging infrastructure, reduce lead exposure, and improve the lives of millions of Americans across the country."
EPA's WIFIA loans will allow large and small communities across the country to implement projects to address two national water priorities – providing for clean and safe drinking water including reducing exposure to lead and other contaminants and addressing aging water infrastructure.
EPA received 62 letters of interest from both public and private entities in response to the 2018 WIFIA Notice of Funding Availability (NOFA). After a robust, statutorily required review process, the WIFIA Selection Committee chose the 39 prospective borrowers' projects to submit applications for loans. To learn more about the 39 projects that are invited to apply, visit EPA's website.
Of the selected projects, 12 projects will reduce lead or other drinking water contaminants and 37 will address aging infrastructure. Eight prospective borrowers submitted letters of interest in response to the 2017 NOFA, resubmitted them for 2018, and are now invited to proceed in the 2018 funding round.
Background
Established by the Water Infrastructure Finance and Innovation Act of 2014, the WIFIA program is a federal loan and guarantee program at EPA that aims to accelerate investment in the nation's water infrastructure by providing long-term, low-cost supplemental credit assistance for regionally and nationally significant projects. To date, EPA has issued four loans totaling over $1 billion in WIFIA credit assistance. Combined, these four projects will create over 5,000 jobs.
According to EPA's estimate of national drinking water and wastewater needs, over $743 billion is needed for water infrastructure improvements. EPA's WIFIA program plays an important part in fulfilling this need and in the President's Infrastructure Plan, which calls for expanding project eligibility.
For more information about the WIFIA program, visit www.epa.gov/wifia.
# # #
Learn more about EPA Region 7
View all Region 7 news releases
Connect with EPA Region 7 on Facebook: www.facebook.com/eparegion7
Follow us on Twitter: @EPARegion7