Benchmark Dose Software (BMDS) Version 3 Support Articles
On this page
---
Reinstalling Excel May Solve Random Performance Issues
Some users have reported unusual error messages (such as "File not found: cmodels.dll") or problems running analyses despite having a stable Microsoft Excel installation. In most cases, re-installing Excel solves these random problems.
For BMDS, we recommend a desktop version of Microsoft Excel for Windows with macros enabled (visit the Microsoft support site for information on enabling Excel macros). We recommend using the Office 365 or standalone Microsoft Office installation methods rather than installing via the Microsoft Store.
Planned Features
The following features will be rolled out in future BMDS releases:
Analysis of two-dose datasets
Report parameter standard error (SE) values
Import BMDS 2.7 datasets
Implement NCTR nested dichotomous model
Recompile models for improved speed (particularly for "Added Risk")
Add Asymptotic Correlation Matrix of Parameter Estimates table to dichotomous output
Implement improvements to Results Workbook and Word Report feature
Implement confidence intervals for plotted group responses
Implement Cochran-Armitage trend test for dichotomous datasets
Implement data transformations on a column of data (for example, multiplying by a constant, returning the Log() base 10 of all values in a column, or converting standard errors to standard deviations, among other types of transformations)
Auto-update feature
Bayesian models for continuous response data
Bayesian model averaging for continuous response data
Sensitivity analysis for Bayesian priors (posterior distributions for alternative priors)
P-value (or equivalent) for Bayesian models
Covariate capability for all models
Risk-at-a-dose capability for all models
Model Averaging plots
Specifying a Background Dose of Zero
This option is currently supported only for the frequentist dichotomous models.
If you specify the background dose to be zero , the resulting maximum-likelihood estimation (MLE) background parameters can sometimes still vary slightly above zero.
If Checkboxes or Other Controls Display Oddly in 3.1
On first opening BMDS 3.1, you may see checkboxes or other onscreen artifacts offset from the main spreadsheet, as shown in the following screenshot.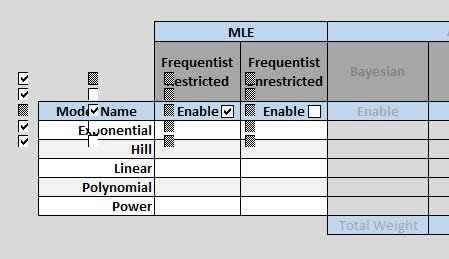 To correct this problem, select the "Display Settings" button at the bottom of the Excel window and then select "Optimize for Compatibility." You will need to restart Excel for the changes to take effect.