Brownfields Broadcast Archive
Women in Brownfields: A Brownfields 2019 Singular Event
by Ann Carroll 
---
When I began my career with EPA in the late 1980s, the National Academy of Sciences and other organizations had focused initiatives to advance women in science and engineering (WISE) which continue today. Then termed 'WISE', our group was one of several special emphasis programs in EPA established to encourage diversity in management and technical positions. I was excited to be a part of an energized WISE chapter in EPA New England who had monthly speakers on topics of general, environmental and public health science interest. One of our highlights was to organize an event with Dr. Sylvia Earle that was widely acclaimed.
This past December after a long hiatus, I was thrilled to help organize a 'next-gen WISE event' in my current work. Building off the Women in Brownfields networking breakfast held as part of the West Virginia Brownfield Conference, our event was organized as our first Women in Brownfields as part of the EPA and ICMA co-sponsored Brownfields 2019, the 18th national brownfield training conference in Los Angeles, California.
Led by brownfield practice leaders, veterans of the brownfield program shared stories of their own education and career progressions, pitfalls and lessons learned. In a packed room, session questions and discussions identified a range of themes important to participants including the need for greater mentoring, career support and continuing discussions about the value women bring to brownfield and revitalization project work. Participants also highlighted ideas and ways to make brownfield practice more representative of where we work and the communities we serve.  Many participants in the event observed and commented on the extraordinary energy in the room.
Moving forward, session leaders, staff and colleagues are working on ways to carry forward our shared enthusiasm for diversifying women in brownfield practice.  We are learning new ways to tell our stories and help current practitioners to mentor and encourage young women to enter environmental sciences and policy educational and career areas as well as the business, law, finance, engineering, construction, development and design fields integral to successful brownfield revitalization.
Brownfields to Healthfields
---
EPA's Brownfield and Land Revitalization program supports the efforts of local communities to assess, cleanup and reuse properties in ways that can meet their local needs.
Increasingly, communities are finding ways to protect - and improve - public health through brownfields revitalization! The Brownfields to Healthfields StoryMap highlights several opportunities to turn a brownfield site into a "healthfield." Healthfields increase local access to healthcare and community clinics, parks and open space, food access, and housing - all through cleanup and reuse of a former brownfield site.
Scan the storymap examples and learn how brownfields revitalization can be part of the solution to improving public health and creating healthier communities!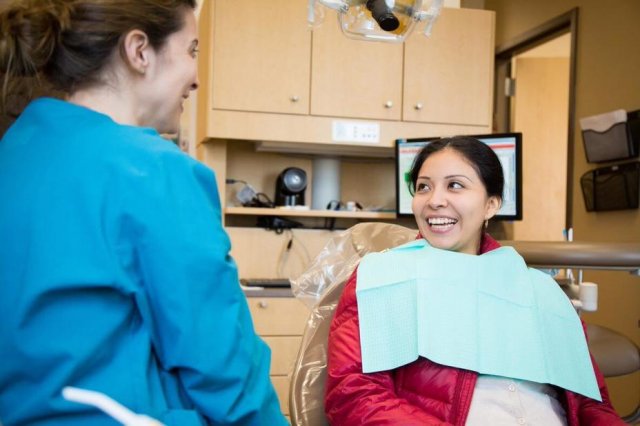 ---
20th Anniversary of the Environmental Workforce Development and Job Training (EWDJT) Program
Did you know that EPA's Environmental Workforce Development and Job Training (EWDJT) Program has trained and placed more than 12,850 individuals in careers related to land remediation and environmental health and safety for over 20 years? Since the program first started in 1998, the EWDJT program has targeted the unemployed and underemployed residents of Brownfield communities and given them an opportunity to gain the skills and certifications needed to secure employment in the environmental field.
Through EPA's EWDJT Program, EPA awards grants are awarded to organizations, such as community colleges, nonprofit organizations, and local governments, to design a curriculum based on the local hiring needs and offer courses to residents that will make them competitive in the community's job market. Graduates of an EWDJT-funded program are better positioned to secure sustained employment, graduates like Cristian and Christopher of the Fresno Area Workforce Investment Corporation's Workforce Connection program in California.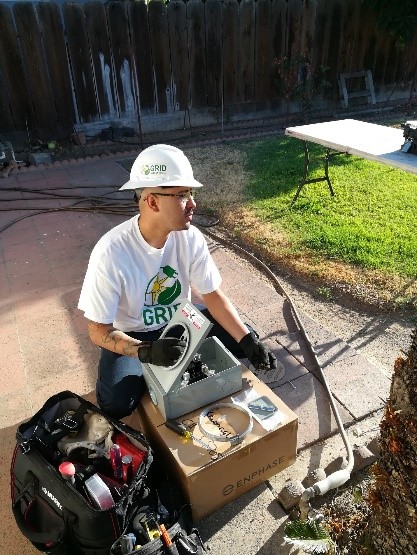 Prior to Cristian Tello's Workforce Connection experience, he was working part time at a car wash earning minimum wage, facing many financial challenges, and was seeking a new career. Cristian enrolled at Workforce Connection for Solar Installation Training at GRID Alternatives and it changed his life.
Through their EPA grant, Workforce Connection helps students like Cristian learn the fundamentals of solar installation. He completed a six-week training course at the nonprofit organization GRID Alternatives, which is an affordable solar power company providing services to low-income communities. Cristian also learned about the cleanup and restoration of contaminated sites.  After receiving certifications in Solar Installation and Hazardous Waste Operations and Emergency Response (HAZWOPER), Cristian realized how much more marketable for employment he had become. Just two weeks after graduating from the program, Cristian was employed full-time as a Solar Corps Construction Fellow earning $15.00 per hour. He is excited about building a career within this field and moving up within his new company.
After a five-year career as a roofer, Christopher White found himself unemployed and down on his luck. Christopher applied to many roofing companies, never receiving a response. He resorted to working side jobs to stay afloat during his eight months of unemployment, still struggling financially, living day-to-day not knowing where his next meal would come from. With the support of his brother, he decided to change his career and enrolled at Workforce Connection, where he was awarded a scholarship to attend a six-week EPA funded Solar Installation Training course at GRID Alternatives.
Christopher successfully completed his training and was hired at Lifestyle Solar as a full time Solar Installation Technician and earning $13.00 per hour with pay raise incentives. Christopher expressed, "GRID Alternatives provided me with great training, especially the hands-on training on top of roofs. Just recently, two roofing companies are interested in hiring me because of my HAZWOPER 40 Certification. If it wasn't for Workforce Connection I would still be doing side jobs. Thank you to Workforce and GRID!" 
These testimonies and countless others illustrate the twenty years of success of the program and why it is more relevant and needed than ever. The demand for qualified environmental technicians continues to grow across the country. Through its invaluable partnerships, graduate placement efforts, and flexible curricula, the EWDJT Program will continue to change lives and meet the important local environmental and economic needs of communities for many more years to come.
---
The 2018 BUILD Act
The Brownfields Utilization, Investment and Local Development (BUILD) Act was enacted on March 23, 2018 as part of the Consolidated Appropriations Act, 2018. The BUILD Act reauthorized EPA's Brownfields Program, and made amendments to the 2002 Small Business Liability Relief and Brownfields Revitalization Act. Authorized changes affect brownfields grants, ownership and liability provisions, and state and tribal response programs. EPA is developing policy guidance to implement the BUILD Act.
View the webinar "2018 BUILD Act & the EPA Brownfields Program"(delivered June 6, 2018).
Here is a one-page summary of the BUILD Act provisions.
---
The 2018 BUILD Act & EPA Brownfields Program Webinar
Wednesday, June 6, 2018 at 3:00pm - 4:30pm (EST)
The Brownfields Utilization, Investment and Local Development (BUILD) Act was enacted on March 23, 2018 as part of the Consolidated Appropriations Act, 2018. The BUILD Act reauthorized EPA's Brownfields Program, and made amendments to the 2002 Small Business Liability Relief and Brownfields Revitalization Act.  Authorized changes affect brownfields grants, ownership and liability provisions, and State & Tribal Response Programs. EPA is developing policy guidance to implement the BUILD Act.
On June 6th EPA is presenting a webinar that will feature members of EPA's Brownfields and Land Revitalization Program who will provide an overview of how the BUILD Act changes some aspects of EPA's brownfields grants, ownership and liability requirements, and State & Tribal Response Programs. The webinar will focus on EPA's implementation plans and impacts on 2019 grant processes.
---
May 8th, 2018 - Putting the Financing Pieces Together - Technical Assistance for Tricky Brownfields Projects
In this feature of the Brownfields Broadcast, CDFA discusses the financing resources available to brownfield site communities. 
Did you know that Brownfields Communities have free access to development finance experts?
Once a brownfield site is targeted by a community for redevelopment, the community is often left wondering "what next?" In order to answer this question, EPA awarded a five-year grant to the Council of Development Finance Agencies (CDFA) to provide resources and expertise related to financing brownfields projects.  The CDFA Brownfields Technical Assistance Program provides a wide-range of support for communities in every stage of brownfields redevelopment – and they do not need a brownfields grant to receive this technical assistance!  CDFA provides a financing toolkit featuring financing resources and best practices in brownfield redevelopment and hosts a webinar series devoted to case studies, financing expertise and trending redevelopment topics.
In addition to these tools, communities also have the opportunity to participate in Project Marketplaces. These are "flash-mentoring" sessions hosted quarterly with redevelopment and brownfields experts where communities have the opportunity to detail important information on a site and engage in open discussion with advisors – at no cost! Most exciting, for a select number of communities who are at the appropriate stage, CDFA offers Project Response Team visits where a community receives on-site technical assistance from a team of finance and technical experts and CDFA staff. These visits will offer specific, actionable advice that can transform brownfields into economic assets.  
Past visits have inspired communities such as Texarkana, TX, Fairmont, WV and Pueblo, CO, among others, to pursue their brownfield redevelopment dreams. See details of their visits and actionable advice here: https://www.cdfa.net/p/brownfields-home.html
Please join CDFA for a webinar on Thursday, May 10th @ 1pm ET to Learn More About CDFA's Free Technical Assistance for Brownfields in 2018.  Register here: CDFA Webinar Registration Link
---
Brownfields Program Helps Dubuque, IA Leverage Investment, Reinvigorate Community
As demonstrated time and again, EPA's brownfields dollars are able to leverage significant public and private sector dollars in the service of contaminated site cleanup, public health improvements, and community revitalization. No city better illustrates this truth than Dubuque, Iowa.
Located along the Mississippi River, Dubuque had turned its back on its waterfront. In the 1990s, the 120-acre Port of Dubuque was plagued by environmental issues, undervalued property, a hodge-podge of heavy industrial uses, and many vacant brownfields. Dubuque's "North Port" revitalization was launched with EPA Assessment and Cleanup grants awarded in 2002 and 2003. These brownfield resources were key to unlocking the North Port's revitalization potential and instrumental to helping the city pivot from a declining former industrial town into a Midwest tourist destination. Dubuque has since leveraged more than $400 million in public and private investment.
EPA's early brownfields investment has helped to make possible the development of:
the Grand River Conference and Education Center,
the American Trust River's Edge Plaza,
the Mississippi Riverwalk,
the National Mississippi River Museum and Aquarium,
the Alliant Energy Amphitheater,
the Grand Harbor Resort and Waterpark, and
the Diamond Jo Casino.
This development has produced more than 700 jobs and created new recreational and entertainment attractions for community members and visitors, reinvigorating a depressed economy and community.
You can click on the images below to view larger versions of each image.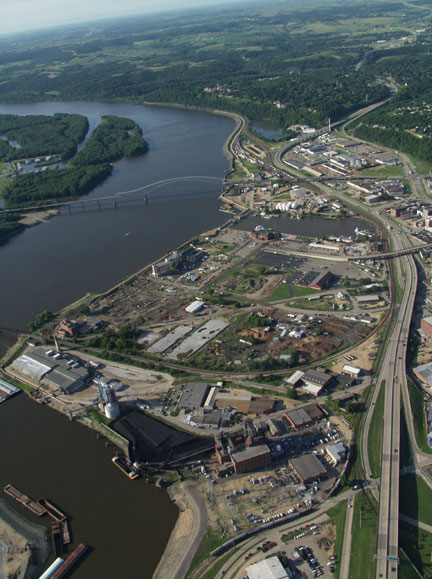 ---
Roy D. Buol is the longest-serving mayor in Dubuque's history. He was first elected to a four-year term as mayor in November 2005 and was re-elected in 2009, 2013, and again in 2017. Before being elected mayor, he served for 10 years as the Second Ward Representative to the Dubuque City Council.
Mayor Buol is a Dubuque native and a 30-year retired employee of John Deere Dubuque Works. Since 2002, he has been Director of the Landscaping and Grounds Department at the University of Dubuque. Mayor Buol holds a Bachelor of Business Administration degree with a double major in business and marketing from the University of Dubuque, where he also completed graduate coursework toward a Master of Arts in Communication.