About Buffalo River AOC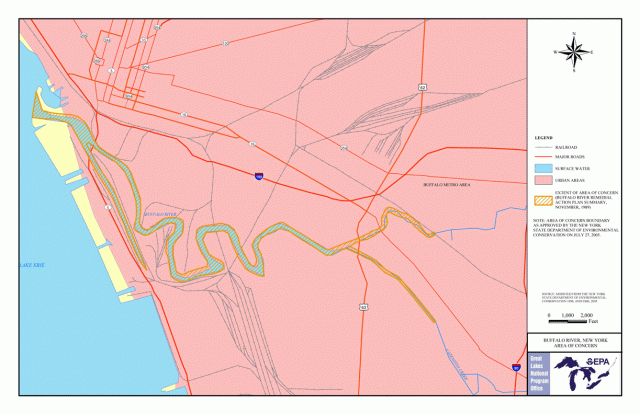 The Buffalo River AOC Boundary MapThe Buffalo River Area of Concern is located in the City of Buffalo in western New York State. The river flows from the east and discharges into Lake Erie near the head of the Niagara River. The "impact area" extends from the mouth of the Buffalo River to the farthest point upstream at which the backwater condition exists during Lake Erie's highest monthly average lake level. The AOC also includes the entire 1.4-mile stretch of the City Ship Canal, located adjacent to the river. In 1989 Buffalo River was designated an AOC as part of the Great Lakes Water Quality Agreement of 1987.
The area was highly degraded because of heavy industrial development in the middle of a large municipality. Some of those degradations are:
contaminated bottom sediments
33 combined sewer overflow outfalls
3 connections to the Buffalo sewer system from outside sewer districts
45 inactive hazardous waste sites within the AOC
Contaminants of concern include PCBs, polycyclic aromatic hydrocarbons (PAHs), metals and industrial organics. Dissolved oxygen levels, turbidity and bacterial contamination all pose water quality concerns. Potential riparian and aquatic habitat areas were limited due to contamination, development and an altered shoreline.
The AOC includes:
the 6.2-mile impact area
the entire 1.4-mile stretch of the City Ship Canal, neighboring the river
the AOC source area made up of three major streams in the watershed:

Cayuga Creek
Buffalo Creek
Cazenovia Creek
Beneficial Use Impairments (BUIs)
Restrictions on fish and wildlife consumption
Tainting of fish and wildlife flavor
Degradation of fish and wildlife populations
Fish tumors or other deformities
Bird or animal deformities or reproduction problems
Degradation of benthos
Restriction on dredging activities
Degradation of aesthetics
Loss of fish and wildlife habitat