Profiles of African Americans at EPA: Beverly Banister
Profiles of African Americans at EPA
---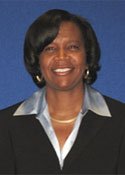 Beverly Banister, Director
Air, Pesticides and Toxics Management Division
Atlanta, GA (EPA Region 4)
Where were you born?
Wedowee, Alabama.
What brought you to EPA?
While I was an intern at a chemical manufacturing facility, a co-worker told me of a job opportunity at EPA.
What type of work do you do at EPA?
As division director, I lead a multi-disciplinary staff in our region. We implement several environmental laws to protect air quality, ensure pesticides are used appropriately, and lessen hazards associated with the use of chemicals around the home. We work closely with external partners, including tribal, state and local entities, other federal agencies, and non-governmental organizations. I'm happy to say that, thanks to our efforts, we provided cleaner air to more than 1.2 million people last year.
Moreover, in my role as division director, I often have the opportunity to engage with our international partners and make presentations to delegations from all over the world, including to groups from China, Brazil, England, Barbados and Jamaica.
Another issue dear to my heart is working with local communities to increase their environmental awareness. I've led the efforts to host numerous interns from a local university and high schools so they can learn more about environmental protection. I also meet routinely with community and industry representatives across the eight states in our region, working with them to better understand environmental challenges and to help them resolve environmental concerns.  Furthermore, I lead regional EPA children's health programs that reached students in thousands of schools. My work in this area has helped millions of children in our region and beyond.  
What is your highest level of education? What was your major?
I have a bachelor of science degree in chemical engineering.
What message would you like to send other Black/African Americans who are considering college or a career in environmental protection?
I highly recommend seeking employment with the agency. EPA offers excellent opportunities to utilize your talents and skills while making a real difference in the quality of lives of people living in our communities. Through diverse experiences in collaborations and partnerships in the public and private sectors and academia, EPA encourages staff to enhance their experience in a number of environmental protection programs. After 30 years with the agency, I'm still excited about coming to work every day and making a positive impact in people's lives.