Ports Primer: 7.3 Federal Environmental Regulations, Initiatives and Standards
On this page:
---
The mission of EPA is to protect human health and the environment. EPA is responsible for establishing regulations and standards for key environmental statutes affecting ports. While there is a broad range of environmental regulations that applies to ports depending on the circumstance, regulations and initiatives with particular relevance to near-port communities include:
Clean Air Act (CAA)
Clean Water Act (CWA) and Waters of the United States
Ports Initiative
Clean Air Act (CAA) and the Clean Power Plan
The CAA is designed to protect public health from different types of air pollution. It establishes air quality standards and requires states to develop enforceable plans to achieve those standards. For the port industry, significant aspects of the CAA include regulations on diesel engines, marine vessel loading operations, paint coatings, and emissions from vehicles and many types of port equipment.
Many of the vehicles and equipment involved in port activities remain in operation for a long time. Often referred to as the legacy fleet, existing diesel vehicles and equipment are not governed by the CAA. Unlike EPA, states are able to regulate the use of the legacy fleet.
On August 2, 2015 the President unveiled The Clean Power Plan that establishes guidelines for states to follow in developing and implementing plans to reduce Greenhouse Gases that contribute to climate change. Included are requirements that vulnerable communities have a seat at the table with other stakeholders. EPA is proposing a model rule states can adopt, as well as a federal plan that the EPA will put in place if a state fails to submit an adequate plan.  The Clean Power Plan is currently under review as a result of the President's Executive Order (March 28, 2017) on Energy Independence.
For more information:
Clean Water Act (CWA) and the Waters of the United States
The CWA regulates the discharge of pollutants into navigable waters and regulates surface water quality. The CWA made it illegal to discharge any pollutant into navigable waters without a permit from EPA's National Pollutant Discharge Elimination System (NPDES) permit program.
Understanding what waters are covered by the CWA can be complex. EPA, the Department of Army, and the Army Corps of Engineers (USACE) are currently proposing a rule to to recind the Clean Water Rule and re-codify the regulatory text that existed prior to 2015 defining waters of the United States.  More information on this proposal can be found at the Waters of the United States (WOTUS) Rulemaking website. Additional information can be found on the Frequently Asked Questions page within the EPA Waters of the United States (WOTUS) Rulemaking website.
For more information:
National Environmental Policy Act (NEPA)
NEPA, which was enacted in 1970, requires federal agencies to analyze the environmental impacts of federal construction projects, permit approvals, and funding decisions and to consider reasonable alternatives to those actions. NEPA is intended to foster informed decision-making and provide transparency about a proposed action's environmental consequences. NEPA includes a requirement for consideration of community mitigation plans where appropriate.
Once NEPA regulations are triggered, the lead federal agency is required to conduct an environmental impact statement (EIS) for actions that may have a significant impact on human health and the environment, or a more succinct environmental assessment (EA). Members of the public can also request that a health impact assessment (HIA) be performed. Types of impacts and issues addressed in these studies can include:1
Air quality
Traffic
Noise and vibration
Aesthetics
Environmental justice
Socioeconomics
Marine water quality
Geology, groundwater and soils
Global climate change
Land use
Endangered or threatened species and habitats
Cultural or historic resources
Public safety/public services
Utilities and service systems
Hazards and hazardous materials
Members of the public can participate in the NEPA process during public comment periods, as well as throughout the entire NEPA process. This makes NEPA an important avenue for near-port communities and environmental advocates.
For more information:
EPA Ports Initiative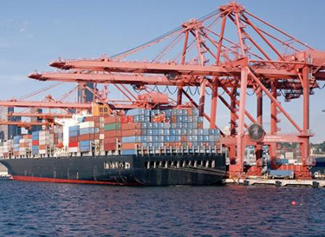 EPA's Ports Initiative seeks to "develop and implement environmentally sustainable port strategies. These strategies will identify opportunities and find solutions to create healthy air quality in communities and reduce climate risk, while supporting jobs and the economy. Through the Ports Initiative, EPA explores effectively partnering with port stakeholders to identify opportunities and find and fund solutions that create more sustainable ports systems by:
Encouraging environmental progress at ports and reducing climate risk;
Supporting operational and technological improvements to increase efficiency;
Improving community health and air quality; and
Encouraging sustainable economic development that supports our economy and jobs." 2
The initiative's website provides resources on funding opportunities, webinars and stakeholder meetings.
For more information: Ports Initiative 
Cleaner Fuel and Cleaner Equipment Available
All communities across the country benefit from EPA regulations requiring manufacturers to produce cleaner diesel fuel and cleaner diesel engines. These include introduction of low-sulfur fuel and requirements for new engines to emit less pollution. Details of proposed and final rules are available in the Additional Information on Federal Environmental Regulations section below.
Together these programs yield enormous long-term benefits for public health and the environment. By 2030, when the engine fleet has been fully turned over, particulate matter (PM) and nitrous oxides (NOx) will be reduced by 380,000 tons/year and 7 million tons/year, respectively. This will result in annual benefits of over $290 billion, at a cost of approximately $15 billion.
For Regional Contacts, click the map.
Additional Information on Federal Environmental Regulations
For a more complete summary of the federal environmental regulations that apply to ports: Port Compliance: Federal Regulations Exit
Portcompliance.org is an online resource developed by the National Center for Manufacturing Sciences (NCMS) and EPA Region 2 with input from industry and federal and state regulatory agencies.3 The tool also contains links to resources on state regulations.
---
Select to go forward or back.