2021 Environmental Justice Small Grants Awarded to Communities Living Near Port and Rail Facilities
On this page:
---
Overview
EPA's Ports Initiative is pleased to share that seven grants for community projects (see descriptions below) to address air quality issues at coastal ports, inland ports, and rail yards were awarded through the Ports Initiative Partnership in the Environmental Justice Small Grant (EJSG) Program in 2021. These roughly $75k Ports Initiative EJ Small Grants will help to build community capacity to engage in collaborative efforts to reduce diesel pollution at ports and railyards, which was a special emphasis in the 2021 EJSG Request for Applications (RFA). Organizations eligible for grant consideration included incorporated non-profit organizations, federally or state-recognized tribal governments, tribal organizations, U.S. Territories, and Freely Associated States. The EJSG Program, established in 1994, awards grants to projects designed to develop strategies that address local environmental and public health issues, build consensus in the community, and set community priorities. For information on the full set of 2021 EJSG awards, visit: https://www.epa.gov/environmentaljustice/environmental-justice-small-grants-program.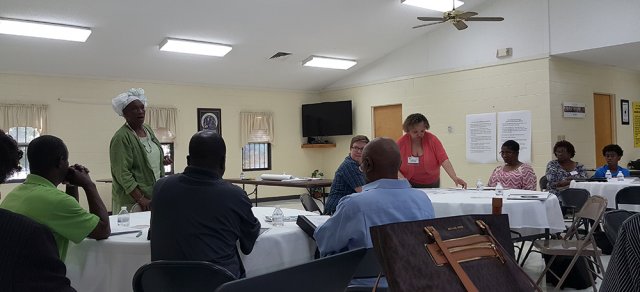 Emissions from diesel equipment at ports disproportionately impact nearby communities that are often comprised of low-income populations and people of color. Since 2016, EPA's Environmental Justice and Ports Initiative programs have partnered to support effective and meaningful engagement between communities, the port industry, and other port stakeholders to improve air quality and health outcomes for disadvantaged communities.
2021 EJSG Ports Initiative Projects
EPA awarded grants for the following 2021 Ports Initiative Partnership EJSG projects that will prepare community stakeholders to effectively engage with operators and other stakeholders of nearby port or rail facilities. This preparation is intended to help communities influence decision-making on operations and projects that may impact diesel engine emissions and related air quality.
The Elizabeth Clean Air Project: A Community Collaboration to Reduce Particulate Matter from Port Newark-Elizabeth Marine Terminal
Grantee: Groundwork Elizabeth
Port: Port Newark-Elizabeth Marine Terminal
Project Location: Elizabeth, NJ; EPA Region 2
Groundwork Elizabeth and its project partners will bring together a diverse coalition of community stakeholders that will increase particulate matter (PM) monitoring, define PM health costs in Elizabeth (near Port-Elizabeth Marine Terminal), explore biodiesel as a strategy to reduce emissions, and develop a Community Action Plan for reducing PM in the community. The project will also increase knowledge and awareness of air quality and its health effects in the community.
Newark Communities for a Healthy Port Project
Grantee: Ironbound Community Corporation (ICC)
Port/Railyard: Port of Newark-Elizabeth, Newark's Pennsylvania railroad station
Project Location: Newark, NJ; EPA Region 2
ICC and its project partner, South Ward Environmental Alliance (SWEA), will conduct outreach and recruit residents to workshops, trainings, and presentations to prepare them to participate in truck counting days in neighborhoods near the Port of Newark, and to develop preferences regarding pollution prevention strategies.  These truck counts will highlight the truck traffic and diesel pollution in residents' neighborhoods and will be followed by a report back to the community to help build a base of residents committed towards fighting for a healthy Port of Newark.
Democratizing Data for Clean Water and Clean Air Project
Grantee: Groundwork Ohio River Valley (GORV)
Railyard: CSX's Queensgate Yard & Norfolk Southern Railways' railyard
Project Location: Cincinnati, OH; EPA Region 5
This project will compile neighborhood and individual-level air toxin exposure rates through citizen-driven air quality monitoring efforts and use the data to advocate for mitigation efforts at rail yards and other industrial facilities in the area. Additionally, approximately 100 GORV Green Team Youth Employee Workforce employees and 10 neighborhood residents will be trained on air quality monitoring techniques and air pollution health education. Monitoring reports from the project will be incorporated into neighborhood resilience plans.
Environmental Justice for Frontline Communities at the 3rd Busiest Port in North America Project
Grantee: The Southwest Detroit Environmental Vision Project
Port/Railyard: Port of Detroit & Detroit Intermodal Freight Terminal
Project Location: Detroit, MI; EPA Region 5
This project will address diesel emissions at the Port of Detroit, MI and Detroit Intermodal Freight Terminal facilities by conducting outreach and engagement, and forming collaborative partnerships between community residents, representatives, and port operators to address community concerns.
Supporting Near-Port Communities in Addressing Harmful Air Quality Impacts Project
Grantee: Utah Clean Cities Coalition
Port/Railyard: Utah Inland Port (UIP)
Project Location: Salt Lake Valley, UT; EPA Region 8
The project will conduct a needs assessment that will be brought to the UIP Authority to identify and address inequities experienced by near-port communities. The project will support communities in understanding, addressing, and developing solutions to local issues as it relates to air quality impacts and will provide resources toward building trust, connection, and solution-driven collaboration.
The Green House Collaboration Center (GHCC) 80216 Project
Grantee: DeSmog Denver
Port/Railyard: "near several railyards"
Project Location: Denver, CO; EPA Region 8
The GHCC serves as a local center where community members can connect with other residents. This project would support the GHCC in inviting guest teachers and experts to engage in the development and implementation of initiatives, and host conversations regarding environmental and public health issues affecting the surrounding community. They seek to leverage meaningful community engagement to improve air quality in the neighborhoods of 80216.
West Oakland Sustainable Port Collaborative: Accelerating the Port of Oakland's Transition to Zero-Emissions Project
Grantee: West Oakland Environmental Indicators Project (WOEIP)
Port: Port of Oakland
Project Location: Oakland, CA; EPA Region 9
This project will provide a forum, the West Oakland Sustainable Port Collaborative, for community members to work together with partners to accelerate the Port's transition to zero-emissions by educating Port decision makers on zero-emission technology feasibilities, identifying barriers to eliminating emission sources, and empowering residents to push the Port to make zero-emission commitments. The Collaborative builds on the WOEIP-led community engagement during the development of the West Oakland Community Action Plan, under the State of California's Community Air Protection Program (AB 617).
Using Ports Initiative Community-Port
Collaboration Resources
To promote community-port collaboration for effective planning, EPA developed the 
Community-Port Collaboration Toolkit
 and 
associated training materials
, which help communities and ports develop collaboration skills and enhance understanding of stakeholders' priorities and challenges associated with port-related activities.  EPA encourages EJSG Ports Initiative grantees and other near-port community organizations to use the Toolkit to support their efforts.  EPA included an emphasis on projects in the 2021 EJSG RFA related to Steps 1, 2, and 3 of the 
Community Action Roadmap
: prioritizing goals and concerns; identifying levers of change; and identifying influencers and other stakeholders with whom to build relations.