2021 Environmental Justice Small Grants: Opportunity for Communities Living Near Port and Rail Facilities
On this page:
---
Overview
EPA's Ports Initiative is pleased to share news that funding is available for approximately six Environmental Justice Small Grant (EJSG) projects that address air quality issues at coastal and inland ports or rail yards. A maximum of $50,000 is available for each one-year project.  This funding opportunity is part of a larger EJSG Request for Applications (RFA), also see Spanish Translation of RFA (En Español). Applications must be submitted by May 7, 2021. The EJSG Program, established in 1994, awards grants to projects designed to develop strategies that address local environmental and public health issues, build consensus in the community, and set community priorities.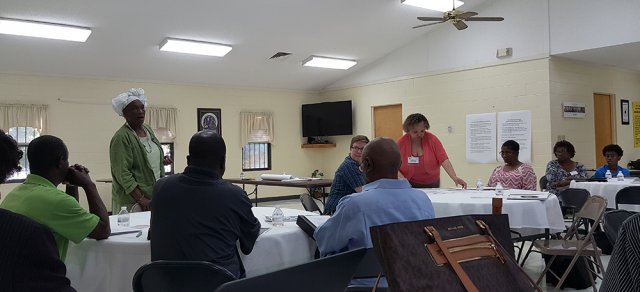 Emissions from diesel equipment at ports disproportionately impact nearby communities that are often comprised of low-income populations and people of color. Since 2016, EPA's Environmental Justice and Ports Initiative programs have partnered to support effective and meaningful engagement between communities, the port industry, and other port stakeholders to improve air quality and health outcomes for disadvantaged communities.
Eligible Organizations
Applying organizations should have a direct connection to underserved communities impacted by environmental harms and risks. Community-driven projects include activities where community residents and/or representatives are integrally involved in the thinking behind and execution of those activities.
Eligible entities for this opportunity include:
Incorporated non-profit organizations,
Federally recognized tribal governments, and
Tribal and indigenous peoples organizations
Ports Initiative Projects
EPA plans to fund projects that prepare community stakeholders to effectively engage with operators and other stakeholders of nearby port or rail facilities. This preparation is intended to help communities influence decision-making on operations and projects that may impact diesel engine emissions and related air quality. To be eligible for the Ports Initiative funding, EJSG applicants must include:
An explanation of community concerns related to diesel engine emissions from a port or rail facility; and
A description of how the project will prepare the community to engage with other port or rail facility stakeholders to address these concerns.
Using Ports Initiative Community-Port
Collaboration Resources
To promote community-port collaboration for effective planning, EPA developed the 
Community-Port Collaboration Toolkit
and
associated training materials
, which help communities and ports develop collaboration skills and to enhance understanding of stakeholders' priorities and challenges associated with port-related activities.
A demonstrated use of the Toolkit during the project period is strongly encouraged
, with particular emphasis on Steps 1, 2, and 3 of the
Community Action Roadmap
: prioritizing goals and concerns; identifying levers of change; and identifying influencers and other stakeholders with whom to build relations. 
Frequently Asked Questions, Webinars and More Information
Answers to Frequently Asked Questions (FAQs) on eligibility, types of projects (including Ports Initiative projects), funding priorities, and application requirements can be found in FAQs – EJ Small Grants Program (PDF)(6 pp, 269 K, March 2021, About PDF).
Webinars and Calls
Webinars and calls on the RFA were held on the following dates (recordings available).
March 4, 10, and 16
March 31 - Call Recording

Click the link above or paste the entire URL into your browser.
At the prompt, enter your name and email address.
Click "Listen".
See the EJ Small Grants 2021 Request for Applications (RFA) for additional details, or contact Jacob Burney (Burney.Jacob@epa.gov).