Green Power Partnership Top 10 Federal Government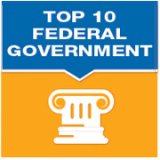 Released on October 29, 2018
The following Top 10 Federal Government Partner List represents the largest green power users among federal government organizations within the Green Power Partnership.
Usage figures are based on annualized Partner contract amounts (kilowatt-hours), not calendar year totals. These rankings are updated on a quarterly schedule.
The Federal Energy Management Program (FEMP) Exit provides resources and tools that help federal agencies implement renewable energy projects and technologies to meet federal laws and requirements. View their presentation for Federal agencies: Leveraging Your Renewable Energy Options to Maximize Goal Progress (PDF)(24 pp, 680K).
| Partner Name | Annual Green Power Usage (kWh) | GP % of Total Electricity Use* | Providers (listed in descending order by kWh supplied to Partner) | Green Power Resources |
| --- | --- | --- | --- | --- |
* Reflects the amount of green power as a percentage of total electricity use. Partners choosing to purchase green power in an amount exceeding 100 percent of their U.S. organization-wide electricity use are listed as such.
° Indicates Provider is selling Partner a third-party certified green power product. Get more information on third-party certification.
Current and past Top Partners lists are available for you to view and print.
For additional information on how your organization can join these Top Partners as Green Power Partners, learn how to Become a Green Power Partner.