Healthy School Indoor Environments August Back to School E-Newsletter
Healthy School Indoor Environments | August 2016 E-Newsletter
On this page:
---
Chronic Absenteeism in the Nation's Schools: New Data from the U.S. Department of Education's Office of Civil Rights
The U.S. Department of Education has recently released new data from the 2013–2014 Civil Rights Data Collection (CRDC). The Department releases the CRDC every two years in an effort to create transparency around the educational opportunities and experiences of millions of public school students. These data provide schools the opportunity to identify areas of improvement and further enhance education and educational facilities for both students and staff nationwide.
This survey of all public schools and school districts in the United States has revealed that 6.5 million students—13 percent of the student population—missed 15 or more days of school in the 2013–2014 school year. Additionally, nearly 500 school districts across the country reported that at least 30 percent of their students missed at least 15 days—three weeks—of school in the 2013–2014 school year. This is known as chronic absenteeism, and it affects students of all genders, races and ethnicities at every grade level. Students who are chronically absent jeopardize their education.
Research suggests poor health is one of the challenges contributing to irregular attendance. Frequent absences from school can be harmful to student development and may affect students' future success. Access to these data allows principals, teachers and other school staff to be in a better position to support students and provide them the resources and environment needed to thrive.
The data revealed in the 2013¬–2014 CRDC have illuminated a serious problem in the nation's public schools—but how can school districts help alleviate absenteeism? A school's indoor environment can have a significant impact on student's and district staff health and attendance at school. A healthier environment, complete with good IAQ, can help reduce the number of school days missed by both students and staff. EPA studies of human exposure to air pollutants indicate that indoor levels of pollutants may be two to five times—and occasionally more than 100 times—higher than outdoor levels. These levels of indoor pollutants are particularly concerning because people spend about 90 percent of their time indoors. The state of a school's physical environment can significantly influence student health, which can negatively affect student attendance.
Asthma attacks, allergic reactions and other health-related responses to poor IAQ can be avoided through proper IAQ management. EPA's IAQ Tools for Schools Action Kit and the Framework for Effective School IAQ Management provide step-by-step actions and strategies that can help schools create effective IAQ management programs. The Framework describes Six Key Drivers and Seven Technical Solutions, which are grounded in the IAQ Tools for Schools Action Kit, are essential for creating effective and enduring IAQ programs. The drivers and solutions work synergistically to ensure successful IAQ management.
Through simple, low-cost actions, schools and school districts can develop IAQ management programs that not only save money and reduce student and staff absenteeism, but also can improve the overall health of the indoor environment.
Please visit the U.S. Department of Education's interactive Web page, Chronic Absenteeism in the Nation's Schools: An Unprecedented Look at a Hidden Educational Crisis, for more information on chronic absenteeism.
For more information on the CRDC, please check out the original press release and A First Look: Key Data Highlights on Equity and Opportunity Gaps in our Nation's Public Schools.
For additional resources on IAQ and schools, please visit EPA's School IAQ Web page.
---
Back to School with Safer Choice
The Safer Choice label helps consumers and commercial buyers for facilities such as schools identify cleaning and other products that are safer for people and the environment. Using cleaning products with safer chemical ingredients can help schools maintain a healthy and safe learning environment, which is important to attendance and academic performance.
So how do products with the Safer Choice label help schools? Every chemical, regardless of percentage, in a Safer Choice-labeled product is evaluated using EPA's rigorous scientific criteria and only the safest ingredients are allowed. Only products that meet the Safer Choice Standard get to carry the Safer Choice label. If a cleaning product has the label, schools know it's made with ingredients that are safer for students, teachers, custodial staff, school visitors – even the mascot. Safer Choice-labeled products also must meet performance criteria, which means they work. And, important to everyone, whether a school purchaser or a consumer, a survey by Consumer Reports found that they can be just as affordable as alternatives.
Looking for ways you can help your school find products with the Safer Choice label?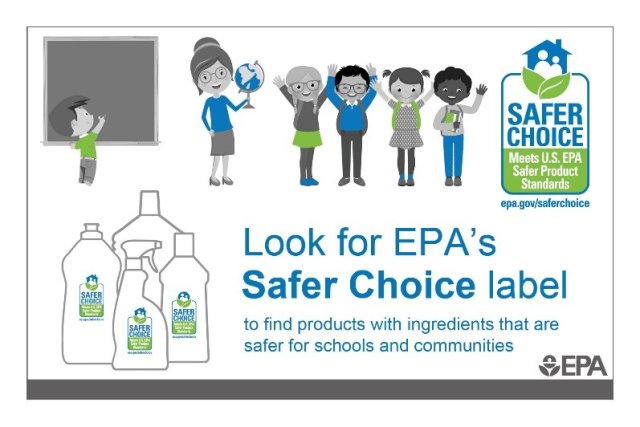 Use our interactive map. You'll see from the map that products with the Safer Choice label aren't just for school and business use, but home use as well.
Talk to your custodial staff about the cleaning products they use.
Post our Safer Choice school videos on your website and social media accounts:

Safer Choice Labeled Products in Action: Cleaning a School Desk
Safer Choice Labeled Products in Action: Mopping a School

Share our postcard within your school communities to help get the word out about Safer Choice.
---
IAQ Tools for Schools on the Road: Fall Conference Schedule
We're hitting the road! Are you attending any of the conferences listed below? Be sure to attend a session, view our poster or find us on the exhibit floor.
2016 LearningSCAPES Annual Conference and Exposition
Philadelphia, PA
September 28–October 1
Join us for our 60-minute session, "Transform Your School into a Healthy Learning Environment: Innovative Tools That Improve Indoor Air Quality and Academic Performance," on September 30 from 11:45 a.m. to 12:45 p.m. in Salon 10.
Green Clean Schools Forum at ISSA/INTERCLEAN North America
Chicago, IL
October 25-26, 2016
Join us for several sessions, including a panel discussion, "Green Cleaning in Schools: Leading the Way for Children's Health" on October 25 from 9:00 am – 10:00 am and a 2nd session on October 25 from 4:00 pm – 5:00 pm on "Green Cleaning in Schools: Engaging the Whole School."
American Public Health Association (APHA) Annual Meeting
Denver, CO
October 29–November 2
Please stop by our poster display, "Using Innovations in Online Learning to Generate Meaningful and Positive Public Health Outcomes," on Sunday, October 30, between 2:30 p.m. and 3:30 p.m., and be sure to visit booth 1530 at the expo.
---
Spotlight on a IAQ Schools Resources: Virtual Trainings
Spotlight 1: Upcoming IAQ Knowledge to Action Webinar
Better Together: Gaining Buy-In for Optimal Ventilation
September 22, 2016
1:00–2:30 p.m. EDT
Spotlight 2: Upcoming IAQ Knowledge to Action Webinar
Mold, Moisture and Money: How to Secure Funding to Address and Prevent IAQ Issues
October 20, 2016
1:00–2:30 p.m. EDT