Indoor Air Quality Science and Technology
On this page:
---
IAQ Science Webinar Series
The following links exit the site.
This webinar series, hosted by EPA's Indoor Environments Division on EPA's YouTube channel, features presentations on a variety of scientific and technical issues related to indoor air quality delivered by widely-recognized experts. See below for recordings of past webinars, and check the IAQ homepage for announcements about upcoming webinars.
Air Cleaners
Flood Cleanup
Indoor Chemistry
Indoor Particulate Matter
Moisture Control
Radon
Ventilation
---
Emerging Science on Indoor Chemistry – A Consensus Study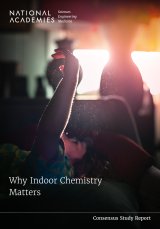 The National Academies of Sciences, Engineering, and Medicine (NASEM) was tasked by EPA, the Centers for Disease Control and Prevention (CDC), the National Institute of Environmental Health Sciences (NIEHS), and the Alfred P. Sloan Foundation to conduct a study on Emerging Science on Indoor Chemistry. NASEM convened an ad hoc committee of scientific experts and leaders to consider the state-of-the science regarding chemicals in indoor air. Specifically, the committee focused on:
New findings about previously under-reported chemical species, chemical reactions, and sources of chemicals, as well as the distribution of chemicals; and
How indoor chemistry findings fit into context of what is already known about the link between chemical exposure, air quality, and human health.
The resulting consensus study report, Why Indoor Chemistry Matters, is available to download for free from the National Academies Press website.
More information, including recordings from the study's information gathering workshop, can be found on the study website.
---
IAQ Scientific Findings Resource Bank
The IAQ Scientific Findings Resource Bank summarizes the state of scientific knowledge about the relationships between people's health and productivity, and IAQ conditions or associated building characteristics. This website also allows downloading of published journal articles that were developed under the project.
Developed by the Lawrence Berkeley National Laboratory with funding support from EPA, the IAQ Scientific Findings Resource Bank is a resource for public health professionals, building professionals, and others who seek scientific information about the effects of IAQ on people's health or work performance.
---
The View Indoors - IAQ Tips
See our publications regarding cleaning and Indoor Air Quality