International Actions to Address Marine Litter
Marine litter is a significant problem that is impacting oceans and coasts worldwide. Uncollected and mismanaged waste, especially plastics, can be transported globally through waterways and ocean currents and can affect people and coastal ecosystems in the United States. 
The U.S. works with international partners to address marine litter through the following actions:
Improving solid waste management on land, especially waste collection 
Preventing and reducing litter from entering  waterways through litter capture and removal
Promoting multi-stakeholder approaches for addressing marine litter
Facilitating enabling environments for improvements to solid waste management infrastructure, including recycling
 
Learn more about EPA's International Actions to Reduce and Prevent Marine Litter:
---
EPA's International Projects to Reduce and Prevent Marine Litter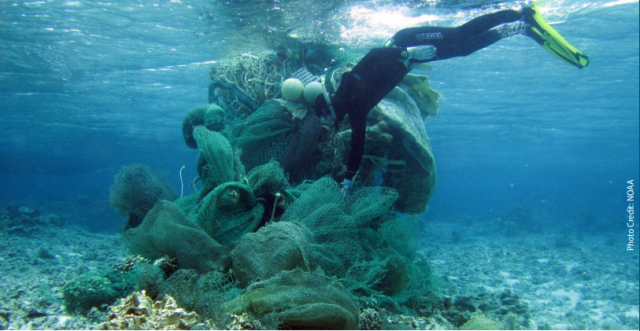 EPA works bilaterally and multilaterally across the globe to implement projects that reduce and prevent land-based sources of marine litter. Some of our efforts focus on bilateral technical assistance to improve solid waste management in various countries. Projects have focused on improving waste collection in communities with scarce collection or through inclusion and formalization of the informal waste sector. Most of EPA's projects addressing marine litter have been through our international Trash Free Waters initiatives. See below for more about our international Trash Free Waters projects.
Trash Free Waters International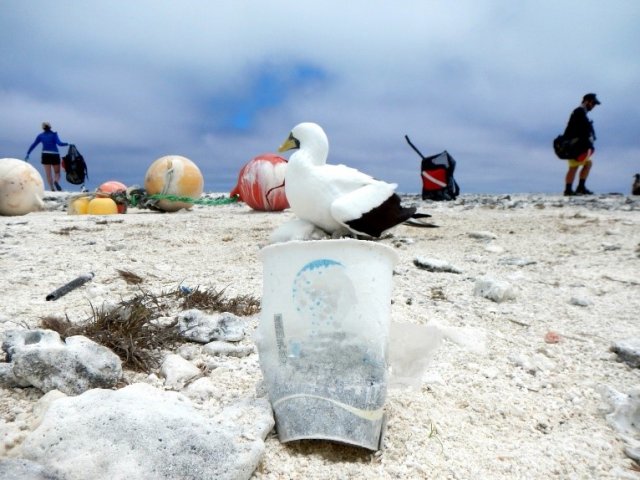 EPA's international projects to address marine litter are based on Trash Free Waters (TFW) – EPA's strategic, stakeholder-based approach to address marine litter through improvements in solid waste management and prioritizing community needs. TFW can be implemented as a national program or at the local level within communities along a coast or further upstream in the watershed. TFW works by bringing together stakeholders to identify and prioritize projects that prevent and reduce litter from entering waterways and eventually the ocean. TFW projects can range from raising public awareness on sources and types of marine litter to installation of litter capture devices or improvements to solid waste management. 
Many countries face challenges that are impeding efforts to address marine litter. EPA's international TFW efforts have demonstrated that countries face challenges, including:
Understanding national ministry roles to address marine litter and solid waste management
Difficulty in addressing gaps or inadequacies in policies and enforcement
Limited resources
High leadership turnover on the issue
EPA promotes TFW internationally as a model for countries to address these challenges and better manage their land-based sources of marine litter. See below for more information on EPA's international TFW initiatives.
Trash Free Waters in Latin America and the Caribbean
Since 2016, EPA has worked with governments and other partners in Latin American and the Caribbean to address their marine litter issues through EPA's Trash Free Waters approach. A summary of some of those key projects below:
Jamaica
Project: The project in Whitehouse-Bluefields community focused on establishing a program for waste collection and separation. The project accelerated community action through the establishment of collection sites, which included the strategic placement of waste bins to improve recycling and awareness. 
Partners: United Nations Caribbean Environment Program; Sandals Foundation; Peace Corps Jamaica 
Funding: EPA – $25K; Sandals Foundation – $5K; Leveraged Funds: $700K for a UN Environment Program multi-year plastics initiative  
Metrics: 200 bins labelled and placed; 34 collection locations established; 20 outreach activities conducted 
Panama 
Project: The project in Panama City focused on raising public awareness and installed trash capture booms on Juan Diaz River, where trash initially collected from the booms was transferred to a local recycling center for bailing/processing. The project also developed educational tools for local schools and community organizations on the impacts of marine litter and plastics in the environment. 
Partners: United Nations Environment Program; Ministry of Environment Panama; ANCON (NGO)  
Funding: EPA – $25K
Metrics: 5 environmental education and outreach campaigns conducted in schools; 2 commercial facilities trained in waste separation and recycling; 2 trash capture devices installed; 7 neighborhoods sensitized to project and river booms  
Peru
Project: The project focused on job training in two communities within the municipality of Chincha for informal waste pickers and improved the connection between waste pickers and a regional recycling facility. As part of the formalization effort, our partner, Ciudad Saludable, implemented a source segregation and selective collection program that was expanded and now includes alliances with recycling associations. The project also identified litter leakage hot spots for Chincha to help prioritize removal efforts. 
Partners: Ministry of Environment Peru; U.S. Embassy Peru; Ica Regional Government; Ciudad Saludable (NGO); Coca-Cola  
Funding: EPA – $75K; Leveraged Funds: Coca-Cola -$300K; USAID - $300K used to construct an additional regional collection facility for recyclable material 
Metrics: 2 regional job trainings to formalize and register waste pickers; 16 hot spot sites identified, and a plan for regular waste removal 
Central America
Currently, EPA is doing work in Costa Rica, Panama, Dominican Republic and El Salvador under the Central America and Dominican Republic Free Trade Agreement (CAFTA-DR). This work includes assisting these countries in developing and implementing National Action Plans on marine litter, among other efforts. Learn more about Marine Litter in Capacity-Building Programs Under the Dominican Republic-Central America-United States Free Trade Agreement (CAFTA-DR).
North America
EPA worked with the Commission for Environmental Cooperation (CEC), along with the governments of Mexico and Canada, to implement marine litter mitigation efforts in North American border watersheds, specifically the Salish Sea region and Tijuana River tributaries. EPA participated in the Steering Committee for the project which focused on bringing together stakeholders in border watersheds to identify and prioritize marine litter reduction projects. Learn more about this CEC project.
---
International Policy Engagement on Marine Litter
Marine litter is a top agenda item in multilateral policy fora across the globe. EPA participates and leads in international multilateral policy fora to advance EPA marine litter policies and programs. 
See below for information on the various multilateral policy fora where EPA engages on marine litter.
Land-Based Sources Protocol to the Cartagena Convention
The U.S. is party to the Protocol Concerning Pollution from Land-Based Sources and Activities (LBS Protocol), which was signed in 1999 in Aruba, Netherlands Antilles, and entered into force in 2010 at the Conference of the Parties (COP) for the Cartagena Convention. The LBS Protocol is a legally binding protocol to the Cartagena Convention, and incorporates general obligations to address land-based sources of pollution in the Wider Caribbean, including marine litter. 
Global Partnership on Marine Litter
The U.S. is a member of the voluntary Global Partnership on Marine Litter (GPML). The GPML is a multi-stakeholder partnership which brings together all the actors working on marine litter prevention and reduction. EPA works with the GPML on marine litter policy and program development to assist countries in meeting their needs to address marine litter. 
Asia-Pacific Economic Cooperation (APEC): Virtual Working Group (VWG) on Marine Debris
The APEC VWG on Marine Debris was formed in 2014 by the Chemicals Dialogue in collaboration with the Oceans and Fisheries Working Group (OFWG) to promote innovative solutions to the issue of marine debris with a particular focus on innovations in land-based solid waste management to prevent debris from entering the ocean. EPA works with interagency partners to engage in the APEC VWG to advance U.S. Government marine litter policies and solutions.
Plastic Waste Partnership under Basel Convention
EPA is a member of the Basel Plastic Waste Partnership (PWP) which was established at the 14th Conference of the Parties of the Basel Convention in 2019.  The objective of the PWP is to improve and promote the environmentally sound management of plastic waste at the global, regional and national levels and prevent and minimize their generation so as to, among other things, reduce significantly and in the long-term eliminate the discharge of plastic waste and microplastics into the environment, in particular, the marine environment. 
United Nations Environment Assembly (UNEA) and Marine Litter
The United Nations Environment Assembly (UNEA) is the world's highest-level decision-making body on the environment. Several resolutions have been passed under UNEA that address marine litter. In response to UNEA-4 Resolution on Marine Litter and Microplastics, UNEP established an Ad-Hoc Open-ended Expert Group on Marine Litter and Microplastics pursuant to operative paragraph 7 of resolution UNEP/EA.4/Res.6 Marine plastic litter and microplastics. EPA coordinated with interagency partners on the U.S. delegation to the AHEG meetings to address actions outlined in the UNEA-4 resolution on marine plastic litter and microplastics. 
---
Contacts
For additional information on EPA's international actions to address marine litter, contact:
Andrew Horan
U.S. Environmental Protection Agency
Office of International and Tribal Affairs
1300 Pennsylvania Ave., NW
Washington, DC 20460
E-mail: horan.andrew@epa.gov
(202) 564-5383