Coastal Plains Ecoregion - National Rivers and Streams Assessment 2013-14
View NRSA 2013-14 results for other ecoregions
Setting
The Coastal Plains ecoregion covers all of Florida, eastern Texas, and the Atlantic seaboard from Florida to New Jersey. It includes the Mississippi Delta and Gulf Coast, and it extends north along the Mississippi River to the Mississippi's confluence with the Ohio River. The total land area of this ecoregion is about 395,000 square miles, or 13% of the conterminous U.S. Of this area, 25,890 square miles, or 7%, is in federal ownership. River systems within or intersecting the Coastal Plains ecoregion include the Mississippi, Suwannee, Savannah, Potomac, Delaware, Susquehanna, James, Sabine, Brazos, and Guadalupe.
River habitats in the Coastal Plains ecoregion have high species richness and the greatest number of endemic species of aquatic organisms in North America. These organisms include fish, aquatic insects, and mollusks, as well as unique species such as paddlefish, American alligators, and giant aquatic salamanders. It is estimated that about 18% of the aquatic species in this ecoregion are threatened or endangered. Historically, this ecoregion had extensive bottomlands that flooded for several months each year; these areas are now widely channelized and confined by levees. Acid mine drainage, urban runoff, air pollution, sedimentation, and the introduction of invasive (i.e., non-native) species have affected riparian habitats and native aquatic fauna.
In general, rivers in the Coastal Plains meander broadly across flat plains created by river deposition and form complex wetland topographies, with natural levees, back swamps, and oxbow lakes. Typically, they drain densely vegetated watersheds; well-developed soils and moderate rains and subsurface flows keep suspended sediment levels in the rivers relatively low. An exception is the Mississippi River, which carries large sediment loads from dry lands in the central and western portion of its drainage area. The total river and stream length represented in NRSA 2013–14 for the Coastal Plains ecoregion is 198,824 miles.
The topography of this ecoregion is mostly flat plains, barrier islands, many wetlands and about 50 important estuary systems that lie along its coastal margins. The climate is temperate wet to subtropical, with average annual temperatures ranging from 50°F to 80°F and annual precipitation ranging from 30 to 79 inches.
Biological Indicators
The macroinvertebrate MMI showed that 14% of river and stream length in the Coastal Plains ecoregion was of good quality (based on the least-disturbed reference distribution). The fish MMI showed that 16% of river and stream length was of good quality. Six percent of river and stream length was not assessed or, for various reasons, had insufficient data to calculate the fish MMI.
Chemical and Physical Habitat Indicators
The percentage of miles rated good for chemical and physical habitat indicators varied widely within the Coastal Plains ecoregion. Phosphorus and nitrogen tended to have a lower percentage of river and stream miles with good quality, 21% and 33%, respectively, compared to physical habitat measures such as riparian vegetation cover, instream fish habitat, and excess streambed sediments, which had 55%, 57%, and 53%, respectively.​
Human Health Indicators
Human health indicators measured within the Coastal Plains ecoregion showed that most of the river and stream miles were below levels of concern. Enterococci were at or below the national benchmark for 59% of river and stream length. Microcystins were at or below the national benchmark for 100% of river and stream length. Mercury in fish tissue plugs was at or below the national benchmark for 17% of river and stream length, with 64% unassessed for a variety of reasons, including the absence of fish, the lack of habitat to support fish that met the minimum size requirement, inability to obtain permits, inclement weather, and site access denial.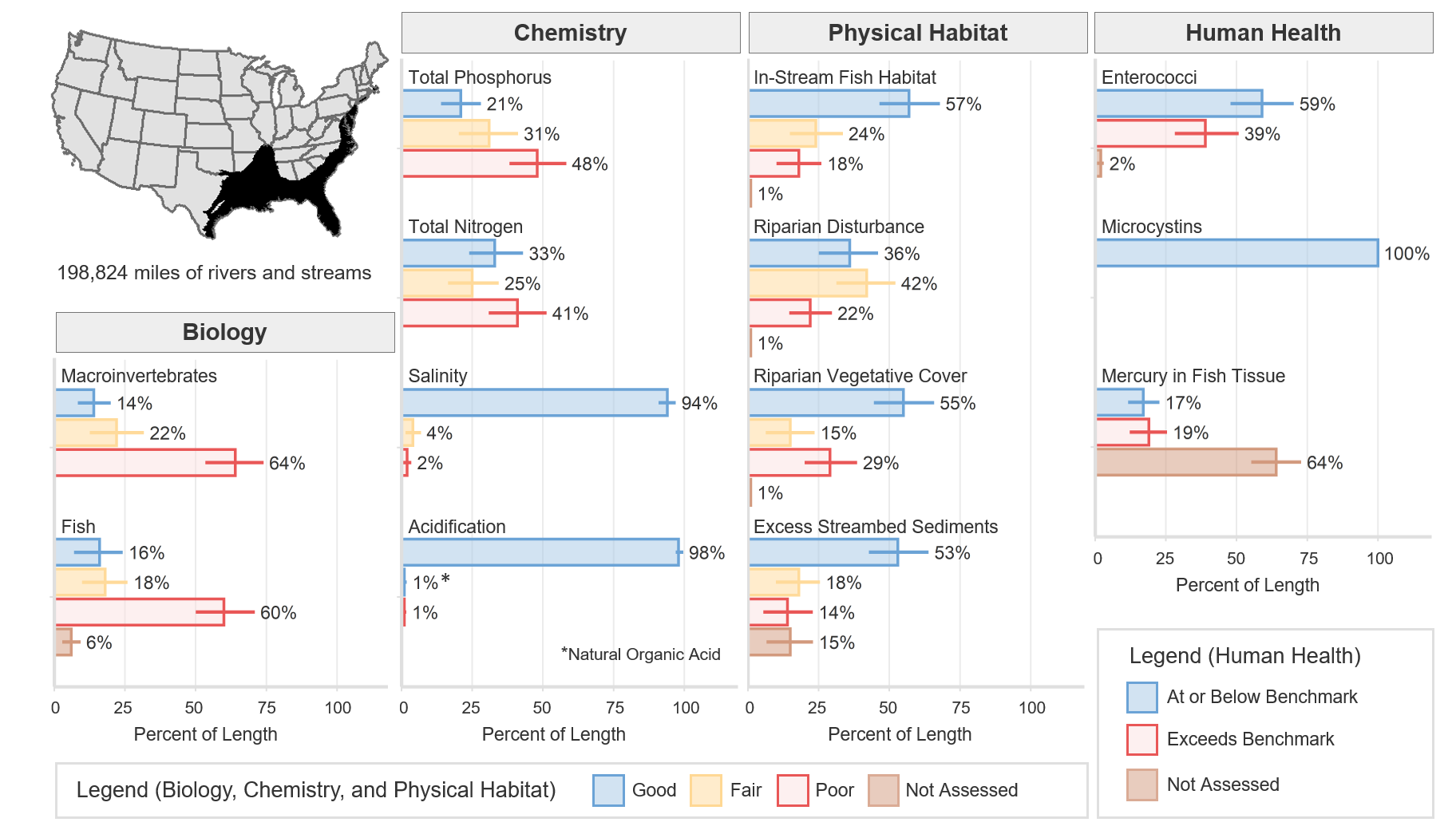 To access more indicator graphics please visit the interactive NRSA Dashboard.​