Northern Appalachians Ecoregion - National Rivers and Streams Assessment 2013-14
View NRSA 2013-14 results for other ecoregions
Setting
The Northern Appalachians ecoregion covers all of the New England states, most of New York, the northern half of Pennsylvania, and northeastern Ohio. The ecoregion covers some 139,424 square miles of land (4.6% of the conterminous U.S.), with about 4,722 square miles of land under federal ownership. Included in the ecoregion are New York's Adirondack and Catskill Mountains and Pennsylvania's Allegheny National Forest. Major river systems include the St. Lawrence, Allegheny, Penobscot, Connecticut, and Hudson. The total river and stream length represented in NRSA 2013–14 for the Northern Appalachians ecoregion is 138,082 miles.
Forests in this ecoregion were extensively cleared in the 18th and 19th centuries. Current fish stocks are lower than at the time of European contact, but the coastal rivers of the Northern Appalachians ecoregion still have a wide variety of fish — including shad, alewife, salmon, and sturgeon — that are hatched in fresh water, move to the sea for most of their lives, and then return to fresh water to spawn. Major manufacturing and chemical, steel, and power production occur in the large metropolitan areas around New York City, Connecticut, and Massachusetts. It  is common for treated wastewater effluent to account for much of the stream flow downstream from major urban areas.
This ecoregion is generally hilly, with some intermixed plains and mountain ranges. River channels in the glaciated uplands of the northern parts of the ecoregion are steep and rocky, and they flow over glacial sediments. The climate is cold to temperate, with mean annual temperatures ranging from 39°F to 48°F. Annual precipitation totals range from 35 to 60 inches.
Biological Indicators
The macroinvertebrate MMI showed that 40% of the river and stream length in the Northern Appalachians ecoregion was of good quality (based on the least-disturbed reference distribution). The fish MMI showed that 43% of river and stream length in this ecoregion was of good quality. Five percent of river and stream length was not assessed or, for various reasons, had insufficient data to calculate the fish MMI.
Chemical and Physical Habitat Indicators
The percentage of miles rated good for chemical and physical habitat indicators varied widely within the Northern Appalachians ecoregion. Phosphorus and nitrogen tended to have a lower percentage of river and stream miles with good quality, 18% and 36% respectively, compared to physical habitat measures such as in-stream fish habitat, excess streambed sediments, and riparian vegetation cover, which had 52%, 56%, and 49%, respectively.
Human Health Indicators
Human health indicators measured within the Northern Appalachians showed that most of the river and stream miles were below levels of concern. Enterococci were at or below the national benchmark for 77% of river and stream length. Microcystins were at or below the national benchmark for 99% of river and stream length. Mercury in fish tissue plugs was at or below the national benchmark for 37% of river and stream length, with 56% unassessed for a variety of reasons, including the absence of fish, the lack of habitat to support fish that met the minimum size requirement, inability to obtain permits, inclement weather, and site access denial.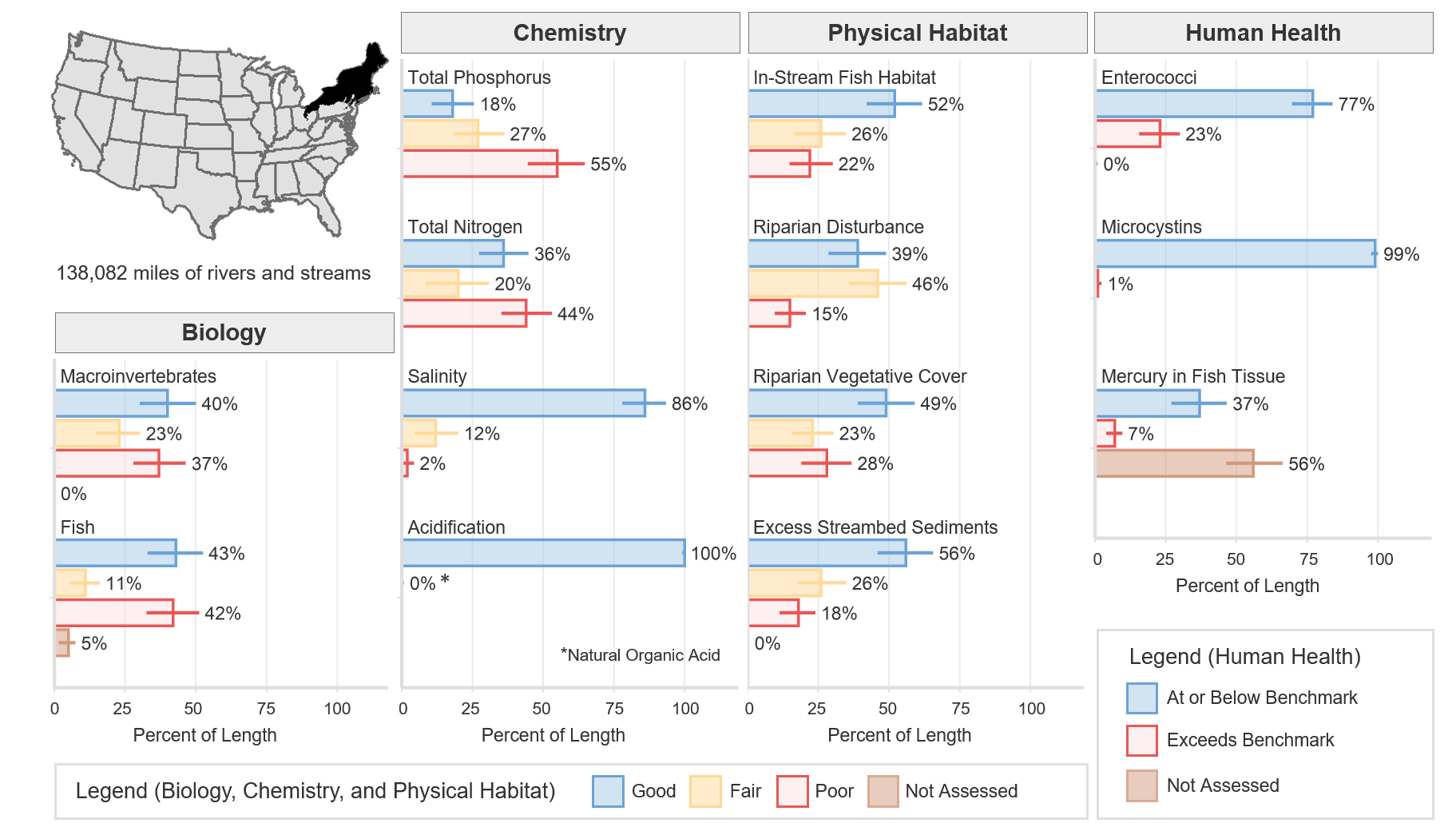 To access more indicator graphics please visit the interactive NRSA Dashboard.​