Southern Appalachians Ecoregion - National Rivers and Streams Assessment 2013-14
View NRSA 2013-14 results for other ecoregions
Setting
The Southern Appalachians ecoregion stretches over ten states, from northeastern Alabama to central Pennsylvania, and includes the interior highlands of the Ozark Plateau and the Ouachita Mountains in Arkansas, Missouri, and Oklahoma. The topography of this ecoregion is mostly hills and low mountains, with some wide valleys and irregular plains. Its land area covers about 321,900 square miles (11% of the conterminous U.S.), with about 42,210 square miles in federal ownership. Many significant public lands, including Great Smoky Mountains National Park, George Washington and Monongahela National Forests, and Shenandoah National Park, are located within this ecoregion.
The Southern Appalachians ecoregion has some of the greatest aquatic animal diversity of any area of North America, especially for species of amphibians, fishes, mollusks, aquatic insects, and crayfishes. Some areas, such as Great Smoky Mountains National Park, continue to protect exceptional stands of old-growth forest riparian systems. Nevertheless, the effects of habitat fragmentation, urbanization, agriculture, channelization, diversion, mining, and impoundments have altered many rivers and streams in this ecoregion.
Rivers in this ecoregion flow mostly over bedrock and other resistant rock types, with steep channels and short meander lengths. A number of major rivers originate here, including the Susquehanna, James, and Potomac, along with feeders into the Ohio and Mississippi River systems, such as the Greenbrier River in West Virginia. The total river and stream length represented in NRSA 2013–14 for the Southern Appalachians ecoregion is 289,341 miles. It is considered temperate wet, with annual precipitation of 40 to 80 inches and mean annual temperature ranging from 55°F to 65°F.
Biological Indicators
The macroinvertebrate MMI showed that 23% of the river and stream length in the Southern Appalachians ecoregion was of good quality (based on the least-disturbed reference distribution). The fish MMI showed that 23% of river and stream length was of good quality. Sixteen percent of river and stream length was not assessed or, for various reasons, had insufficient data to calculate the fish MMI.
Chemical and Physical Habitat Indicators
The percentage of miles rated good for chemical and physical habitat indicators varied widely within the Southern Appalachians ecoregion. Phosphorus and nitrogen tended to have a lower percentage of river and stream miles with good quality, 6% and 24% respectively, compared to physical habitat measures such as riparian vegetation cover, instream fish habitat, and excess streambed sediments, which had 55%, 64%, and 54%, respectively.
Human Health Indicators
Human health indicators measured within the Southern Appalachians showed that most of the river and stream miles were below levels of concern. Enterococci were at or below the national benchmark for 62% of river and stream length. Microcystins were at or below the national benchmark for 100% of river and stream length. Mercury in fish tissue plugs was at or below the national benchmark for 24% of river and stream length, with 71% unassessed for a variety of reasons, including the absence of fish, the lack of habitat to support fish that met the minimum size requirement, inability to obtain permits, inclement weather, and site access denial.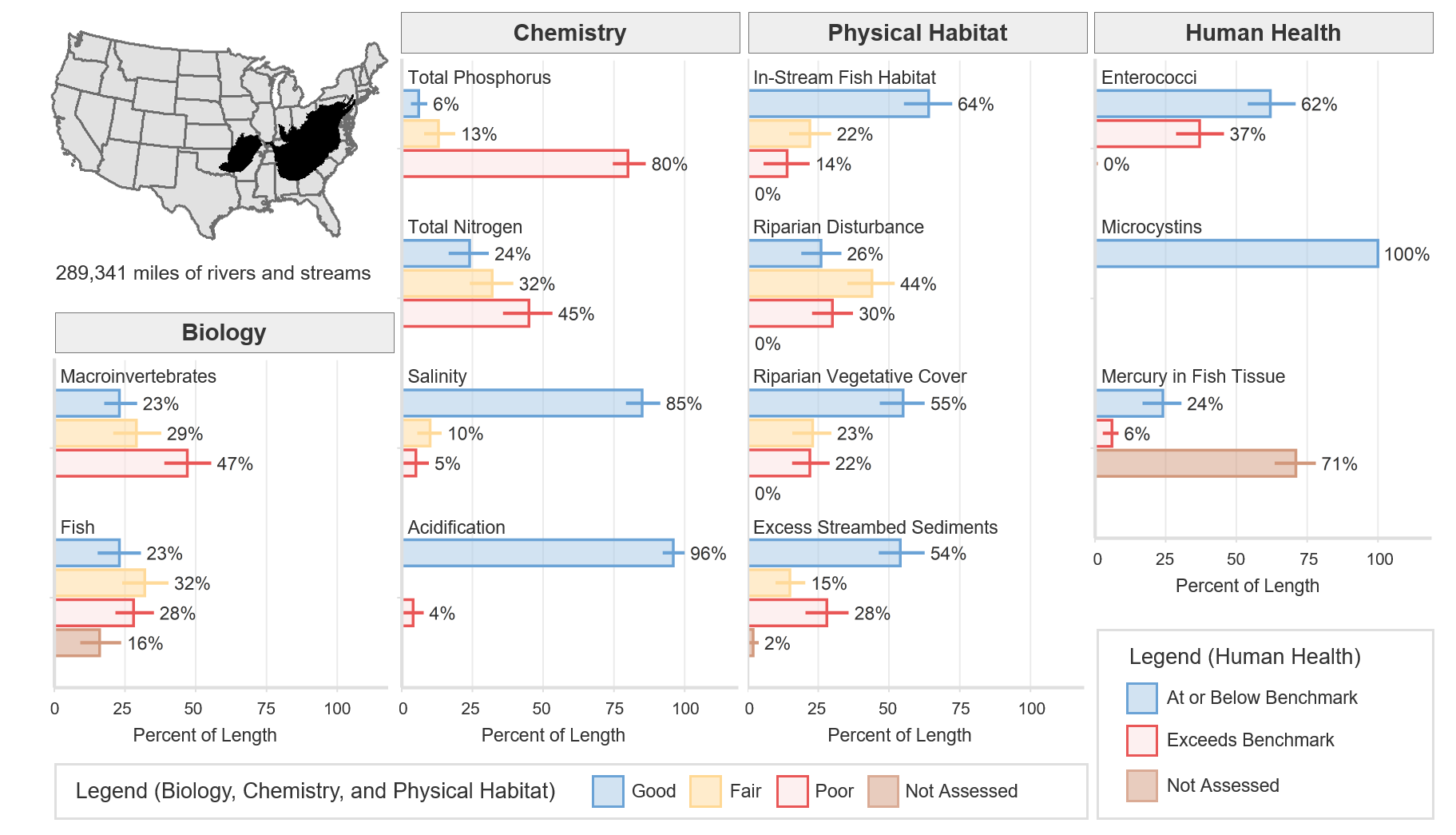 To access more indicator graphics please visit the interactive NRSA Dashboard.​