Southern Plains Ecoregion - National Rivers and Streams Assessment 2013-14
View NRSA 2013-14 results for other ecoregions
Setting
The Southern Plains ecoregion covers about 405,000 square miles (14% of the conterminous U.S.) and includes central and northern Texas; most of western Kansas and Oklahoma; and portions of Nebraska, Colorado, and New Mexico. The Arkansas, Platte, White, Red, and Rio Grande rivers flow through this ecoregion, and most of the Ogallala aquifer (one of the world's largest groundwater aquifers, which supplies irrigation and drinking water to eight states) lies underneath it. Federal land ownership in this ecoregion totals about 11,980 square miles, or about 3% of the total.
The terrain is a mix of smooth and irregular plains interspersed with tablelands and low hills. The Great Prairie grasslands, which once covered much of the Southern Plains ecoregion, are the most altered and endangered large ecosystem in the U.S. About 90% of the original tallgrass prairie has been replaced by other vegetation; agriculture and livestock grazing and production are prevalent. Agriculture is an important economic activity in this ecoregion, and it includes sorghum, wheat, corn, sunflower, bean and cotton production. Livestock production and processing is also prevalent. This ecoregion also contains a sizable portion of U.S. petroleum and natural gas production in Oklahoma, Kansas and Texas. The total river and stream length represented in NRSA 2013–14 for the Southern Plains ecoregion is 38,818 miles.
The climate in this ecoregion is dry temperate, with mean annual temperatures ranging from 45°F to 79°F. Annual precipitation is between 10 and 30 inches.
Biological Indicators
The macroinvertebrate MMI showed that 33% of river and stream length in the Southern Plains ecoregion was of good quality (based on the least-disturbed reference distribution). The fish MMI showed that 16% of river and stream length was of good quality. Eleven percent of river and stream length was not assessed or, for various reasons, had insufficient data to calculate the fish MMI.
Chemical and Physical Habitat Indicators
The percentage of miles rated good for chemical and physical habitat indicators varied widely within the Southern Plains ecoregion. Phosphorus and nitrogen tended to have a lower percentage of river and stream miles with good quality, 18% and 19% respectively, compared to physical habitat measures such as in-stream fish habitat, riparian vegetation cover, and excess streambed sediments, which had 77%, 79%, and 65%, respectively.
Human Health Indicators
Human health indicators measured within the Southern Plains ecoregion showed that most of the river and stream miles were below levels of concern. Enterococci were at or below the national benchmark for 76% of river and stream length. Microcystins were at or below the national benchmark for 100% of river and stream length. Mercury in fish tissue plugs was at or below the national benchmark for 34% of river and stream length, with 64% unassessed for a variety of reasons, including the absence of fish, the lack of habitat to support fish that met the minimum size requirement, inability to obtain permits, inclement weather, and site access denial.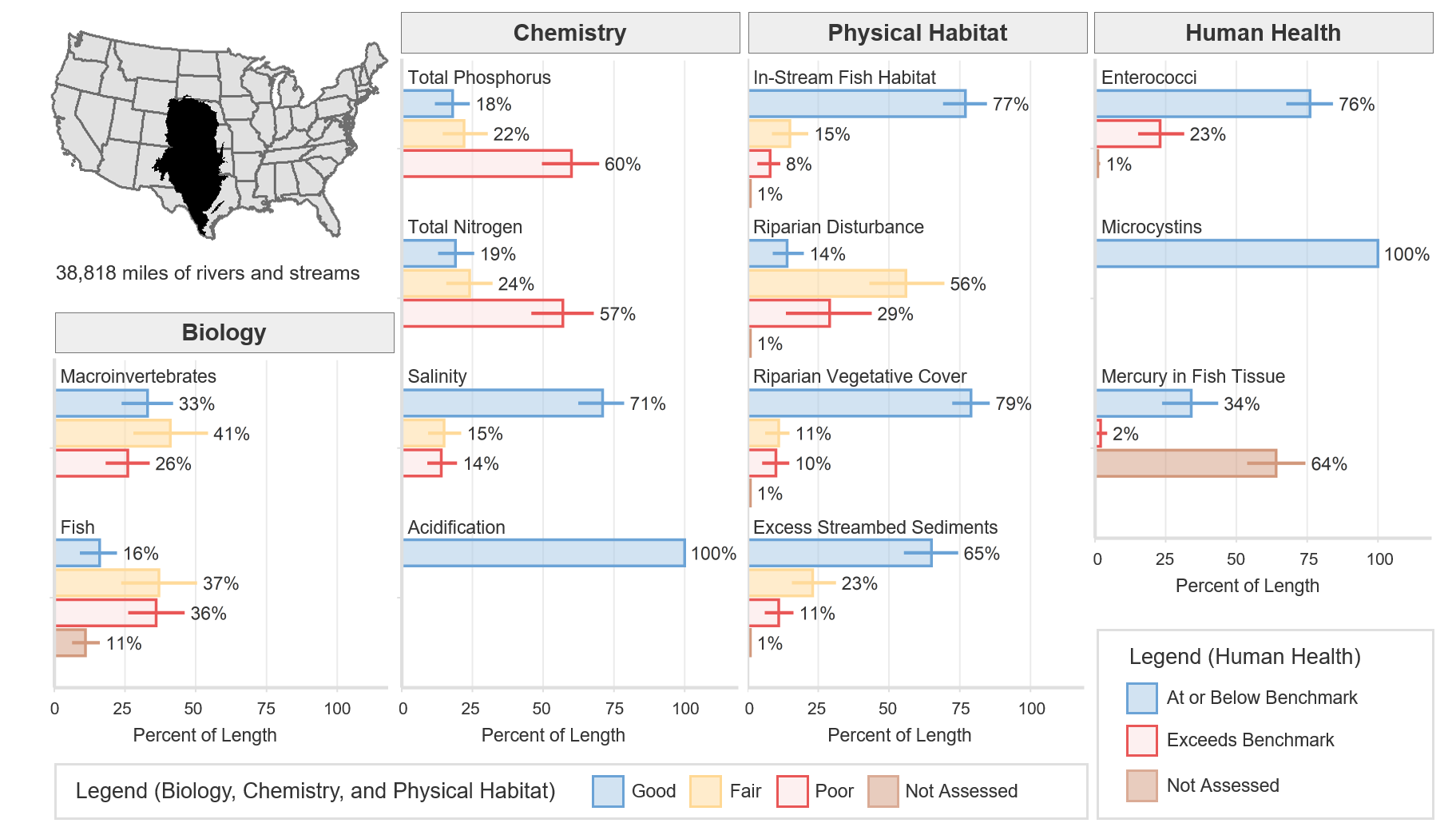 To access more indicator graphics please visit the interactive NRSA Dashboard.​