Upper Midwest Ecoregion - National Rivers and Streams Assessment 2013-14
View NRSA 2013-14 results for other ecoregions
Setting
The Upper Midwest ecoregion covers most of Minnesota's northern half and southeastern area, two-thirds of Wisconsin and almost all of Michigan, an area of 160,374 square miles, or 5% of the conterminous U.S. National and state forests and federal lands account for approximately 25,000 square miles, or 16%, of the ecoregion. The river systems in this ecoregion empty into portions of the Great Lakes regional watershed and the upper Mississippi River watershed. Major river systems include the upper Mississippi River in Minnesota and Wisconsin; the Wisconsin, Chippewa, and St. Croix rivers in Wisconsin; and the Menominee and Escanaba rivers in Michigan. Other important water bodies include Lakes Superior, Michigan, Huron, and Erie.
Virtually all of the virgin forest in this ecoregion was cleared in the 19th and early 20th centuries, and rivers and streams were greatly affected by logging. The Great Lakes aquatic systems are subject to increasing impact from invasive animal and plant species, including the zebra mussel, round goby, river ruffe, spiny water flea, and Eurasian watermilfoil. Major manufacturing and chemical, steel, and power production occur in the large metropolitan areas of the Upper Midwest ecoregion.
Streams in the Upper Midwest ecoregion typically drain relatively small catchments and empty directly into the Great Lakes or upper Mississippi River. These streams generally have steep gradients, but the region's topography and soils tend to slow runoff and sustain flow throughout the year. The total river and stream length represented in NRSA 2013–14 for the Upper Midwest ecoregion is 101,648 miles.
The glaciated terrain of this ecoregion typically consists of plains with some hills. Lakes, rivers, and wetlands predominate in most areas. The climate is characterized by cold winters and relatively short summers, with mean annual temperatures ranging from 34°F to 54°F and annual precipitation ranging from 20 to 47 inches.
Biological Indicators
The macroinvertebrate MMI showed that 39% of river and stream length in the Upper Midwest ecoregion was of good quality (based on the least-disturbed reference distribution). The fish MMI showed that 38% of river and stream length was of good quality. Eleven percent of river and stream length was not assessed or, for various reasons, had insufficient data to calculate the fish MMI.
Chemical and Physical Habitat Indicators
The percentage of miles rated good for chemical and physical habitat indicators varied widely within the Upper Midwest ecoregion. Phosphorus and nitrogen tended to have a lower percentage of river and stream miles with good quality, 25% and 21% respectively, compared to physical habitat measures such as in-stream fish habitat, excess streambed sediments, and riparian vegetation cover, which had 87%, 57%, and 62%, respectively.
Human Health Indicators
Human health indicators measured within the Upper Midwest ecoregion showed that most of the river and stream miles were below levels of concern. Enterococci were at or below the national benchmark for 73% of river and stream length. Microcystins were at or below the national benchmark for 100% of river and stream length. Mercury in fish tissue plugs was at or below the national benchmark for 37% of river and stream length, with 55% unassessed for a variety of reasons, including the absence of fish, the lack of habitat to support fish that met the minimum size requirement, inability to obtain permits, inclement weather, and site access denial.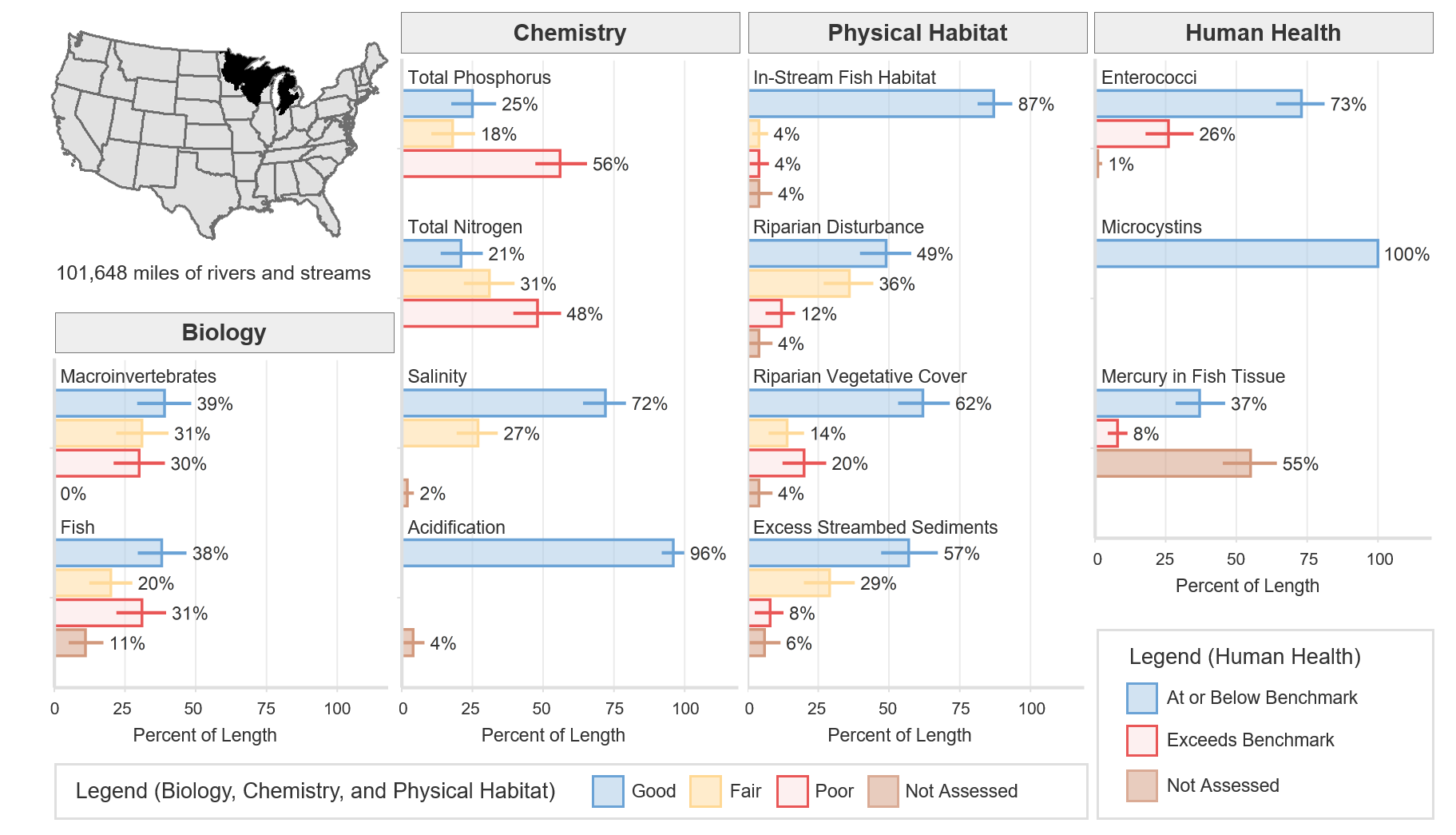 To access more indicator graphics please visit the interactive NRSA Dashboard.​