Success Stories for HUC in Rhode Island
On this page:
---
CARE for Environmental Justice in Providence, RI
The Environmental Justice League of Rhode Island (EJLRI) is a Providence-based group working to build power in the communities most affected by environmental burdens. Created as a volunteer coalition in 2007, the organization works to develop leaders to take action to promote safe and healthy environments for all, ensuring that everyone has a healthy place to live, work, and play regardless of race, ethnicity, or income. In 2008, the League was awarded EPA's Community for Action and Renewed Environment (CARE) grant to develop a local partnership, identify environmental hazards, and set environmental priorities in the community.
Care Alliance: Education and Action to Address Toxic Exposure in Providence
Through the CARE grant, EJLRI was able to hire its first full-time staff person to organize community stakeholders to build a partnership that has been meeting since March, 2009 to identify environmental and public health concerns in Providence, learn about the concerns, prioritize issues to be addressed, and ultimately to reduce toxics in their environment. The CARE Alliance includes residents, non-profits, community groups, and city, state, and federal government representatives who are working together to create a healthier environment. Issues that have been raised to-date include green jobs, access to healthy food, healthy housing, lead, contaminated sites, and asthma/air pollution among others.
Lead-Safe Gardening Workshops
Throughout the project, there has been an emphasis on education, training, and finding creative ways to deliver environmental information, which has been extremely successful. Environmental Justice Walking Tours, a Lead Safe Gardening Workshop, workshops on safer alternatives to conventional household cleaners and pesticides, Energy Efficiency "Barn-Raisings" and a Recycling Block Captain Program have all successfully engaged community residents and taught ways to reduce toxic exposure and deepen their understanding of environmental issues.
EJLRI also partnered with Brown University to develop the Community Environmental College, an educational forum that teaches youth and adults about environmental justice issues in the community. As a pilot program, an EJ course was offered during summer, 2009 to 10 high school youths. Its curriculum focused on issues such as toxics in the community, air quality, food justice, and environmental justice on a global scale.
Healthy Corner Store Initiative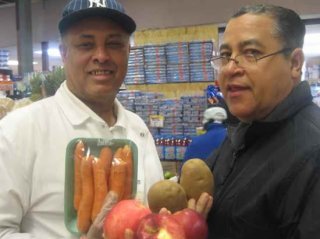 Leading Meetings with Decision-Makers: Gorham Manufacturing Site Community Forum
Since the award of the grant, EJLRI has made significant progress for the Environmental Justice movement in and around Providence. Amelia Rose, Lead Organizer for the League said, "The CARE program has allowed the EJ League, in our first official year, to begin conversations in Providence neighborhoods about the environmental issues that affect residents' lives, conversations that would largely never have happened otherwise and that are leading to concrete actions that reduce residents' exposure to toxics and other environmental burdens. We've also been able to build relationships with people in our state agencies and on the city level, and bring them into the community with residents for a shared conversation about ways to improve environmental quality for our whole city."
Although the CARE project will be coming to an end during the winter of 2010, EJLRI will continue to promote safe and healthy environments for all the environmental justice communities in Rhode Island.
---
Southside Community Land Trust: Youth Urban Gardening Education Initiative in Providence, RI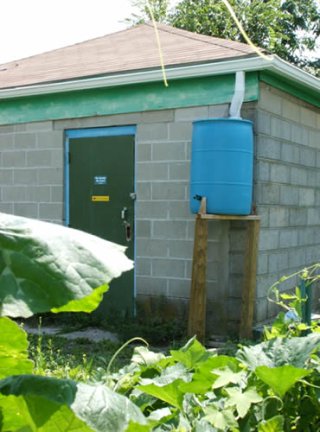 The Southside Community Land Trust (SCLT) started in 1981 by community members who recognized a need for safe, open space to grow food in the neighborhood. The group's first action was to buy a cheap vacant lot in the city and transform it into a shared garden. Since that first project, SCLT has worked hard to provide access to land, education, and resources to the community so that people can grow food in environmentally sustainable ways. The mission of the organization is to create community food systems where locally produced, affordable, healthy food is available to all. In order to accomplish these goals, the SCLT proposed a one year project to capitalize on training, outreach, and capacity-building with multicultural low-income you, their parents, teachers, and neighborhoods.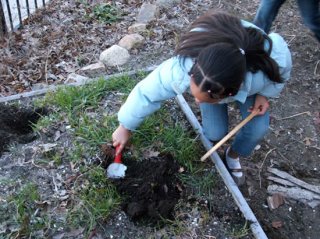 The Youth Urban Gardening Education Initiative project was proposed to build upon a long-standing partnership between SCLT, two elementary schools, and two community agencies offering Youth Gardening Club (YGC) programming. The YGC is an initiative that uses urban gardening to foster positive outcomes for inner city youth while promoting environmental stewardship.
With the Healthy Communities Grant award, SCLT worked to improve their YGC curriculum by expanding in the areas of pest management, water conservation, and soil testing, develop tools and projects for a high school garden program, install rain barrels at YGC sites, create lessons for SCLT's field trip program to City Farm, and involved the community through Garden Nights with information about healthy soil, pest management, and water conservation.
The Youth Urban Gardening Education Initiative was focused on two low-income neighborhoods and three schools and the results are evident around the community. The organization hired an YGC leader and, with the help of 40 YGC participants, conducted soil tests for gardens at Bailey and D'Abate Elementary School garden sites. A curriculum was created and applied in summer Youth Garden Club and Children's Garden Summer program, which included "The Bug Book", a field guide to damaging and beneficial insects in the garden.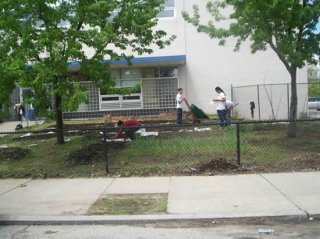 The SCLT's Education Director and City Farm Manager worked with students from Feinstein High School in the fall of 2008, focusing on soil fertility and garlic planting; the students then converted a lawn of the high school campus into 7000 ft growing space. The garden project was a huge success; it produces hundreds of pounds of vegetables that students and families from the high school take home. Awareness of water issues was also addressed by a group of Feinstein High School students who put on a demonstration of easy to implement, low-cost, rainwater storage systems for community members. Furthermore, a Field Trip Curriculum Committee created four field trip lessons for elementary through high school students to SCLT's City Farm and community garden sites. These field trips gave the students opportunities for hands-on learning and field experience that they might not get in the classroom. Garden Nights, parties set up to outreach to community with information about healthy soil, pest management, and water conservation, were another aspect of the project. These events were held at various elementary schools and were attended by over a hundred community members.
The sustainability of the community's local food system is directly connected to protecting and increasing the health of its urban ecosystems. Urban agriculture not only has the potential to increase access to fresh, local food in low-income neighborhoods, but also helps build community togetherness and engage residents of all ages in the stewardship of land. The Youth Urban Gardening Education Initiative program and other works done by the SCLT has helped to provide equal economic, social, and ecological benefits in areas of Providence, which will help to increase community health overall. The programs work in tight partnership with the local schools, have strong membership support, and will continued to strive towards the ultimate goal of the SCLT of creating community food systems where locally produced, affordable, healthy food is available to all.
---
Childhood Lead Action Project: Working to Reduce Childhood Lead Poisoning in Providence, RI
Since 1992, the Childhood Lead Action Project (CLAP) has worked to eliminate childhood lead poisoning through education, parent support and advocacy and they are the only organization in Rhode Island devoted exclusively to this critical issue. Over the last couple of years, the Urban Environmental Program has partnered with CLAP on several efforts to reduce the incidents of childhood lead poisoning in Providence, RI, including their "Lead Safe Silver Lake" and "Immigrant and Refugee Lead Prevention" projects.
The "Lead Safe Silver Lake" project targeted the Silver Lake neighborhood of Providence, an area with documented high incidence of lead poisoning. The goals of this effort were to reduce the incidence of lead poison in the Silver Lake neighborhood, make more houses voluntarily lead-safe and in compliance with lead laws, and ensure tenants and property owners are knowledgeable about and can readily access the resources available to them. These resources include prevention information, lead-safe work practices training, free inspections, house remediation funding, as well as enforcement and legal assistance for tenants.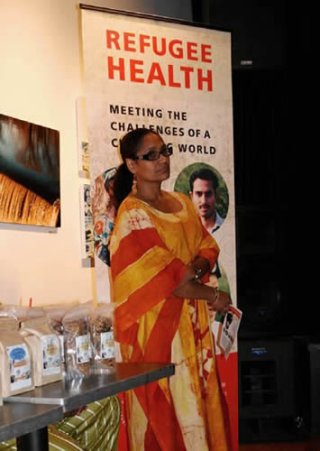 In order to carry out the Childhood Lead Action Project's first goal of cutting the incidence of lead poisoning in half, the group had to mobilize people and resources. In order to gain knowledge and prevention resources as well as financial resources, the organization aimed to create effective partnerships with the Rhode Island Housing Resources Commission (HRC), CLEARCorps and Rhode Island Legal Services (RILS). The next step was to determine the specific needs of Silver Lake and the best methods for reaching at-risk residents. Community discussions established outreach priorities for the targeted community. In conjunction with HRC, the organization established protocol for distributing informational materials to owners and tenants in a quick and efficient manner, was well as deal with tenants complaints of suspected lead hazards. CLEARCorps helped to develop a method for utilizing free risk assessment services for property owners. CLAP targeted its education efforts by conducting door-to-door outreach, giving presentations and staffing informational tables at local events.. They also provided options for tenant complains to code enforcement and assistance from RILS. The group focused on promoting the Providence Lead Hazard Reduction Program which provides funding for work on homes with lead hazards. Ultimately, this was looked upon as a success because the program was more comprehensive than what had been originally offered to residents. The next step was to encourage community leaders and their neighbors to take the necessary steps to reduce lead poisoning and CLAP helped to establish and facilitate an advisory group. The advisory group has twelve members and held thirteen strategy/campaign update sessions during the project period.
The second goal of this effort was to make more houses voluntarily lead safe and in compliance with lead laws. In order to educate property owners about the availability of led hazard reduction and inspection resources and training on lead-safe work practices that will help them comply with the Lead Hazard Mitigation Act, the organization distributed printed information to the owners in Silver Lake and worked with HRC and CLEARCorps to distribute materials through mailings, door-to-door distribution, and posters. These materials included information on abatement resources, free risk assessment services, upcoming lead-safe work practices trainings, and requirements of the Lead Hazard Mitigation Act. Two years into the project, 397 houses had been visited for targeted outreach. Next, CLAP worked to ensure the City of Providence, the Rhode Island Department of Health (DOH), and the Rhode Island Attorney General is taking effective enforcement action against property owners that are known lead violators. The group held meetings with both the DOH and Providence Code Enforcement officials in order to prioritize work and identify effective tools for requiring negligent property owners to address deteriorating housing. The advisory group succeeded in securing Code Enforcement's commitment to conduct preventative exterior inspections in the priority target area and surrounding neighborhood, as well as requiring staff to attend trainings provided by CLAP about lead hazards, lead laws, and Code Enforcement's role in the lead poisoning prevention law enforcement system.
The third goal of this effort was to ensure that tenants are knowledgeable about the resources available to them, and can readily access them. The group worked to educate tenants in a variety of settings about their legal rights and about screening and prevention, inspection, in addition to legal and other resources available to them to protect the safety of their children. This goal was achieved through the distribution of written materials and face-to-face outreach, as well as Tupperware-style house parties hosted by neighborhood residents at which a lead educator presents lead information. The hosts received stipends as an incentive. A total of 12 house parties were held with 79 attendees.
Through these efforts, CLAP is confident that it has improved health outcomes and quality of life in the neighborhood of Silver Lake. The number of houses enrolled in the Providence Lead Hazard Reduction Program is the primary indicator of their success. The project has also been successful in building the community's capacity to preserve these gains by education tenants, property owners, and community organizations about the importance of lead-safe housing, tenant's rights, and resources available.
The "Immigrant and Refugee Lead Prevention" project was aimed specifically at increasing awareness and action among immigrant and refugee populations to reduce the incidence of lead poisoning and to reduce the exposure of immigrant and refugee children to lead hazards in rental property.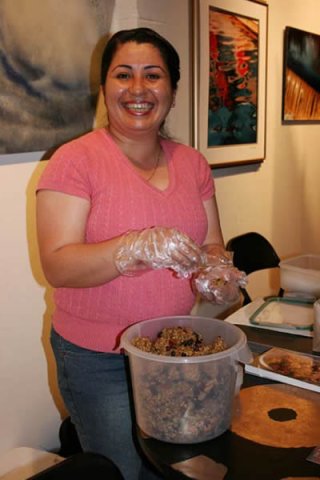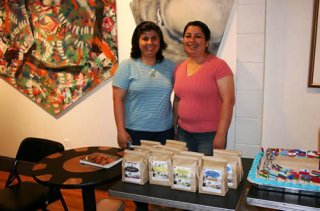 In order to increase awareness and action among immigrant and refugee populations, one of the first goals was to identify and adapt culturally and linguistically appropriate lead prevention materials. CLAP worked to identify and contact groups already working with the target populations to learn from their expertise. By doing this, it was decided that the use of pictures would be most effective method for a Lead 101 presentation and that it would be acceptable to all the cultural groups. In addition, representatives from each of the four most significant language groups (Kunama, Kirundi, Krahn, and Arabic) were selected to serve as Lead Outreach Volunteers. They were provided in-depth training regarding the issues of lead, and then worked with CLAP to ensure the presentation to each group was truly culturally appropriate and that it addressed any culturally specific issues or practices which might overlap with lead poisoning prevention or inhibit it. During the project, eight house parties/presentations were held, with at least one for each language group, reaching over forty adults.
The second goal of this effort included increasing the awareness among social service agency staff who serve the targeted populations about the childhood lead poisoning issue, the impact on their client base and the resources available for prevention/intervention, and to encourage prevention discussions with clients. During the project, education was provided to fourteen service providers, including the International Institute, Brown Refugee Tutoring and Enrichment Program, Genesis Center, and the African Alliance.
Childhood Lead Action Project's projects targeting both the Silver Lake neighborhood and the Immigrant/Refugee populations in Providence, have done a tremendous job to educate residents, keep Lead at the top of the agenda for numerous local organization and agencies, and laid the groundwork for policy changes over the coming years.