Nonpoint Source: Education and Outreach
Nonpoint Source Outreach Toolbox: The Nonpoint Source Outreach Toolbox is intended for use by state and local agencies and other organizations interested in educating the public on nonpoint source pollution or stormwater runoff. The Toolbox contains a variety of resources to help develop an effective and targeted outreach campaign.
Social Indicator Planning and Evaluation System (SIPES): A step-by-step system for using social indicators to help you plan, implement and evaluate Nonpoint Source (NPS) management projects. SIPES is intended to be used by resource managers who want to learn more about their watersheds. 
The Social Indicators Data Management and Analysis (SIDMA) tool organizes, analyzes, and visualizes social indicators related to nonpoint source (NPS) management efforts through statistical and spatial relationships.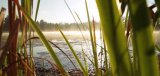 Wetlands Education Page: Educational resources for wetlands.
NOAA Education Discovery Kit-Nonpoint Source Pollution:This is a comprehensive site on nonpoint source pollution categories and pollutants from nonpoint sources.
After the Storm Television Special (2004): This half-hour television special about watersheds was co-produced by the Weather Channel (TWC) and EPA.