EPA OIG Infrastructure Investment and Jobs Act Oversight
We oversee the EPA's implementation of the Infrastructure Investment and Jobs Act to ensure that approximately $60 billion in funds are used effectively and for their intended purposes in support of the president's infrastructure initiatives. This page is divided into the following linked sections:
On this page:
---
EPA OIG IIJA Oversight
The OIG will continually oversee the EPA's plan and administration of IIJA funding. We will follow up on lessons learned from previous OIG and Government Accountability Office reports and prepare information reports based on them. Information reports will not have recommendations and will present the current status of EPA oversight; this information will be used to plan future work. As part of our regular process, we will conduct capacity audits to formally assess the EPA's and grantees' ability to carry out the Agency's stated mission and objectives using infrastructure funds. The OIG will develop multi-year work and inspection plans, propose future audits related to the IIJA, and conduct risk assessments targeting new areas for review.
The OIG's FY 2022 Infrastructure Investment and Jobs Act Oversight Plan will guide our audits, evaluations, and oversight engagements to address the EPA programs receiving or impacted by IIJA funds.
Planned Infrastructure Oversight Work
For the remainder of FY 2022 the OIG has planned the following projects. Proposed OIG FY 2023 projects will be available in September 2022.
Audit of the EPA's Awards to Replace School Buses Under the Diesel Emissions Reduction Act of 2010
Audit of the EPA's and States' Identification and Replacement of Lead Service Lines in Environmental Justice Communities
Audit of Water Infrastructure Resilience Against Climate Change
Audits of the EPA's Effectiveness of Institutional Controls and Remediation at Superfund Sites
Audit of the EPA's Oversight of the Public Water System Supervision Grant Program to Tribal Recipients
Ongoing Infrastructure Oversight Work
The following OIG notification memorandums inform the public about ongoing infrastructure oversight projects: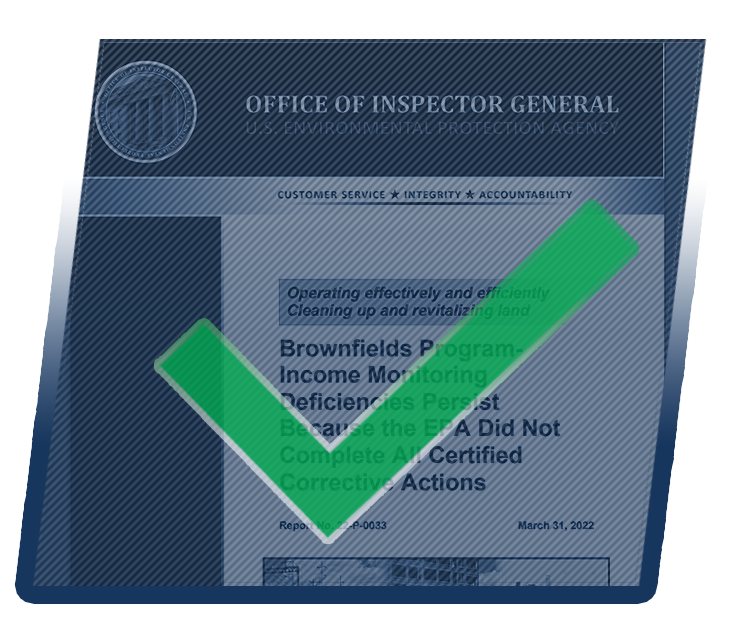 Completed Infrastructure Oversight Work
The following OIG reports inform the public about current completed projects:
---
OIG Independence of EPA
The EPA's Office of Inspector General is a part of the EPA, although Congress provides our funding separate from the agency, to ensure our independence. We were created pursuant to the Inspector General Act of 1978, as amended.
Environmental Protection Agency  |  Office of Inspector General
1200 Pennsylvania Avenue, N.W. (2410T)  |  Washington, DC 20460  |  202-566-2391
OIG Hotline: 1-888-546-8740.