Proud to Celebrate a Diverse EPA
Earlier this month, EPA made history by raising the Pride flag in honor of the LGBTQIA+ community at our headquarters for the first time ever. This gesture of support by my employer felt especially powerful during times that are so fraught for our community, with efforts to roll back decades of our hard-won civil rights.
As a special emphasis program manager (SEPM) and chair of the National LGBTQ+ Special Emphasis Program Advisory, I recently worked with colleagues from across EPA's regional offices to prepare for our National Pride Event. These brave advocates and supporters have powerful stories to tell – and I don't use the word "brave" lightly. It takes courage to speak your truth and call on colleagues for support – and now is a critically important time to tell our stories and support one another. During our National Pride Event, a diverse, nationwide panel of EPA employees will share stories of allyship and support for LGBTQIA+ family members.
In this moment, I reflect on the decades of work of EPA's LGBTQIA+ community and our allies, and I draw strength, both from our predecessors and our emerging leaders. We have always found a way to support one another, and we continue to create new ways of doing so. In the early years of EPA, most of our community was closeted, with well-founded fears that coming out at work would negatively impact their careers. During the early years of the AIDS epidemic, people with partners and friends dying of AIDS/HIV had to tell "white lies" to take sick or administrative leave to care for them. Some supervisors were known as known for being gay-friendly, while others were not. A small group of gay men at EPA headquarters organized an informal, off-campus discussion group called "Southwest Men's Bible Study" to socialize and create a network of people who could help each other address these challenges in the workplace. Similar off-campus groups formed in Seattle, San Francisco, New York, and Boston.
In the 1990s, the group came out of the closet, changing its name to EPA GLOBE – Gay, Lesbian, or Bisexual Employees – becoming a chapter of Federal GLOBE, with sister chapters across agencies and departments. Through the decade, the group began pursuing a non-discrimination policy based on sexual orientation – this work paid off in 1994 when the Agency was one of the first to include a prohibition on sexual orientation discrimination in 1994, and "sexual orientation" was added to the non-discrimination clause in EPA vacancy announcements in 1996. It was not until 1998 that sexual orientation was added to the Federal Equal Employment Opportunity Policy (Executive Order 11478).
And in 1996, one year before I joined the Agency, Administrator Carol Browner sent a Pride month memo to employees, the first time an administrator had made such a gesture. And twenty years ago, in 2002, the first Agency Pride Celebration was held in the Rachel Carson Green Room in the William Jefferson Clinton building.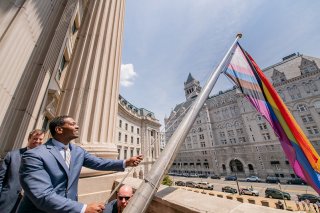 Through the years, as we have seen our nation take great strides to advance equality, EPA has been a leader in these efforts from the start. Through continuously advancing policies, I have seen the Agency become more welcoming, more open, and more attuned to gender identity, and more responsive to the needs of our diverse workforce than ever before.
One example of EPA's efforts in action today is EPA's response to the Government-Wide Strategic Plan to Advance Diversity, Equity, Inclusion and Accessibility in the Federal Workforce (November 2021). EPA is developing its own DEIA Strategy, with substantial input from eight different workgroups – one of which is completely focused on LGBTQIA+ issues. This work emphasizes the Agency's commitment to creating a culture of inclusion for all EPA employees.
Pride Month this year opened with Administrator Michael Regan raising the Pride flag at EPA headquarters, continued with events in various program offices, Regions and Labs, and will close with words of encouragement and hope from the executive director of PFLAG and our colleagues sharing stories of support for their LGBTQIA family members. These stories include an employee who supports her transgender children, an employee with a straight mother and gay father, who as she says, "lived most of his life in the shadows," an employee with both a lesbian, activist mom and a lesbian daughter, and a Senior Executive Service member who was inspired by his lesbian daughter to promote a culture of inclusion in his workplace. I have only gratitude for these colleagues. We have always found a way to support one another. As we face new challenges and setbacks, we find strength in our leaders, past and present, our circle continuously expands, and our work continues.
Learn about Equality EPA, EPA's national Non-Labor Employee Group for addressing matters of interest and concern to LGBTQ+ employees, their families, and their allies.
Editor's Note: The views expressed here are intended to explain EPA policy. They do not change anyone's rights or obligations. You may share this article. However, please do not change the title or the content, or remove EPA's identity as the author. If you do make substantive changes, please do not attribute the edited title or content to EPA or the author.
EPA's official web site is www.epa.gov. Some links on this page may redirect users from the EPA website to specific content on a non-EPA, third-party site. In doing so, EPA is directing you only to the specific content referenced at the time of publication, not to any other content that may appear on the same webpage or elsewhere on the third-party site, or be added at a later date.
EPA is providing this link for informational purposes only. EPA cannot attest to the accuracy of non-EPA information provided by any third-party sites or any other linked site. EPA does not endorse any non-government websites, companies, internet applications or any policies or information expressed therein.