FY 2015 Financial and Program Performance Highlights
---
EPA's FY 2015 Financial and Program Performance Highlights, provided through the tabs above, offers a snapshot of the Agency's FY 2015 performance under its five environmental goals and four cross-agency strategies, as well as through its internal management operations.
Measuring progress and reporting the results are essential to EPA's public accountability and a critical component of the Agency's planning and budgeting cycle.
EPA uses performance measures to assess progress toward the goals outlined in its FY 2014–2018 Strategic Plan to inform decision-making and communicate results to stakeholders. In its FY 2015 Annual Plan and Budget, EPA committed to 180 annual performance measures.[1] The graph to the right depicts the number of these measures met and not met, as well as those awaiting data as of January 1, 2016. EPA discusses its results in more detail, including reasons for missing or exceeding FY 2015 targets, in its FY 2015 Annual Performance Report.
In addition to annual performance measures, the Agency tracks performance on the FY 2014–2015 Agency's Priority Goals (APGs), a component of the Administration's performance management framework which supports improvement in near-term outcomes related to the strategic plan. More information on the Agency's APGs is available at performance.gov.
---
[1] Of EPA's 180 FY 2015 performance measures, 26 measures fall under the Agency's enabling and support programs (including the Offices of Administration and Resources Management, Environmental Information, and Inspector General) and the Office of Research and Development. These measures are not reflected in the "Goal-at-a Glance" summaries which are provided on the tabs for each of EPA's five strategic goals.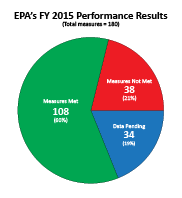 In FY 2015, EPA continued to address climate change and deploy programs to improve air quality. In support of the President's Climate Action Plan (CAP), EPA issued the historic Clean Power Plan, which will cut the U.S. power sector's carbon pollution by 32 percent below 2005 levels in 2030. As part of the CAP, EPA also proposed standards to cut methane emissions from the oil and gas sector by 40 to 45 percent from 2012 levels by 2025, and issued two proposals to further reduce methane emissions from municipal solid waste (MSW) landfills by nearly a third. The proposed rules are expected to reduce methane emissions by an estimated 487,000 tons a year beginning in 2025.
EPA continued to successfully implement motor vehicle greenhouse gas emissions standards, achieving its FY 2014-15 Agency Priority Goal. Additionally, more than 19,000 organizations and millions of Americans partnered with EPA's climate partnership programs, preventing more than 420 MMTCO2e emissions. The United States continued to outperform its obligations under the Montreal Protocol, and in FY 2015 EPA finalized the 2015 hydrochlorofluorocarbon (HCFC) allocation rule that will cut U.S. consumption by nearly 60 percent compared to 2014, when U.S. HCFC consumption was already 60 percent below required levels.
Working with partners and co-regulators, EPA continued to develop and implement national programs that are reducing harmful indoor and outdoor air pollutants. From 2003 to 2014, for example, ambient concentrations of fine particulate matter and ozone decreased 29 percent and 18 percent, respectively. However, even with this progress, in 2014, approximately 57 million people in the United States lived in counties with air that did not meet health-based standards for at least one pollutant.
Despite significant progress on addressing climate change and delivering on cleaner air, EPA is continuously faced with balancing competing priorities within existing resource limitations.
Additional highlights from EPA's FY 2015 efforts to address climate change and improve air quality include:

In FY 2015, EPA's water program continued to make progress toward its two strategic objectives: protecting human health and improving water quality on a watershed basis. The program stepped up its work with federal and state partners under the National Estuary Program (NEP), exceeding its FY 2015 target by protecting or restoring nearly 112,000 coastal acres and contributing to a cumulative total of 1.5 million acres protected or restored since 2002. Under the NEP, Tampa Bay Exit achieved a "Seagrass" milestone of 40,295 acres of healthy sea grass beds, the largest area measured since the 1950s.
Working with its partners, EPA met the Agency Priority Goal of all states with Nonpoint Source Management Plans having those plans updated to adhere to new Section 319 state grant guidelines. The Agency is developing a new Water Quality Framework, which uses a standard geographic unit of analysis—"the catchment"—to report and track environmental water quality improvements. It is hoped that the new strategy will streamline water quality assessment and reporting while providing a more complete picture of the nation's water quality.
Despite the many successes of the NEP and EPA wetlands program efforts, land disturbance and nonpoint source pollution remain critical challenges. Thirty-two percent of existing wetlands nationwide are in poor condition, and harmful algal blooms caused by excess nutrients still present a constant threat to drinking water. EPA is addressing these challenges through new health advisories, technical assistance to drinking water utilities and laboratories, and improved analytical detection methods.
Other EPA actions to protect America's waters in FY 2015 included:

EPA continues to make progress toward its land protection and restoration objectives. The Agency and its partners made 21,836 sites ready for anticipated use (RAU) in FY 2014-15, significantly exceeding its goal of 18,970 sites. This success was primarily driven by the underground storage tank program exceeding its RAU target by 15 percent. EPA's Superfund and RCRA Corrective Action cleanup programs met their performance targets but expect future challenges, since stagnated appropriations have caused delays in assessment, investigation, and design work that bring sites into the remedy construction stage.  In addition, many remaining sites are more complex and are subject to newly identified contaminants and more stringent cleanup standards. The Brownfields Program continued to show progress, leveraging over 11,000 jobs and $1.71 billion in FY 2015.
The Agency is meeting its performance targets for prevention of hazardous waste and petroleum releases, sustaining its progress through two key rulemakings in FY 2015. The revised underground storage tank (UST) regulations will better prevent and detect UST releases, a leading source of groundwater contamination, and help ensure that all USTs meet the same minimum standards. The "Definition of Solid Waste" (DSW) final rule promotes sustainable materials management (SMM) while adding safeguards for hazardous materials recycling. The rule included a groundbreaking environmental justice analysis which addresses the rule's potential impacts on low-income and minority communities.
EPA continues to make progress implementing the Executive Order on Improving Chemical Facility Safety and Security in partnership with other federal, state, local, and tribal agencies; industry; environmental groups; communities; and plant workers. Significant efforts have been made to build the capacity of local, state, and tribal emergency responders and emergency planners through outreach and education on chemical hazards and risk mitigation. For example, in FY 2015, EPA, along with its federal partners, issued guidance on the safe handling and storage of Ammonium Nitrate and the analysis of Safer Technology and Alternatives and prepared a proposed rulemaking to update the Risk Management Program regulation, which is expected to be released in FY 2016. EPA also worked with its federal partners and regional response teams to improve data sharing among agencies and develop standard operating procedures, training exercises, and inspections. The culmination of these efforts is expected to increase the safety culture within industry and the education of the community to help prevent accidents from occurring. However, this work, coupled with the limited resources, contributed to the Agency missing the FY 2015 target of 460 risk management program (RMP) inspections by 18 percent. EPA's ability to maintain regular RMP inspections is limited to less than 4 percent of chemical facilities.
EPA continues to focus on strengthening environmental and health protection in Indian country, as few tribes have sought federal environmental program implementation authorities due to understaffed tribal environmental departments. In FY 2015, EPA worked to finalize 211 EPA-Tribal Environmental Plans (government-to-government agreements that establish environmental priorities with each tribe) through the end of the year and consulted with tribes on 75 regulations, permits and other policy issues.
Additional highlights of EPA's work to clean up communities and enhance sustainable development include:

Under Goal 4, EPA exceeded its Annual Performance Goal target of 250 chemical assessments by completing assessments for 297 pesticides and other chemicals in FY 2014-2015. The Agency completed a risk assessment for a fifth TSCA Work Plan Chemical (for n-methyl-2-pyrrolidone, a paint remover), adding to the four assessments completed in FY 2014. The Agency could not complete risk assessments for an additional seven chemicals due to insufficient data; however, it released a data needs assessment to identify and commence the process to acquire adequate data necessary to complete the risk assessments.
Completed assessments identified risks for three chemicals (TCE, NMP and BPM), and EPA acted expeditiously in FY 2015 to respond. The Agency conducted workshops with stakeholders and the public to examine risk management options and commenced the process for exercising its authority to prohibit or restrict specific uses of those chemicals. EPA also initiated assessments of additional chemicals in preparation for accelerated assessment completion targets in FY 2016 and FY 2017.
EPA exceeded its goal for developing 54 draft risk assessments for existing pesticides, issuing 69 draft risk assessments in FY 2015. As part of its strategy to achieve the 2022 statutory deadline, the Agency implemented process efficiencies, while also addressing endangered species and pollinator protection issues.
EPA also made progress on endocrine disruptor screening, completing 54 determinations in FY 2015. Especially noteworthy is the Agency's cross-office work to develop and implement new high throughput and computational models, which will allow a 20-fold increase in the number of risk screenings performed while greatly reducing animal testing in the coming years. EPA plans to expand these models to screen for other endocrine-related pathways in FY 2017.
To promote pollution prevention, EPA made significant progress in reducing hazardous materials, water usage, and greenhouse gases, as well as increasing business, institutional, and government cost savings. A key accomplishment was the launching of the "Safer Choice" label. A continuation of the Design for the Environment program, the label is designed to increase consumer awareness of and demand for products that are safer for families, pets, and the environment.
Additional highlights of EPA's FY 2015 work to ensure the safety of chemicals and prevent pollution included:
Issuing problem formulation documents addressing 1,4-dioxane and three clusters of flame retardants, covering ten chemicals; releasing a data needs assessment for another seven flame-retardant chemicals; and initiating rulemaking actions for three chemicals.
Finalizing revisions to the Agricultural Worker Protection Standard (WPS) that will afford farmworkers health protections similar to those in other industries, taking into account the unique agricultural working environment.
Publishing partial screening results for the estrogen receptor pathway for more than 1,800 chemicals through the Endocrine Disruptor Screening Program and developing additional high throughput and CompTox methods for screening chemicals for other endocrine pathways.
Co-chairing the President's Pollinator Health Task Force, where EPA continued actions to protect pollinators as outlined in the Strategy to Promote the Health of Honey Bees and Other Pollinators and accepted comments on its Proposal to Protect Bees from Acutely Toxic Pesticides.
Joining other federal agencies, the National Wildlife Federation, the Pollinator Partnership Exit, and many more organizations in the Million Pollinator Garden Challenge Exit to promote pollinator health. 
Issuing interim recommendations through the Pollution Prevention Program. The recommendations include specifications, environmental performance standards, and ecolabels to help federal agencies purchase environmentally preferable products and services in accordance with Executive Order 13693.
Working with other federal agencies to complete the environment and investment chapters of the TransPacific Partnership (TPP), which require member countries to enforce and adhere to domestic and international environmental laws, regulations, and agreements.
Participating in the development of the environmental chapter of International Maritime Organization (IMO)'s first mandatory Polar Code Exit for ship safety and environmental protection, which is designed to significantly reduce or eliminate oil, chemical, sewage, and garbage discharges from ships in Arctic waters. 

By focusing on large cases that drive compliance across industries and have the highest impact on protecting public health and the environment, EPA made strong progress under its enforcement objective in FY 2015. The Agency obtained more than $404 million in combined federal administrative, civil judicial penalties and criminal fines—more than double the penalties and fines assessed in FY 2014—and a criminal conviction rate of 92 percent. The majority of the criminal cases (62 percent) were determined to have significant health, environmental, and deterrence impact.
The unpredictable year-to-year variance of the settlement process affected some of the Agency's FY 2015 enforcement program results, contributing to missed targets for the number of cases initiated, pounds of pollutants reduced, and volume of contaminated soil cleaned up. Achievement of annual targets is also affected by the Agency's strategy of focusing efforts on large, high impact cases. These cases allow EPA to focus its limited resources and expertise on large cases that drive compliance across industries and have the highest impact on protecting public health and the environment.
EPA continued to promote environmental justice (EJ) by targeting noncomplying facilities for their disproportionate impacts on low-income and minority communities. The Agency also worked to include Supplemental Environmental Projects (SEPs) directly benefitting communities in settlement agreements, more than doubling SEPs from FY 2014 ($17M) to FY 2015 ($39M).
Looking forward, the Agency continues to implement next generation compliance tools and strategies, such as electronically-submitted reports and advanced pollution monitoring, which will advance its enforcement activities and further safeguard public health and the environment.
Additional FY 2015 compliance achievements included:

EPA's FY 2014-2018 Strategic Plan sets forth four cross-agency strategies, which set clear expectations for changing the way EPA achieves results. Select highlights under these strategies are outlined under this tab. More detailed FY 2015 accomplishments and challenges are described in FY 2015 At-a-Glance Cross-Agency Strategy progress reports.
Working Toward a Sustainable Future.
EPA is advancing sustainable environmental outcomes and optimizing economic and social outcomes through Agency decisions and actions, which include expanding the conversation on environmentalism and engaging a broad range of stakeholders.
Working to Make a Visible Difference in Communities.
EPA is working to align community-based activities to provide seamless assistance to both urban and rural communities, while maximizing efficiency and results. The Agency is expanding support of community efforts to build healthy, sustainable, green neighborhoods and reduce and prevent harmful exposures and health risks to children and underserved, overburdened communities.
With the help of more than 200 local governmental and nongovernmental organizations, EPA's regional offices are implementing activities in 50 underserved communities to address their most pressing environmental needs.
EPA also launched a dedicated community resource page on its website. Included in the resources available on the page is the new Green Infrastructure Wizard, an online tool that helps communities in their green infrastructure and stormwater management integrated planning.
EPA incorporated Next Generation monitoring tools in 12 negotiated enforcement settlements and in 12 discharge permits. Through these tools, EPA wants to empower community members to follow local pollution trends and help them interpret and use the data to spur action.
Launch a New Era of State, Tribal, Local, and International Partnerships.
EPA is strengthening partnerships with states, tribes, local governments, and the global community that are central to the success of the national environmental protection program through consultation, collaboration, and shared accountability.
Embracing EPA as a High-Performing Organization.
EPA is working to maintain and attract a diverse and engaged workforce of the future with a more collaborative work environment. It is modernizing business practices, including through E-Enterprise, and taking advantage of new tools and technologies. EPA is continuing to improve the way it works as a high-performing Agency by ensuring it adds value in every transaction with its workforce, co-regulators, partners, industry and the people it serves.
EPA developed and implemented a Senior Executive Service (SES) Candidate Development Program (CDP), the Office of Personnel Management's preferred method for identifying and developing individuals for senior leadership. EPA typically faces 20-30 SES vacancies per year; under this CDP, EPA selected 26 outstanding candidates.
The Agency continued to implement its successful Skills Marketplace program by selecting over 300 employees to work on projects part-time while remaining in their home offices.
To help streamline business practices, EPA identified 36 priority projects to be supported by 39 Lean events. The Agency completed 27 of these Lean events in FY 2015 and expects to complete the remaining 12 in FY 2016. In FY 2016, Agency leadership will focus on Lean implementation through rapid assessments of progress to date and by convening a Lean Action Board to advise the Administrator on how to remove barriers to successful replication and scale-up.
EPA continues its work to redesign and consolidate office space to reduce its overall footprint and increase energy efficiency. For example, in FY 2014, the Agency released some of its headquarters space, reducing square footage by 135,901 and helping save nearly $7 million in annual rent expenditure. EPA faced challenges in FY 2015 related to timely completion of space planning and design and regional personnel moves and consolidations. In FY 2016, however, EPA expects to release another 141,191 square feet of its headquarters space, saving the Agency approximately $6 million, and as well as make reductions in other locations.
EPA continued to develop its Agency-wide training platform, EPA-U. However, EPA's ability to fully build EPA-U system capabilities was delayed pending procurement and implementation of a new Learning Management System by the Agency's service provider, the Department of Interior.

Sound Financial Management
Strong financial management remains a key component of EPA's work to carry out its mission to protect human health and the environment. For the 16th consecutive year, EPA's Office of the Inspector General (OIG) has issued a "clean" audit opinion, unqualified and unmodified, on the Agency's financial statements. This means EPA's financial statements are presented fairly, conform to all generally accepted federal government accounting principles, and are reliable and accurate.
EPA's most significant financial achievements for 2015 include:
Implementing process improvements in financial management, including improvements to the software applications accountability process and the end-of-year reporting process.
Launching a new leave management module within its time and attendance (T&A) system that will improve T&A tracking and auditing.
Developing a new enhanced unliquidated obligation software tool that lets managers review unliquidated open actions, improving their ability to manage the nearly $10 billion worth of unliquidated obligations by combining financial and administrative data for each action, updating data daily, capturing all previous certifications of funds, targeting efforts at only actions with no activity, and providing summary report capabilities.
Capturing costs identified for user fees through a new agency-wide process that improves the accuracy of user fees in its financial management system, reducing administrative burden, automating user fee cost tracking, and increasing efficiency and accuracy of financial data reporting.
Launching a new executive resource center application that provides executives with easy-to-use summary-level financial and administrative information to serve as a tool to improve management oversight and internal controls.
The chart to the right displays assets, liabilities, and net position as of September 30, 2015, and September 30, 2014. EPA's assets totaled $16.09 billion at the end of FY 2015, a 5.79 percent increase from FY 2014. EPA's liabilities totaled $4.73 billion at the end of FY 2015, a 115.98 percent increase from FY 2014. The net cost of operations shows EPA's gross cost to operate, minus exchange revenue earned from its activities.
EPA Holds Itself Accountable
The Federal Managers' Financial Integrity Act and the Office of Management and Budget Circular A-123 require federal agencies to evaluate their internal controls over programs and financial systems and report the results of those evaluations to the President and Congress.
During FY 2015, EPA evaluated 10 key financial processes and 71 key controls and found no new material weaknesses. A subsequent Office of the Inspector General (OIG) audit of EPA's FY 2015 financial statement identified no new material weaknesses and 12 new significant deficiencies. Based on the results of the agency's and OIG's FY 2015 evaluations, the Administrator can provide reasonable assurance on the adequacy and effectiveness of EPA's internal controls over programs and financial systems, and the agency's internal controls over financial operations were found to be operating effectively and efficiently.
The Reports Consolidation Act of 2000 requires the Inspector General to identify the most serious management challenges facing EPA. In FY 2015, OIG identified these key management challenges for EPA:
EPA needs to improve oversight of states authorized to accomplish environmental goals.
Limited controls hamper the safe reuse of contaminated sites.
EPA faces challenges in managing chemical risks.
EPA needs to improve its workload analysis to accomplish its mission efficiently and effectively.
EPA needs to enhance information technology security to combat cyber threats.
EPA continues to need improved management oversight to combat fraud and abuse and take prompt action against employees found to be culpable.
EPA has established procedures for addressing its major management challenges. EPA senior managers meet with representatives from OIG, the Government Accountability Office, and the Office of Management and Budget to hear their views and recommendations. EPA managers also use audits, reviews, and program evaluations conducted internally and by OIG, GAO, and OMB to assess program effectiveness and identify potential management issues. EPA recognizes that management challenges, if not addressed adequately, may prevent the agency from effectively meeting its mission and is committed to addressing all management issues in a timely manner and to the fullest extent of EPA's authority.