National Radon Action Month: Media Resources
Media Resources for Partners and Stakeholders
EPA's media campaigns for TV, radio and print for use by our partners, stakeholders, collaborators and advocates.
Learn more about how to view, listen to, and order radon Public Service Announcements below:
---
Living Healthy & Green
We want Americans to know that a big part of "living green" is breathing clean, healthy indoor air. One of the best ways to protect our families' health is to get radon gas out of our homes. It is the environmentally responsible choice that can help reduce lung cancer.
Since radon enters homes from under the ground, living healthy and green starts from the ground up. By kicking radon out of homes every family can have safer, healthier air to breathe.
EPA developed Living Healthy & Green to educate the public about how easy it can be to kick radon out. The campaign features former NFL kicker Fuad Reveiz, now a home builder who uses radon-resistant construction and encourages others to do the same.
The campaign features TV and seven unique music genres for radio stations and MP3 players. The entire campaign is available in multiple media formats and sizes, in both English and Spanish.
---
Green Sox
Radon PSAs - Green Sox offers:
30 and 60 second TV Spots in English and Spanish

60 second Radio Spots tailored for different music genre
Print Ads for Newspapers and Magazines
Ringtones
Pipe Stickers
A Holiday eCard
Web Banners
---
Eddie's Story: Test. Fix. Save a Life
In Eddie's Story, the winner of EPA's 2008 "Test, Fix, Save a Life" video contest, lung cancer survivor Eddie Metcalfe shares his personal story - a powerful call to action for every American home to be tested for radon. Share with your friends, and please have your home tested.
Get the video in various media forms, get Web banners and a print ad. For Eddie's Story, you can also get a Postcard, Promotional Information (with a read me file) and a 3-Fold Card. All elements can be viewed and ordered on line at Radon PSAs - Eddie's Story
---
Build Green: It's Easy to Build New Homes Radon-Resistant
"...The good news is you can build your customers a safer, healthier, radon-resistant home. The techniques to prevent radon from entering a home are practical and straightforward for any builder. It's an inexpensive way to offer families a benefit that could reduce their risk of lung cancer. And it's a smart way to build trust between you and your customer."
Fuad Reveiz, Member of the National Association of Home Builders
Trade and Consumer Magazine Ads as well as Radio Ads are available:
---
Dr. Oz Discusses: The #1 Cancer Risk at Home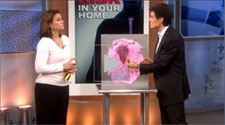 For informational purposes only, check out a "discussion about Radon in Homes," on the Dr. Oz show (aired February 10, 2011). Available on the National Center for Healthy Housing's website.
---
Tools and Resources for Radon Media Campaigns
The following links exit the site