RE-Powering Mapping and Screening Tools
Other Mapping Resources
On this page:
National Maps
RE-Powering has developed a series of static maps to illustrate the renewable energy potential of contaminated lands, landfills, and mine sites on a national level.  These maps are organized by technology and development scale.
PVMapper
The Department of Energy's SunShot Program's PVMapper is a utility-scale solar site mapping Web application that is open-source and free to use. It is a geographical information system (GIS) with an easy-to-use interface that provides end users with specific information and capabilities relevant to siting large solar energy projects. PVMapper also includes the RE-Powering dataset of contaminated lands, landfills, and mine sites.
EISPC Mapping Tool
The Eastern Interconnection States Planning Council (EISPC) Energy Zones Mapping tool is a free online mapping tool to identify potential clean energy resource areas within the Eastern Transmission Interconnection. The tool enables users to identify areas with a high concentration of clean energy resources that could provide significant power generation in the future. The EISPC EZ Mapping Tool includes the RE-Powering dataset of contaminated lands, landfills, and mine sites.
Solar and Wind Site Screening Decision Trees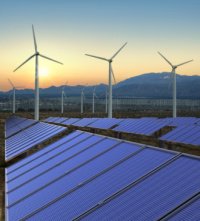 Learn what characteristics make a site more attractive for solar or wind energy development with RE-Powering's Electronic Decision Tree tool.
An overview of this tool can be found in the following fact sheet.
RE–Powering Screening Dataset
EPA's RE–Powering Screening Dataset (XLSX) (48 MB)
Provides the data used to determine renewable energy potential for over 80,000 sites
Allows users to screen for renewable energy potential in key markets, at different development scales, and more.
Siting Renewable Energy on Contaminated Lands
The Data Documentation for Mapping & Screening Criteria outlines the renewable energy mapping methodology, data considerations, data sources and attributes.
Learn how to use filtering and reporting features to target sites with specific characteristics and develop custom reports with this Primer for Using RE-Powering Data to Screen Sites for Renewable Energy Potential.
This data was used to generate the maps and the RE–Powering Mapper and national maps. It can be exported for use in other mapping applications.