America Recycles Events
On this page: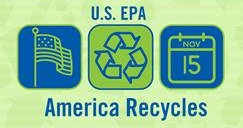 ---
America Recycles: Summit
The annual America Recycles Summit brings together organizations and individuals who are interested in making a difference in recycling in the United States. In 2018, EPA held its first America Recycles Summit with a goal to address the major challenges facing the U.S. recycling system.
EPA hosted a virtual Summit on November 17, 2020. EPA announced national recycling goals, provided an overview and facilitated dialogue about its draft national recycling strategy, as well as facilitated public and private sector engagement and discussions across the country.
The Summit sessions were recorded and can be accessed using the links below:
2020 America Recycles: Summit Recordings
Speakers include:
Peter Wright, U.S. EPA Assistant Administrator for the Office of Land and Emergency Management
Andrew Wheeler, Administrator, U.S. EPA
Shinsuke Sugiyama, Japanese Ambassador to the United States
Pete Lopez, Administrator, U.S. EPA Region 2
Overview of National Recycling Strategy and National Goal, U.S. EPA Assistant Administrator Peter Wright
Federal Agency Dialogue on Recycling in the United States
Session speakers:
Peter Wright,  Assistant Administrator for the Office of Land and Emergency Management, U.S. EPA (Moderator)
Daniel Simmons, Assistant Secretary for the Office of Energy Efficiency and Renewable Energy, Department of Energy
Walter G. Copan, Under Secretary of Commerce for Standards and Technology, and National Institute of Standards and Technology Director, Department of Commerce
Stakeholder Dialogue on Implementing the National Recycling Strategy and Goal
Session speakers:
Carolyn Hoskinson, Director, U.S. EPA Office of Resource Conservation and Recovery (Moderator)
Rick Kriseman, Mayor of St. Petersburg & Environmental Committee Chair of the U.S.Conference of Mayors
Cathy Jamieson, Chair of the Association of State and Territorial Solid Waste Management Officials, Materials Management Subcommittee
Robin Wiener, President, Institute of Scrap Recycling Industries
David Biderman, Executive Director and CEO, Solid Waste Association of North America
Anne Germain, Vice President of Technical and Regulatory Affairs, National Waste and Recycling Association
Nina Goodrich, Director, Sustainable Packaging Coalition
Bolstering Markets for Recyclables via Recycling Market Development Centers or Programs
Session speakers:
Tim Hamlin, Director of the Land, Chemicals, and Redevelopment Division, U.S. EPA Region 10 (Moderator)
Kara Steward, Recycling Development Center Coordinator, Washington State Department of Ecology
Frank Severson, Senior Environmental Scientist, California Recycling Market Development Zone Program
Anna DeLage, Recycling Market Development Manager, South Carolina Department of Commerce
Susan Heffron, Principal Planner, Minnesota Pollution Control Agency
Bob Bylone, Executive Director, Pennsylvania Recycling Markets Center
Effective Strategies for Reducing Contamination in Residential Recycling
Session speakers:
Dale Carpenter, Chief of the Sustainable Materials Management and Pollution Prevention Sections, U. S. EPA Region 2 (Moderator)
Asami Tanimoto, Community Program Manager, The Recycling Partnership
James Jennings, Senior Public Service Administrator, Illinois Environmental Protection Agency
Erin Jensen, Environmental Specialist, New Jersey Department of Environmental Protection
Sarah Reeves, General Manager, Chittenden County (VT) Solid Waste District Recycle Campaign
Leslie Hatchell, Recycling Educator/Coordinator, York County Government, South Carolina
Eduardo Rodriguez, Operations Manager, City of Phoenix, AZ
Effective Strategies in Tribal and Territorial Materials Management and Recycling Systems:
Session speakers:
Conchita San Nicolas Taitano, Guam EPA (Moderator)
Anahma Shannon, Environmental Programs Director, Kawerak Inc, Reilly Kosinski and Simone Sebalo, Zender Environmental Health
James Williams, Environmental Services Director, Muscogee (Creek) Nation
Mark Funkhouser, CFM, FMP, Director of Sustainability and Custodial Services, Chumash Casino Resort
Lisa Furnace, Solid Waste Manager, Saint Regis Mohawk Tribe
Josh Tenorio, Lieutenant Governor of Guam
Closing the Loop: The Importance of Buying Recycled
Session speakers:
Will Sager, Executive Director, Southeast Recycling Development Council (Moderator)
Ksenija Janjic, Environmental Protection Specialist, U.S. EPA
Karen Hamilton, Sustainable Purchasing Program Manager, King County Procurement and Payables, WA
Karen Cook, Sustainability Project Manager, County of Alameda, CA
Jan Hardin, Solid Waste Manager, Waste Reduction Partners
U.S. Federal Strategy for Addressing the Global Issue of Marine Litter
Session speakers:
Andrew Wheeler, Administrator, U.S. EPA (moderator)
Mike Witt, Corporate Director, Environment, Health & Safety and Sustainability, Dow Chemical Company
Joshua Baca, Vice President, Plastics Division, American Chemistry Council
Robert Flores, Vice President of Sustainability, Berry Global
Rob Kaplan, Founder and Chief Executive Officer, Circulate Capital
Jacob Duer, President and CEO, Alliance to End Plastic Waste
Closing remarks from U.S. EPA Administrator Andrew Wheeler
The links above all exit the site.
---
America Recycles: Innovation Fair
Launched in 2019, the America Recycles Innovation Fair showcased recent advances in recycling technology, product development, and materials usage. Registration was free and open to the public.
---
Highlights from Past America Recycles Day Events