Overview of Design and Construction for a Healthy School Environment
New construction and renovation projects are good opportunities for schools and school districts to improve the health of the school environment, address areas of concern, improve classroom comfort and become more energy and water efficient. In addition, no matter how well-designed a building, poor job site construction practices can frustrate the best design by allowing moisture and other contaminants to become potential long term problems.
This section addresses the importance of good design and best practices in construction and commissioning. Following these guidelines can help school buildings perform to their fullest potential so that the children and teachers who work there can, too.
On this page: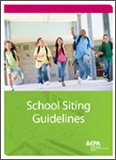 These voluntary guidelines can be used to help communities protect the health of students and staff from environmental threats when selecting new school locations.
Why It's Important
Beyond standard design and construction practices, including high-performance building elements helps schools focus on the community's environmental, economic and social goals.
High performance school building designs can result in lower operating and maintenance costs and reduced energy bills, and if properly planned and implemented, can contribute to healthy, productive school environments.
Adopting high performance practices can help schools and school districts lower their operating costs by up to 30%. One study of the costs and benefits of green schools estimated a 15% reduction in absenteeism and a 5% increase in test scores.
What You Can Do
Make school location decisions by evaluating environmental factors using EPA's School Siting Guidelines.
Read EPA's IAQ Design Tools for Schools for detailed guidance and resources to design healthy new schools, as well as renovate and maintain existing facilities.
Schedule construction activities while school is out of session, or ensure that building occupants are temporarily relocated to prevent exposure to harmful chemicals, dust or particulates.
Read the New Construction and Renovation section of EPA's model K-12 school environmental health program for more information.
Resources
EPA and Federal Partners
National Best Practices Manual for Building High Performance Schools (PDF)(457pp, 8.8M, About PDF)

 from the U.S. Department of Energy helps architects, engineers and project managers responsible for designing or retrofitting schools make decisions that promote energy efficiency and renewable energy.

EPA's Creating Healthy Indoor Environments in Schools offers information and resources to school officials, facilities staff members, teachers, health care professionals, parents and students to help improve IAQ in schools. This includes:
​ENERGY STAR for K-12 School Districts describes EPA's partnership with schools across the country to provide technical support, guidance on financing options and recognition for schools wanting to use energy more efficiently. ENERGY STAR has coordinated with EPA's Indoor Air Quality program to address the overlap between energy efficiency upgrades and indoor environmental quality, and it has launched an energy performance rating tool in schools.
EPA's Sustainable  Management  of Construction and Demolition Materials discusses how to reduce, reuse and recycle waste generated during construction, renovation and demolition projects.
EPA's Smart Growth and Schools discusses how to apply the principles of smart growth to educational facility planning to improve the quality of schools and communities together.
Travel and Environmental Implications of School Siting is the first EPA study to empirically examine the relationship between school locations, the built environment around schools, how kids get to school and the impact on air emissions of those travel choices.
The following links exit the site Exit
National Organizations
School Construction News Online is a magazine that addresses design, construction, management and operations.
LEED for Schools rating system by the U.S. Green Building Council recognizes the unique nature of the design and construction of K-12 schools. Based on the LEED for New Construction rating system, it addresses issues such as classroom acoustics, master planning, mold prevention and environmental site assessment.
Whole Building Design Guide by the National Institute of Building Sciences provides government and industry practitioners with one-stop access to up-to-date information on a wide range of building-related guidance, criteria and technology from a whole-building perspective.
The Collaborative for High Performance Schools (CHPS) increases the energy efficiency of public schools by marketing information, service and incentive programs directly to school districts and designers. The Collaborative's goal is to facilitate the design of high performance schools: environments that are not only energy efficient, but also healthy, comfortable and well lit, and contain the amenities needed for a quality education.
A History of School Design and its Indoor Environmental Standards, 1900 to Today (PDF) (30pp, 1M) (30pp, 1M, About PDF) by the National Clearinghouse for Educational Facilities reviews the designs of school buildings, identifying trends in energy consumption, ventilation, heating, air quality, lighting and acoustics.
School Design: Resource List by the National Clearinghouse for Educational Facilities is an annotated list of links, books and journal articles on designing school buildings, including school design guidelines, trends, principles and examples.
BuildingGreen.com connects building professionals to the latest news and information related to green building design. Resources include Environmental Building News, the BuildingGreen suite of online tools, GreenSpec directory of products and LEED user Web tool.
ebuild provides builders, architects, remodelers, subcontractors, dealers and homeowners with access to many types of building products.
State and Local Entities