Safe Routes to Schools
On this page: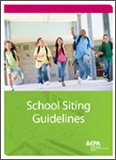 EPA's School Siting Guidelines help communities protect the health of students and staff from environmental hazards when selecting new school locations. 
Why It's Important
A lack of sidewalks, safe bike paths, and parks can discourage children from walking or biking to school as well as from participating in physical activity.
Walking or biking to school can help children meet the recommended levels of 60 or more minutes of moderate to vigorous physical activity on weekdays.
2010 Centers for Disease Control and Prevention (CDC) found substantial evidence that physical activity can help improve academic achievement, including grades and standardized test scores.
Having safe routes to school can also help reduce traffic, lower pollutants and improve the school district's bottom line by saving money on transportation.
What You Can Do
When making school location decisions, consider proximity to where students live, connections to transit, and how safe or easy it is to walk or ride a bicycle there.
Hold information sessions to educate the community on the benefits of walking and biking to school and on approaches to make walking and biking to school a safe alternative.
See the "Environmental Siting Criteria Considerations" in EPA's School Siting Guidelines for more information.    
Resources
EPA and Federal Partners
The following links exit the site Exit
National Organizations
Active Living Research report on the impact of SRTS programs on walking and biking highlights evidence on walking and biking rates, safety, and economic issues associated with SRTS.
National Center for Safe Routes to School helps states and communities encourage children to safely walk and bicycle to school. The center provides tools for teachers and law enforcement; access to data, events and training;, and information on funding. The center also coordinates: Walk to School Day and Bike to School Day.
Helping Johnny Walk to School is a program run by the National Trust for Historic Preservation through a cooperative agreement with EPA. It brings together experts from the fields of education, health, transportation and community design with state partners to find new ways states can encourage community-centered schools.
The Community-Centered Schools page on the National Trust for Historic Preservation website presents schools' success stories and offers tools for preserving historic schools, choosing restoration or replacement, and more.