Soak Up the Rain Logo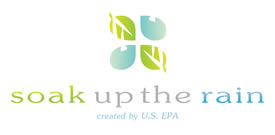 The Soak Up the Rain logo is available for use in implementing local Soak Up the Rain outreach efforts. The logo file and instructions for those using the logo are provided below.
Logo Use Instructions
When the logo is used, it must be kept wholly intact and no content inserted. In addition, the following two statements must be included in the outreach item bearing the logo:
This Soak Up the Rain effort is brought to you by (insert organization name).
EPA does not oversee independent Soak Up the Rain programs.