Superfund Redevelopment Initiative Success Stories
Click on a Region in the map below to explore the Site Redevelopment Profiles. Site Redevelopment Profiles summarize site backgrounds and reuse efforts and highlight success stories as useful examples for the redevelopment of other sites.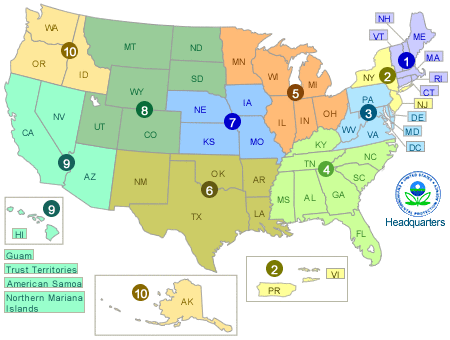 You may need a PDF reader to view some of the files on this page. See EPA's About PDF page to learn more.
Region 1
Site Redevelopment Profile for the 31 Water Street Site (PDF)(2 pp, 2 MB)
Site Redevelopment Profile for the Charles George Reclamation Trust Landfill Site (PDF)(2 pp, 686 K)

Site Redevelopment Profile for the Elizabeth Mine Superfund Site (PDF)(1 pg, 1 MB)
Site Redevelopment Profile for the Kearsarge Metallurgical Corp. Superfund Site (PDF)(1 pg, 944 K)
Site Redevelopment Profile for the Raymark Industries, Inc. Site (PDF)(2 pp, 603 K)
Site Redevelopment Profile for the Re-Solve, Inc. Superfund Site (PDF)(1 pg, 1.6 MB)
(2 pp, 1.4 MB)
Site Redevelopment Profile for the Shaffer Landfill portion of the Iron Horse Park Superfund Site (PDF) (1 pg, 364 K)
Site Redevelopment Profile for the Solvents Recovery Service of New England (PDF)(2 pp, 1.2 MB)
(2 pp, 1.5 MB)
Site Redevelopment Profile for the W.R. Grace & Co., Inc. (Acton Plant) Superfund Site (PDF)(2 pp, 1.5 MB)
Region 2
(2 pp, 1.4 MB)
Site Redevelopment Profile for the Chemical Insecticide Corp. Superfund Site (PDF) (1 pg, 1.1 MB)
Site Redevelopment Profile for the Diamond Alkali Superfund Site (PDF)(1 pg, 367 K)
(2 pp, 1.6 MB)

Site Redevelopment Profile for the Liberty Industrial Finishing Superfund Site (PDF)(1 pg, 208 K)
(2 pp, 1.3 MB)


Site Redevelopment Profile for the PJP Landfill Superfund Site (PDF)(3 pp, 3.7 MB)
(3 pp, 2.9 MB)

Site Redevelopment Profile for the Welsbach & General Gas Mantle Site (PDF)(1 pg, 87 K)
Region 3
Site Redevelopment Profile for the Dixie Caverns Landfill Superfund Site (PDF)(2 pp, 1.9 MB)
Site Redevelopment Profile for the Fort Detrick Area B Ground Water Superfund Site (PDF)(2 pp, 630 K)
(2 pp, 1.4 MB)
(2 pp, 1.1 MB)
Site Redevelopment Profile for the Sharon Steel Corp. (Fairmont Coke Works) Superfund Site (PDF)(3 pp, 2.6 MB)

Site Redevelopment Profile for the Valmont TCE Superfund Site (PDF)(2 pp, 1.1 MB)
(2 pp, 1.1 MB)
Region 4




Site Redevelopment Profile for the Florida Steel Corporation Superfund Site (PDF)(2 pp, 1.7 MB)

Site Redevelopment Profile for the Henry's Knob Superfund Alternative Site (PDF)(2 pp, 2.3 MB)

Site Redevelopment Profile for the Landia Chemical Company Superfund Site (PDF)(1 pg, 210 K)

Site Redevelopment Profile for the North Carolina State University (Lot 86, Farm Unit #1) Superfund Site (PDF)(2 pp, 2.1 MB)
Site Redevelopment Profile for the Pepper Steel & Alloys Superfund Site (PDF)(3 pp, 3 MB)
Site Redevelopment Profile for the Pioneer Sand Company Superfund Site (PDF)(2 pp, 1.3 MB)

Site Redevelopment Profile for the Woolfolk Chemical Works Superfund Site (PDF)(3 pp, 1.6 MB)
Region 5
(3 pp, 1.9 MB)
Site Redevelopment Profile for the Continental Steel Superfund Site (PDF)(3 pp, 1.5 MB)
(3 pp, 2.9 MB)
Site Redevelopment Profile for the Johns-Manville Corp. Superfund Site (PDF)(2 pp, 996 K)
(3 pp, 3.4 MB)
(3 pp, 2.6 MB)

(3 pp, 2.9 MB)
Region 6
Site Redevelopment Profile for the Bayou Bonfouca Superfund Site (PDF)(3 pp, 2.8 MB)
(2 pp, 1.5 MB)
Site Redevelopment Profile for the Eagle-Picher Henryetta Superfund Site (PDF)(2 pp, 395 K)
Site Redevelopment Profile for the Eagle Rock Lake site and the Chevron Questa Mine Superfund Site (PDF)(2 pp, 1.4 MB)
Site Redevelopment Profile for the Molycorp Inc., Superfund Site (PDF)(1 pg, 128 K)
Site Redevelopment Profile for the Mosley Road Sanitary Landfill Superfund Site (PDF)(2 pp, 1.7 MB)
Site Redevelopment Profile for the Palmer Barge Line Superfund Site (PDF)(3 pp, 2.4 MB)
Site Redevelopment Profile for the Pantex Plant Superfund Site (PDF)(1 pg, 1.1 MB)
(3 pp, 1.5 MB)
Site Redevelopment Profile for the Tar Creek (Ottawa County) Superfund Site (PDF) (1 pg, 673 K)
Site Redevelopment Profile for the Tex Tin Corp. Superfund Site (PDF)(3 pp, 846 K)
Region 7
Site Redevelopment Profile for the John Deere (Dubuque Works) Superfund Site (PDF)(2 pg, 1.4 MB)
(2 pp, 1.6 MB)
Site Redevelopment Profile for the Oronogo-Duenweg Superfund Site (PDF)(3 pp, 4.3 MB)

Site Redevelopment Profile for the Peoples Natural Gas Superfund Site (PDF)(3 pp, 2.2 MB)
Region 8
Site Redevelopment Profile for the Midvale Slag Superfund Site (PDF)(1 pg, 64 K)
Site Redevelopment Profile for the Milltown Reservoir/Clark Fork River Superfund Site (PDF)(1 pg, 722 K)
Site Redevelopment Profile for the Murray Smelter Superfund Site (PDF)(1 pg, 106 K)
 
Region 9
Site Redevelopment Profile for the Aerojet General Corporation Superfund Site (PDF)(3 pp, 4.3 MB)
(2 pp, 1.2 MB)
Site Redevelopment Profile for the Jibboom Junkyard Superfund Site (PDF)(1 pg, 168 K)
Site Redevelopment Profile for the Pemaco Maywood Superfund Site (PDF)(1 pg, 83 K)
Site Redevelopment Profile for the Tuluwat Site (PDF)(2 pp, 1.6 MB)

Region 10
Site Redevelopment Profile for the Bunker Hill Mining & Metallurgical Complex Superfund Site (PDF)(4 pp, 4.1 MB)
Site Redevelopment Profile for the North Ridge Estates, Operable Unit 1 Superfund Site (PDF)(3 pp, 1.6 MB)
(3 pp, 2.5 MB)
Site Redevelopment Profile for the Reynolds Metals Company Superfund Site (PDF)(2 pg, 1.8 MB)