Superfund Task Force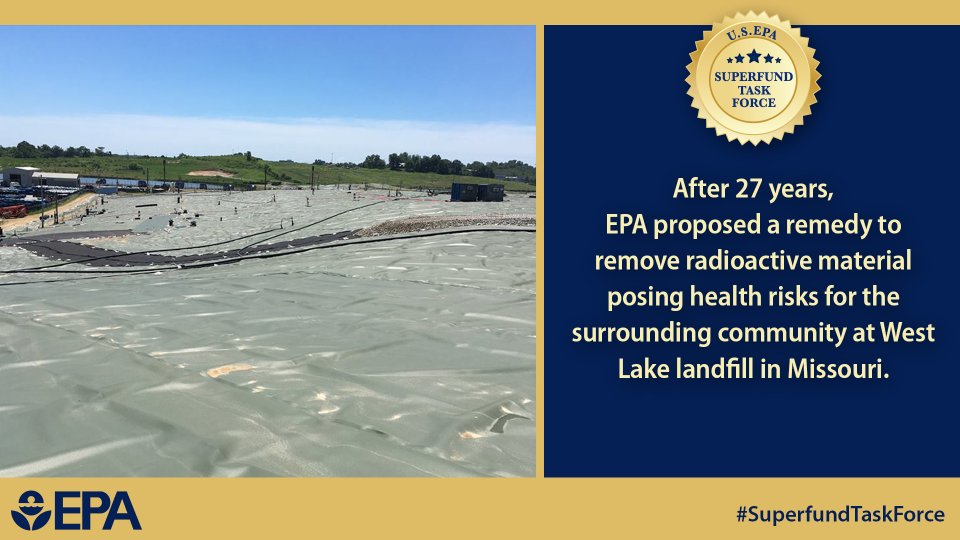 ---
Task Force Recommendations
"The Superfund Task Force reflects the best efforts of our career professionals to expedite Superfund site remediation and better protect the health of our citizens and our environment." - EPA Administrator Scott Pruitt
Protecting human health and the environment is EPA's core mission. Ensuring that the Superfund program operates optimally is one of this mission's cornerstones.
With this in mind, EPA Administrator Scott Pruitt established the Superfund Task Force on May 22, 2017, to provide recommendations for improving and expediting site cleanups and promoting redevelopment.
Specifically, the Task Force looked at how EPA can:
Restructure the cleanup process;
Realign incentives of all involved parties to promote timely remediation;
Reduce the burden on cooperating parties;
Incentivize parties to remediate sites;
Encourage private investment in cleanups; and
Promote the revitalization of properties across the country while ensuring protection of human health and the environment. 
On July 25, 2017, EPA's Superfund Task Force released its recommendations, which are organized under five goals:
Expediting cleanup and remediation;
Reinvigorating responsible-party cleanup and reuse;
Encouraging private investment;
Promoting redevelopment and community revitalization; and
Engaging partners and stakeholders.
EPA is committed to actively engaging with our partners and stakeholders to successfully implement the Task Force's recommendations. Each of the above goals includes actions to begin within 12 months of the recommendations' release. These actions are in various stages of planning or execution — please see the quarterly reports provided below for status updates.
---
Accomplishments
EPA Deletes Two Washington State Superfund Sites from NPL
EPA has officially deleted the Vancouver Water Stations #1 and #4 Superfund sites from the National Priorities List (NPL).
"The City of Vancouver stepped up, addressed the contamination at these two sites and made these deletions possible," said EPA Administrator Scott Pruitt. "This is cooperative federalism at work. They are clearly our partner in the effort to clean up sites, shrink the National Priorities List and make more land available for redevelopment."
EPA and the State of Washington have concluded that all appropriate responses under the Comprehensive Environmental Response, Compensation and Liability Act have been implemented and that no further cleanup is required. Sites can only be proposed for deletion once all remedies are successfully implemented and EPA and the State have determined that cleanup actions conducted at the sites to protect both public health and the environment have been completed.
EPA Announces Proposed Remedy for West Lake Landfill
On Feb. 1, EPA Administrator Scott Pruitt announced the proposed remedy to clean up the West Lake Landfill site in Bridgeton, Missouri. West Lake is one of the Administrator's 21 sites targeted for intense, immediate action.
"The people of the St. Louis region deserve clarity and answers with respect to the remediation of the West Lake Landfill," said Administrator Pruitt. "I promised them an answer, and today I am making good on that commitment."
The proposed remedy – "Excavation Plus" – includes both the removal of the majority of the radioactive material and construction of an engineered cover system to best protect the community of Bridgeton over the long term. This remedy addresses all radioactive material posing unacceptable future risks to the public at large.
The Proposed Plan and Administrative Record will be issued in the following days and available for public review and comment.
Superfund Task Force Issues First Quarterly Report. The quarterly report provides a comprehensive list of accomplishments from October to December 2017. The Task Force will be providing these updates on a quarterly basis.
EPA Releases List of Superfund Sites Targeted for Immediate, Intense Attention. These are sites requiring timely resolution of specific issues to expedite cleanup and redevelopment efforts. The list is designed to spur action at sites where opportunities exist to act quickly and comprehensively.
EPA Releases Superfund Redevelopment Focus List. Superfund sites on this list are those with the greatest expected redevelopment and commercial potential. Superfund redevelopment has helped countless communities reclaim and reuse thousands of acres of formerly contaminated land.
Superfund Completes Deletion Activities at Seven National Priorities List Sites in 2017. As a result of staff working hard to implement Administrator Scott Pruitt's initiatives to make strides in cleaning up the nation's most contaminated toxic land sites, the U.S. Environmental Protection Agency (EPA) announced significant improvement in 2017 – through the deletion of all or parts of seven Superfund sites from the National Priorities List (NPL). This is more than triple the number of sites removed from the list in 2016.
Task Force Ramps Up Redevelopment Efforts: Between October and December 2017, EPA conducted numerous site-specific redevelopment activities, including:
EPA Releases Superfund Human Exposure Dashboard. This dashboard provides the status of EPA's site-wide Human Exposure environmental indicator for each Superfund National Priorities List and Superfund Alternative Approach site. Human Exposure is one of the metrics EPA uses to communicate its progress in cleaning up Superfund sites. EPA has been providing this information on each of these Superfund sites' webpages. The Task Force developed this dashboard to provide human exposure status in a single location.
---
Public Participation Opportunities
The Task Force is offering opportunities for the public to provide input on the Superfund process. To this end, the Task Force recently developed its Partnership and Stakeholder Engagement Strategy (PDF)(3 pp, 128 K). 
Under this strategy, EPA will conduct dialogues via meetings, web discussions, and other fora. These conversations will establish and strengthen partnerships and public engagement as EPA implements the Task Force recommendations.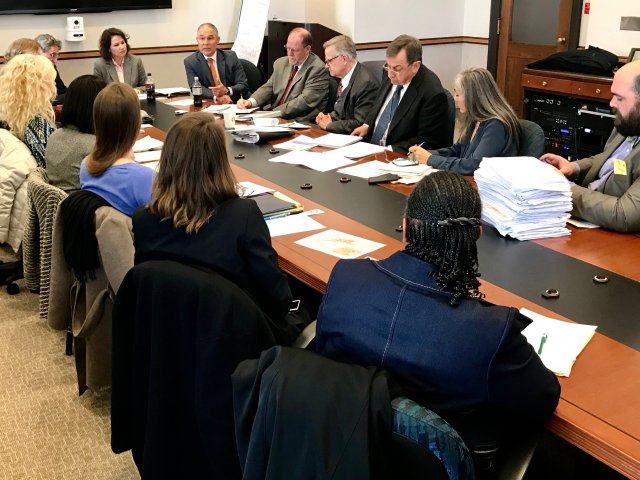 EPA is in the process of developing a series of public information sessions/dialogues on a number of the Task Force recommendations that will take place over several months. Information on the sessions, including topics, dates and registration, will appear on this web page and via other multimedia communication channels. 
EPA has already met with numerous stakeholders regarding the Task Force, including:
On Jan. 24, Administrator Pruitt and other senior EPA leaders met with stakeholders to discuss the Task Force and the future of the Superfund program (picture at right). Present at the meeting were representatives from the Center for Health, Environment, and Justice; Texas Environmental Justice Advocacy Service; Texas Campaign for the Environment; Headwater Defense; Local Environmental Action Demanded; Jesus People Against Pollution; United Neighbors Concerned About GE Dewey Loeffel Landfill; Hoosick Falls Support Network; POWER Action Group; Texas Health and Environment Alliance; and San Jacinto River Coalition. 
At the Brownfields Conference in December 2017, EPA discussed redevelopment opportunities with attendees.
At the Children's Health Protection Advisory Committee Meeting in November 2017, EPA described Task Force goals and recommendations as well as engagement opportunities.
At the Association of State and Territorial Solid Waste Management Officials Annual Meeting in October 2017, EPA discussed Task Force recommendations.
At the 14th Annual Environmental Masterminds 2017 Remediation Benchmarking Workshop in September, EPA described goals and recommendations as well as opportunities for engagement with corporate remediation directors.