About the 2016 Food Recovery Challenge Award Winners
The 2016 Food Recovery Challenge national award winners shared details and quotes about their wasted food prevention and diversion activities, and about their awards with EPA. Read about their accomplishments and how they achieved them.
On this page:
---
Sprouts Farmers Markets 205 and 286
Sprouts Farmers Market: 205, Data-driven Winner, Grocers
Sprouts Farmers Market: 286, Data-driven Winner, Newcomer
Sprouts is committed to zero food waste, taking responsibility for preserving the resources that go into getting food from farm to store including the soil, water, packaging and transportation. To combat hunger and reduce food waste, in 2015, all Sprouts stores donated more than 14 million pounds of fresh food to local hunger relief agencies through their Food Rescue Program. Sprouts also diverted another 5.5 million pounds of food to composting facilities and to local farms to feed animals. By working with the EPA's Food Recovery Challenge and organizations like Feeding America, Sprouts is able to reduce the impact of hunger in their communities and contribute to a cleaner environment.
---
Ursinus College
Data-driven Winner, Colleges and Universities
Ursinus College Dining Services, managed by Sodexo, has worked collaboratively with faculty, staff and students to implement various waste diversion initiatives including waste reduction during preparation, food donations, composting, recycling and trash to energy. By utilizing the Sustainable Materials Management Data Management System, they have been able to track diversion efforts, create goals from their baseline and track and measure results. In addition to participating in the Food Recovery Challenge, Ursinus College is a member school of the Pennsylvania Environmental Resource Consortium.
---
Lanikai School
Data-driven Winner, K-12 Schools
Lanikai Elementary Public Charter School, on the Island of Oahu, Hawaii, has enthusiastically adopted the philosophy and practice of Zero Waste, where all discarded materials are regarded not as trash but as valuable resources. Now in the second full year of 100% food waste recovery, Lanikai students collect, sort and separate lunch and snack food and process all organics – food, paper, cardboard and green waste (yard waste and food waste)– right in the middle of campus, with children at every grade level involved with operations. Kitchen preparation waste feeds worms, a hot compost array handles mixed plate scrapings, and bokashi fermentation (anaerobic fermentation process) for heavy proteins rounds out the suite of processing technologies that converted 14,433 pounds of food waste into rich soil amendments in 2015.

Using these inputs, Lanikai students create magnificent, incredibly productive gardens. This past year, on-site processing transformed food waste into 16 cubic yards of rich compost and 1,320 pounds of valuable vermicasts (worm manure or "castings"). Half of the recovered food waste was used in the gardens, and half shared with growers in the community. Growing more food than the school community can consume, surplus produce is boxed for Aloha Harvest, an agency that distributes food to the needy. While all students, staff, and faculty participate daily in Zero Waste practices, the program was designed and is managed by a full-time professional Resource Recovery Specialist who is funded by a private grant.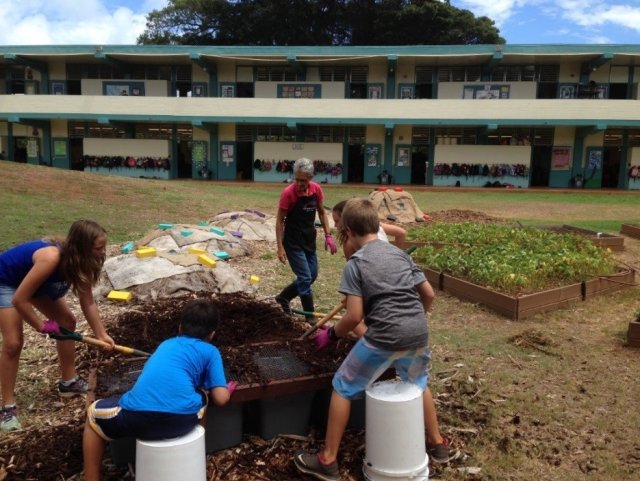 Students at Lanikai School
---
Chumash Casino Resort
Data-driven Winner, Sports and Entertainment Venues
The Chumash Casino Resort is dedicated to the sustainable health of people, the planet and their company. They promote sustainable business practices and social responsibility by using resources responsibly in daily operations and through the entire supply chain. The Casino Resort has set a goal to be a zero waste property by 2019. A major component of this goal is food waste, comprising 40 percent of the waste stream at the resort. The resort's onsite kitchens recycle organic waste by teaming up with local composters and adding tools like a pulper, dehydrator and liquefier to help reduce and recycle waste. The resort has also teamed up with a waste hauler and composting facility where scraps from the kitchen are composted with the property's bio-solids from its wastewater treatment plant.
---
Ortega National Parks, LLC – Carlsbad Caverns Trading Company
Data-driven Winner, Hotels, Resorts, and Lodging
Ortega National Parks and Carlsbad Caverns Trading Company are committed to the conservation and preservation of our nation's wonderful parks -- "America's Best Idea." They increased their food waste diversion efforts throughout 2015 on several fronts. Careful inventory management and analysis of guests' dining choices, coupled with tracking food waste on a monthly basis, allowed them to select vendor products and make menu design and serving decisions with a goal to reduce food waste, while still offering guests a satisfying and healthy range of dining options.
Ortega National Parks and Carlsbad Caverns Trading Company constantly seek to improve their environmental efforts. Their environmental management system is certified to the ISO 14001 standard, and as an organization, they place the utmost importance on the proper stewardship of environmental resources.
---
Goodkind
Data-driven Winner, Restaurants and Food Service Providers
 "We would like to express our thanks to Compost Crusader for helping us achieve these goals and to encourage our entire community to participate in the programs that Melissa at Compost Crusader has initiated. Composting from a food business standpoint is a no-brainer and has really helped us minimize our waste overall. It's simple and rewarding. We hope composting becomes as accessible and easy as trash and recycling in the future. It should just be a way of life." -- William Seidel, Co-Owner, Goodkind
---
Town of New Paltz
Data-driven Winner, Other Sector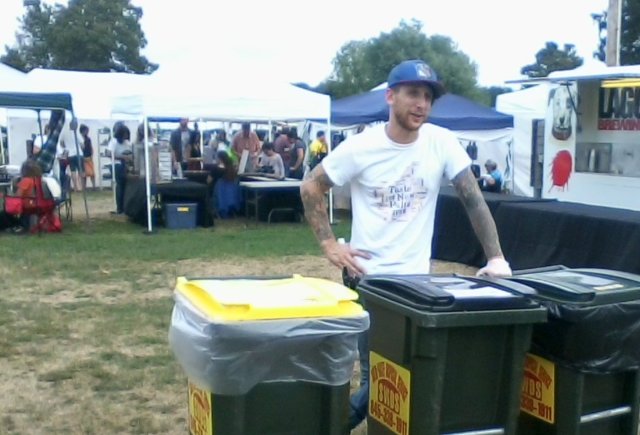 The New Paltz Food Recovery Program has naturally transitioned to match several components of EPA's Food Recovery Hierarchy. In 2011, during the early stages of the New Paltz program, the town held public interactive workshops as part of a zero waste initiative partnership with EPA. Attendees made it clear that composting was one of the most important initiatives. By 2012, the New Paltz ReUse and Recycling Center received approval from the state regulatory agency, New York State's Department of Environmental Conservation, to begin taking in commercial food waste for composting. Since opening in 2012, the center has diverted over 1,380 tons of source separated food waste.
New Paltz has established itself as a model for other small capacity composting sites, i.e., registered for up to 1,000 cubic yards per year. Ulster County, which is home to New Paltz, now has five registered composting sites which are operated by both public and private sector companies. The food recovery program then began a grass roots transition to include food recovery for animal feed as part of its efforts. Several local food chains (retail and warehouses) including a grocery retailer, donate food for both human consumption that is collected weekly for a soup kitchen, and for animal feed. Finally, a snack food franchise donates food waste to a local pig and chicken farmer.
Until recently, the Town of New Paltz worked solely with the SUNY New Paltz campus dorm cleanout effort to donate excess, wholesome food to hungry people. Now though, New Paltz has partnered with multiple key players in the Hudson Valley Food Hub to donate food to hungry people and added a freezer/cooler at the ReUse and Recycling Center. The cooler will be part of a food recovery hub that connects distribution warehouses with local food pantries. The cooler will provide additional storage so that pantries can manage distribution of perishable produce, reduce transportation and carbon dioxide emissions, and encourage additional donations from farms that overproduce or are gleaning. The second phase of this collaboration will be to store food prepared at restaurants and/or by caterers until it can be transported to soup kitchens.
"The most important factor to the success of any program is volunteers, business partnerships and churches to support and implement our Zero Waste efforts. Without these components, none of the programs at the ReUse Center would be possible." -- Laura Petit, Recycling Coordinator for the Town of New Paltz
---
University of California, Davis
Narrative Category Winner, Source Reduction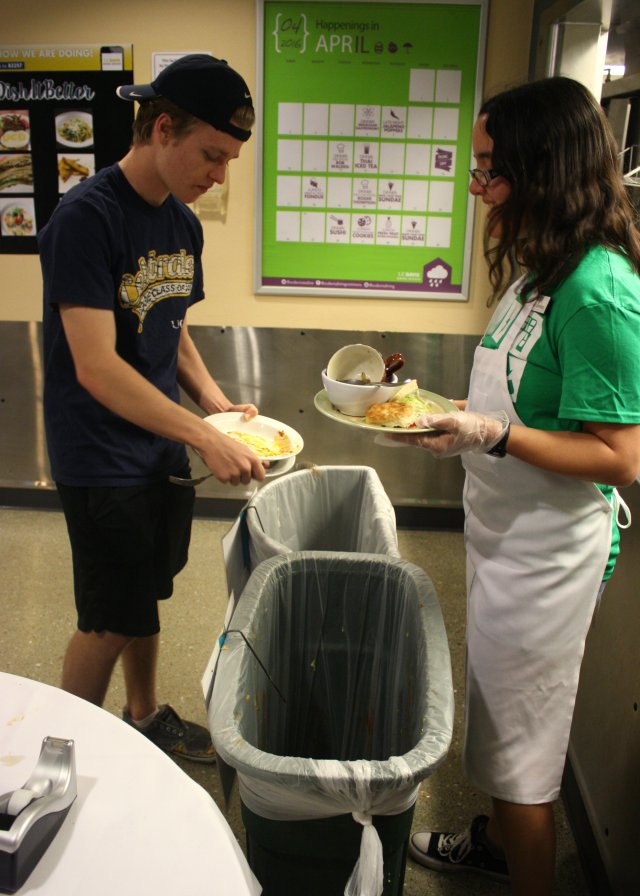 Students on campus reducing food waste.The University of California, Davis (UC Davis) is a leading sustainable institution with numerous innovative programs. As a global food leader ranked first in the nation and second in the world in agriculture and forestry, UC Davis proudly implements various efforts to actively prevent and reduce food waste on the Davis campus and at the UC Davis Medical Center. University leaders proactively gather, track and analyze metrics on a regular basis to identify opportunities to reduce waste further.
A few examples of UC Davis' innovative food waste reduction practices:
The Just-Ask program gives dining hall guests the option to remove unwanted ingredients from their dishes, to prevent them from going to waste.
The Try-A-Taste program provides guests with the option to sample a menu item before taking a full portion of the dish.
Interactive waste audits and displays educate guests about how much edible food is wasted during a meal period.
The student-run Coffee House intentionally repurposes scraps from food preparation for other meals – such as taking the ends of bread and turning them into croutons.
Since 2008, trayless meals in the dining halls have significantly decreased food waste by more than 30 percent.
The UC Davis Medical Center recently centralized its kitchens to one main location and switched to similar menus to reduce food inventory and waste.
The university has a long tradition of embracing sustainability standards that advance leading practices in higher education and beyond. But even more importantly, UC Davis is committed to educating empowered students who can take the things they learn and experience back to their communities to help our world thrive in the midst of environmental challenges.
---
Sodexo
Narrative Category Winner, Leadership
As an endorser of the Food Recovery Challenge, Sodexo actively fights to reduce food waste. Sodexo started a Waste Skills Training at client partner locations across the country. The client partner site is used as a learning laboratory for area Sodexo team members and clients. The interactive training, conducted in collaboration with the EPA, includes classroom education and a waste sort followed by analysis and problem solving using the waste sort data. This type of training easily translates to immediate implementation once attendees travel back to their own sites.
Last April, Sodexo announced their commitment to eliminate waste to the landfill by 2025. To achieve this ambitious goal, they focus at the top of the EPA Food Recovery Hierarchy focusing first on preventing food waste all together and then donating recovered food. Sodexo is committed to playing a role in achieving this waste goal and is strengthening their efforts to eliminate food waste at every client site through programs that focus on raising awareness and influencing the behaviors of customers and employees, continuously improving back-of-house processes and upgrading equipment in the kitchen, measuring impact, and sharing expertise with clients and external industry partners to drive fundamental change on the issue of food waste.
Sodexo delivers more than 100 services across North America that enhance organizational performance, contribute to local communities and improve quality of life. The global Fortune 500 Company is a leader in delivering sustainable, integrated facilities management and food service operations. Learn more about the company at its corporate blog, Sodexo Insights. Exit
 "Receiving the Leadership Award from the EPA is a great honor. Reducing food waste and fighting hunger have long been approaches through which we live our mission on improving the quality of life in the communities we serve. We look forward to continued collaboration with the EPA and accomplishing great strides to reduce wasted food." -- Christy Cook, Director Sustainability Performance and Field Support Sodexo North America
---
Food Forward
Narrative Category Winner, Innovation
Food Forward is a second time Food Recovery Challenge awardee. By nearly doubling their food recovery efforts from 2014 to 2015, their staff and more than 7,000 volunteers have recovered over 200 varieties of produce every day of the year. Their innovative model, which mixes high-impact wholesale recovery with massive civic engagement, creates an average of over 150 volunteer-powered food recovery events every month and delivers meaningful results.
The crux of Food Forward's efforts is a Farmers Market Recovery (FMR) Program that combines gleaning of fresh produce, in coordination with receiving agencies that ensure the food goes to feed those in need. Food Forward's glean teams recover an average of 8,300 pounds of produce per week, mostly in Los Angeles and Ventura Counties, reaching those in need across eight Southern California counties - from Santa Barbara down to the Mexico border.
In 2015, 3,012 FMR program volunteers, including 157 individual glean team leaders attended 743 events at 17 markets, collecting 448,585 pounds of excess produce and serving 63 individual receiving agencies.
---
Northeast Recycling Council
Narrative Category Winner, Endorsers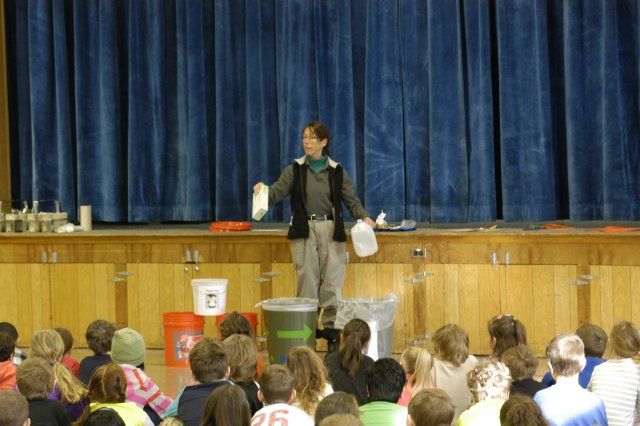 Through its food scrap management work, the Northeast Recycling Council (NERC) provides technical assistance, trainings, and resources advancing wasted food reduction, recovery, and composting. NERC works with communities, residents, schools, and businesses around the Northeast. In 2015, NERC provided technical assistance resulting in food scrap composting at Jay Peak Resort's five full-service restaurants and at four schools in Southern Vermont, presented on food scrap management at two conferences and on two webinars, and published an article on food scrap composting at schools. Through its email bulletin, social media, and other avenues, NERC's outreach promoting EPA's Food Recovery Hierarchy and the Food Recovery Challenge has reached thousands.
"NERC is very committed to advancing wasted food reduction, recovery, and composting throughout the Northeast. NERC is well known and regarded for its work around the Northeast due to its staff expertise, demonstrated success with various projects, events, technical assistance, resource material development, and speaking engagements. This multi-faceted approach serves to engage a wide range of people; whether it is through hands-on meetings and technical assistance or through its presentations and written materials, NERC successfully gains its audience attention." - Robert C. Isner, Director, Waste Engineering and Enforcement Division, Bureau of Materials Management and Compliance Assurance, Connecticut Department of Energy and Environmental Protection and NERC Board President
---
Ramona High School
Narrative Category Winner, Education and Outreach
The Eco-Leaders at Ramona High School are a small group of students who participate in a Functional Skills program and are committed to making change in the world. Led by their teacher, Gloria Quinn, and in collaboration with the County of San Diego, they run a district-wide food waste reduction and composting program. Students weigh, measure, chart and keep accurate data from eight school sites. This data is sent electronically to the County each day. The Eco-Leaders are the first high school students in California (and the fourth in the nation) to participate in the EPA's Food Recovery Challenge. The program follows the EPA's Food Recovery Hierarchy of source reduction, food donation, and animal feed methods which are employed to maximize community and environmental value. Academic subjects are brought to life and connected to the community, while developing independent living skills and purpose. 
As a model program, the students at Ramona High School and their teacher have given numerous presentations and on-site demonstrations believing that everyone can "save the world." Guests have included representatives from municipalities, school districts, class clubs, teachers, government agencies, and advisory committees.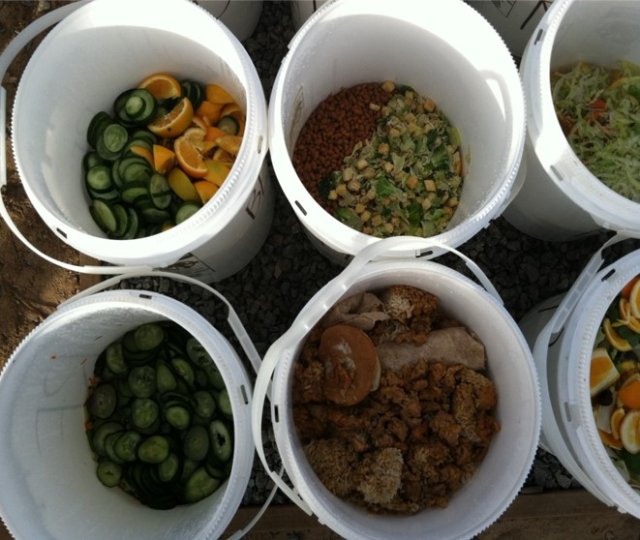 Food Scraps from the Eco-Leader Program