About the 2020 Food Recovery Challenge National Award Winners
The 2020 Food Recovery Challenge national award winners shared details and quotes about their wasted food prevention and diversion activities, and about their awards with EPA. Read about their accomplishments and how they achieved them. 
On this page:
---
Sprouts Farmers Markets #1
Maricopa, Arizona
Data-driven Winner, Grocers 
Sprouts Farmers Market has a robust Food Rescue Program where stores donate edible food, that is not in retail condition, to local food pantries and hunger relief agencies. Sprouts sends food that does not meet donation guidelines to local cattle farms or compost facilities. Sprouts uses meat rendering programs to process meat and seafood waste for more productive uses, and recycles the grease rendered from their roasted chicken program. In 2019, Sprouts Farmers Market #1 had a 2100 percent improvement in food waste diverted. 
"Working at Sprouts has given me a unique opportunity to interact with those serving some of the most vulnerable members of our local communities. Partnering with the Food Bank of South Jersey, we have volunteers pick up donations daily so we can get food directly to struggling families and their children, which is, in my opinion, one of the most impactful things you can do to directly serve your community. I'm proud to be able to take direct action to serve our local communities on behalf of Sprouts."—Levi Young, Receiving Manager
---
Martha's Vineyard Regional High School with Island Grown Schools
Oak Bluffs, Massachusetts
Data-driven Winner, K-12 Schools 
In 2019, Island Grown Schools (IGS), a local farm-to-school nonprofit, worked with students at the Martha's Vineyard Regional High School (MVRHS) to implement a food waste collection and diversion program. In late 2018, students did a food waste audit of the cafeteria trash from a day of lunch. Of 116.5 pounds of trash from the day of the audit, 63 percent was food waste, seven percent was recyclables, and 30 percent was actual trash. Students enacted a series of changes to address the waste issues in their cafeteria. The students encouraged cafeteria staff to purchase silverware and washable plates, removed a water bottle vending machine and installed a refill station, and created a food waste pick-up area. In 2019, MVRHS students and IGS staff rescued more than 25,000 pounds of food waste from the landfill and sent it to be processed into compost.
Another waste audit in January 2020 revealed that one-third of compostable food waste was mistakenly being put into the landfill bins. In response to this, students refined their signage efforts to better indicate where food waste should go in the cafeteria. Food waste separation was put on hold due to COVID-19, but efforts are underway to resume this project in the 2021–2022 school year.
"Our Leadership class was very interested in increasing both the quality and the quantity of the compost through educational signage. We had found that compostable materials were going into the regular trash, and that inappropriate items were going into the compost bins. We wanted students to better understand what could be composted, and where our compost goes, through the use of infographics."—Natalie Munn, MVRHS Science Department
---
Beth Israel Deaconess Medical Center
Boston, Massachusetts
Data-driven Winner, Medical Services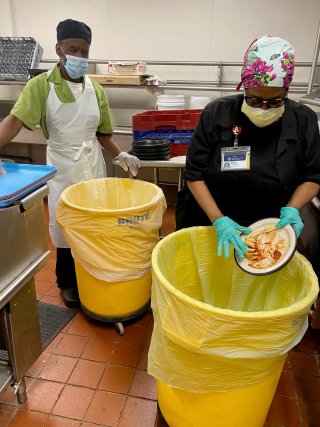 The Beth Israel Deaconess Medical Center (BIDMC) food service department tracks waste on daily production sheets. The culinary team and retail manager then process these data to identify trends and reduce wasted product. The production team uses reports from patient meal ordering software and historical data from retail sales to project menus and ordering. It is the position of hospital leadership that waste is disrespectful, and the department is continuously improving their waste reduction methods. Tracking the medical center's food waste requires continuous education and monitoring to ensure that all staff are reporting the waste accurately. Moving forward, the food service department is continuing to improve upon the waste tracking system by ensuring the development of implementation plans in their kitchens.
Beyond reducing food waste, the food service department is focused on capturing as much food waste as possible to send to an anaerobic digester in Charlestown, Massachusetts. All the kitchen staff are trained to capture pre-consumer and post-consumer waste along the patient tray line. BIDMC also offers collection bins in their cafeterias. In 2019, BIDMC captured 127.7 tons of food to be sent to the anaerobic digester, donated 0.1 tons of food, and captured 8.40 tons of oil and grease for recycling. 
"I was born at BIDMC, so I feel like I was intended to work here. I go up to the composter refrigerator four times a day (in an eight-hour shift). I fill three black barrels full of compost each day. And I try my best to keep it as pure as possible, but it takes a team to do this. The guys in the dish room do a good job helping to separate the compost."—Paul Kristeller, Food Service Worker, Tray Line and Sanitation
---
City of Philadelphia Department of Prisons
Philadelphia, Pennsylvania
Data-driven Winner, State/Local/Tribal Government
The City of Philadelphia Department of Prisons (PDP) diverted over 555,685 pounds of wasted food to compost operations, which saved the city approximately $19,000 in landfill fees. The composted material was donated to community gardens and church groups, as well as returned to grounds for use in PDP's orchard and greenhouses. Before composting at the PDP, the department sent food waste to local landfills or industrial garbage disposals.
PDP also partnered with Food Connect, a nonprofit organization and partner of Philabundance. Food Connect uses smart technology to pool resources and make deliveries efficient. They distribute organically grown food from the PDP Orchard Program to local food pantries. PDP is currently working with EPA to develop internal policies and procedures for distributing food produced at PDP. 
PDP's mission of self-sustainability is to integrate the food produced at the PDP and supplement the current food with healthy offerings for staff and inmates. This mission will be a challenge logistically, but PDP will achieve it. PDP has donated over 6,424 pounds of food to local food banks in fiscal year 2019. Food banks that PDP served include the following: Old Pine Community Center, Bread for Life Community Services (Transfiguration Baptist Church), Sunday Breakfast Rescue Mission, Everything Must Change in the Heart of the Community, Muhammad's Mosque, Why Not Prosper, and Feast of Justice. PDP has also donated over 100 pounds of food to New Foundations Charter School. PDP partnered with New Foundations to provide ongoing donations for their low-income population.
"This program enables participants to give back to the community, while obtaining new skills for potential job opportunities upon release."—Laura Cassidy, Director of Sustainability Operations, City of Philadelphia Department of Prisons
---
Chipotle of Lawrence
Lawrence, New York
Data-driven Winner, Restaurants and Food Service Providers
Chipotle of Lawrence has been donating excess food to Rock and Wrap it Up! (RWU) for nearly five years. Three times a week, RWU comes in the morning to collect extra, unserved food from the day before—mostly chips and leftover steak, and occasionally other items. Employees bag up the food and weigh it before giving it to RWU. Chipotle Lawrence has developed a friendly relationship with RWU and is proud to be able to help the local community.
"You can't take without first learning how to give! Why waste food when there are hundreds of people in need of it? Here at Chipotle Lawrence, we play our little part to spark a big impact."—Jared Cox, General Manager
---
Wilton Public Schools
Wilton, Connecticut
Data-driven Winner, Newcomer
Wilton Public Schools has begun a journey to reduce the amount of waste produced in its schools. With help from Wilton Go Green, Wilton Public Schools has developed individualized plans for each school to increase recycling, compost food scraps, and donate any uneaten food to those in need. The goals of the program include the following: minimize recycling contamination; divert liquids, recyclables, and food scraps from the waste stream; create a cleaner, more organized cafeteria experience; and increase awareness among the Wilton Public School community about the importance of everyday waste reduction. 
Wilton Public School District joined the Food Recovery Challenge program in 2019. In 2019, Wilton Public Schools composted an estimated 26,784 pounds of food. For more information, see the Wilton Zero Waste Schools Initiative website and this video about the Wilton School District. 
---
The Culinary Institute of America-San Antonio
San Antonio, Texas
Data-driven Winner, Colleges/Universities
The Culinary Institute of America (CIA) San Antonio diverts all food waste to composting facilities. The CIA has also reduced food waste in its student dining services by serving small plates and individual portions of items instead of buffet-style family meal service. The small plates allow a student to choose just what they would like to eat, versus having to take a full plate of food when they only want one thing. This prevents waste before it happens by allowing dining staff to prepare and serve less food than is needed for buffet-style service. 
Other waste reduction efforts from 2018 through 2021 included using reusable service ware, utensils, and plates when everyone else shifted to disposables during the pandemic. For example, CIA staff individually rolled metal silverware in paper napkins to create a silverware bundle for students every single day. The CIA estimates that this saved about 250 plastic forks, 250 knives, and 250 spoons from entering the waste stream every day. For the past 18 months, over 412,000 plastic utensils, 137,000 paper or plastic plates, and 200,000 paper or plastic cups were not used and discarded by CIA San Antonio students. 
CIA San Antonio also uses bulk beverage dispensers and reusable cups for family meals as another way to cut down on single use plastic beverage containers. CIA has cold water and juice dispensers in the dining room, so students can refill their own container or use one of the reusable glasses. 
Other reduction efforts on the San Antonio campus include sending used cooking oil to a local biofuel company for recycling, as well as collecting and diverting as many recyclables as possible. 
"Even the smallest effort can make a significant impact. Every bit counts and it is never too late to start a program or refresh one if the team has gotten lax about their efforts."—April Goess, Managing Director
---
Los Angeles County Public Works
Alhambra, California
Narrative Category Winner, Education & Outreach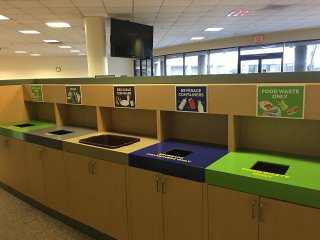 Through the Scrape Your Plate program, Los Angeles County Public Works collects food waste at their headquarters' cafeteria, twenty Public Works breakrooms, at special events on campus, and in field facilities across Los Angeles County. Through co-digestion, 9.5 tons of food waste are converted into electricity and biomethane each year. The cafeteria kitchen also source reduces 340 pounds of leftover food and separates 1,200 pounds of food waste for composting each year.
In 2019, Public Works developed a short Scrape Your Plate outreach video showing employees how to separate food waste and minimize contamination. The video was emailed to 4,000 employees and posted on Public Works websites. 
The Scrape Your Plate program was the first food waste recycling program launched at a Los Angeles County Department facility. The video is an example for County Departments implementing similar programs and educates viewers about the importance of recycling food waste. This effort is critical because California Senate Bill 1383 will require food waste recycling for all residents, businesses, and local government facilities starting January 1, 2022.   
Public Works developed outreach materials including photographs, signs, posters, and emails that can readily be adapted for use at other facilities. Public Works also helps other County Department facilities plan and implement their own programs by giving presentations, making site visits, and providing necessary information. 
One implementation challenge has been accurately estimating the amount of food waste collected. When the program was developed, the initial calculations based on waste characterization studies were a significant overestimate. Through continual monitoring, Public Works was able to better estimate actual food waste collection. In 2019, Public Works reduced the food waste collection service level, resulting in an annual savings of nearly $3,500.  
"Los Angeles County is proud to serve as a regional leader in sustainable waste management. We engage and inform employees and visitors about organic waste recycling through our Scrape Your Plate outreach campaign and strive to reduce landfill disposal and harmful methane emissions."—Mark Pestrella, PE, Director of Public Works
---
Food Forward
North Hollywood, California
Narrative Category Winner, Leadership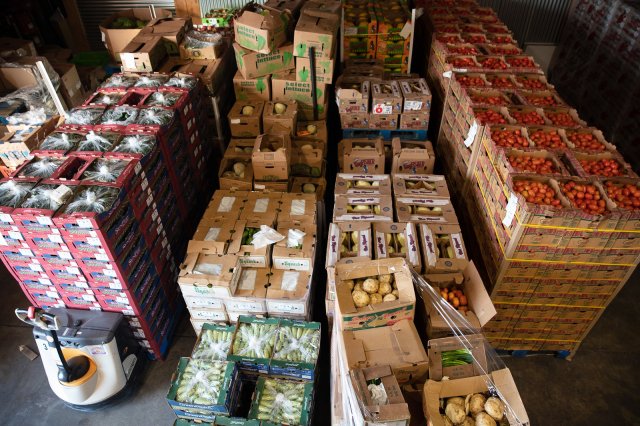 Food Forward is southern California's largest urban food recovery organization. With a small staff and many trained volunteers, Food Forward recovers surplus fruits and vegetables from fruit trees, farmers markets, and the Los Angeles Wholesale Produce Market and surrounding district. This produce is kept out of landfills and donated to hundreds of hunger relief agencies across southern California, providing nourishment for food insecure individuals. In June 2019, Food Forward opened its first warehouse space, the Produce Pit Stop, setting a new standard for large-scale wholesale produce recovery. 
In 2019, Food Forward recovered 25.5 million pounds of surplus fruits and vegetables from wholesale vendors, a 16 percent increase from the amount Food Forward recovered in 2018. This is equivalent to preventing 7,163 metric tons of CO2 from entering the atmosphere. Food Forward donated this produce directly to 55 agency partners, many of whom donated to hundreds of additional regional hunger relief partners. The Produce Pit Stop expanded Food Forward's capacity for recovered produce and provided the infrastructure to create "mixed pallets" with assorted produce varieties to better serve partners' food insecure clients.
While opening the Produce Pit Stop was a major improvement for the Wholesale Produce Recovery program, it was an adjustment for the Food Forward team. The team put substantial time and energy into implementing new equipment and vehicles, intensive training on new produce inventory tracking software, overseeing construction, and developing new storage and transport systems. Food Forward also integrated new workflows and logistics. The major lesson learned was the need to remain flexible and adaptable through times of growth; the organization is incredibly proud of the Wholesale Produce Recovery team's resilience and ability to adapt.  
"For the first time since the program's inception over five years ago, our Wholesale Produce Recovery staff has a permanent roof over their heads. This crew's collective efficiency, reach, and commitment is on display in every one of the Produce Pit Stop's 8,000 square feet."—Rick Nahmias, Founder/CEO
---
Food Rescue Partnership
Davenport, Iowa
Narrative Category Winner, Endorser
The Food Rescue Partnership (FRP) is a coalition in the Quad Cities of Iowa and Illinois that promotes rescuing food for its best possible use to achieve the vision of a Quad Cities community dedicated to eliminating food waste. The FRP aims to achieve this goal by providing food rescue education to professional food establishments, retail food stores, and the community at large.
Throughout 2019, the FRP provided information on the EPA Food Recovery Challenge to 12 establishments throughout the Quad Cities: Genesis East, TBK Bank Sports Complex, Hurts Donuts, Cheesy Cow Mac and Cheesery, The Foundry, Mama's Parlor Café & Catering, The Tangled Wood, Portillo's, Freshii, Riverfront Grill, The Combine, and the Moline Airport. 
In 2019, the FRP created table tents with the University of Northern Iowa's Iowa Waste Reduction Center to promote FRP membership and food waste reduction strategies for at-home consumers. They then distributed the table tents to Ross' Restaurant and Davenport Elks Lodge. The FRP hoped the table tents would attract customers' attention in an ideal setting for focusing on food waste and food recovery issues as diners wait for their food, thereby increasing community awareness and providing a call to action for other food establishments to join in the Food Recovery Challenge's effort to reduce food waste.
"The Food Rescue Partnership educates local food establishments about food recovery, so it was a natural fit to become an endorser of the EPA Food Recovery Challenge. Our local Food Rescue Recognition Program continues to expand. There are 19 establishments recognized for their exemplary food recovery efforts that feed hungry people, feed animals, or compost. Through the collaborated efforts of our stakeholders and community partners, the FRP has diverted more than 53,600 pounds of food from the landfill."—Christina McDonough, FRP Board Chair