Tijuana River Watershed NEPA Public Scoping
United States-Mexico-Canada Agreement (USMCA) Implementation Act
The National Environmental Policy Act (NEPA) was signed into law on January 1, 1970. NEPA requires federal agencies to assess the environmental effects of their proposed actions prior to making decisions.
Public Scoping
A NEPA public scoping meeting for the USMCA Mitigation of Contaminated Transboundary Flows Project was held virtually on April 20, 2021. The meeting consisted of a formal presentation and was followed by a public comment period.
Written public comments were due to EPA by May 20, 2021. The scoping process provides an opportunity for citizens to provide input on the range of issues to be addressed, potential impacts or possible alternative actions, relative effects of past actions, or any other concerns.
View a recording of the NEPA public scoping meeting held on April 20, 2021 below:
---
Notice of Intent
On April 5, 2021, EPA published a Notice of Intent (NOI) in the Federal Register to prepare an environmental impact statement, notice of a virtual public scoping meeting, and request for comments.
In accordance with NEPA, EPA will prepare an environmental impact statement (EIS) for the proposed USMCA Mitigation of Contaminated Transboundary Flows project. The USMCA Project involves the planning, design, and construction of infrastructure to reduce transboundary flows of untreated wastewater (sewage), trash, and sediment that routinely enter the U.S. from Mexico via the Tijuana River, its tributaries, and across the maritime boundary along the San Diego County coast.
This notice initiates the scoping process by inviting comments from federal, state, and local agencies; Native American tribes; interested stakeholders; and the public to help identify the environmental issues and project options to be examined in the EIS. EPA is providing notice of the public scoping meeting that is open to all interested parties.
View the Federal Register Notice of Intent (3 pp, 263 K, About PDF)
---
Project Options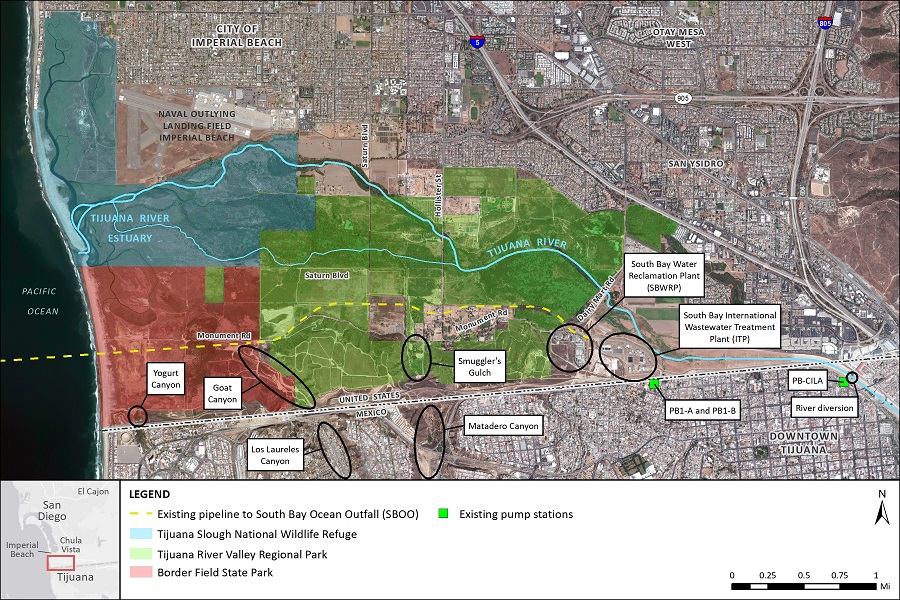 Projects / Proyectos
Overview of Projects / Resumen del Proyectos
---
USMCA Tijuana River Watershed Activities
For more information on ongoing work related to the USMCA and the Tijuana River Watershed, visit USMCA Tijuana River Watershed.