Regional Profile for EPA Region 8
This section examines TRI reporting in EPA Region 8. Region 8 includes Colorado, Montana, North Dakota, South Dakota, Utah, Wyoming and 28 tribes.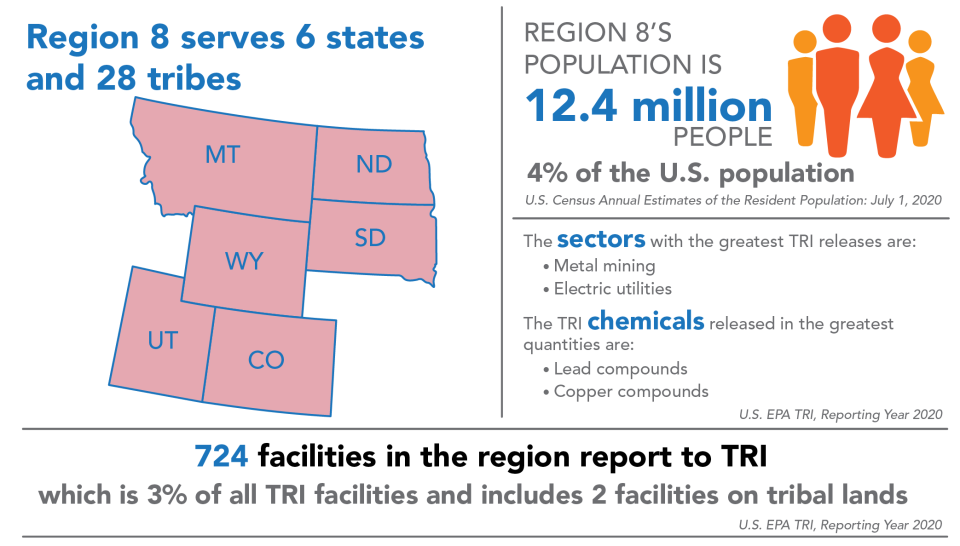 For state- and tribe-specific TRI data, see the Where You Live section and the Tribal Communities section.
Industry Sectors
This chart shows the industry sectors with the most TRI-reporting facilities in Region 8.
Note: Percentages do not sum to 100% due to rounding.
In 2020:
724 facilities in Region 8 reported to TRI, similar to reporting for 2019. The sectors with the most facilities were the nonmetallic mineral products (including cement manufacturing), chemical manufacturing, and food manufacturing sectors.
While the figure shows the sectors with the most TRI facilities in the region, the sector that reported the largest TRI releases in Region 8 was the metal mining sector, which accounted for 56% of releases reported in the region. After metal mining, the electric utilities, primary metals (including smelters), and chemical manufacturing sectors reported the largest releases. Note that relatively few facilities in the metal mining and primary metals sectors reported to TRI in this region and those sectors are included in "All Other Sectors" in the pie chart above.
---
This page was published in March 2022 and uses the 2020 TRI National Analysis dataset made public in TRI Explorer in October 2021.