Base Closure in Texas
There are 6 federal facilties/base closures in Texas. To learn more about each location, click on the headings below:
Former Bergstrom AFB location on Texas Map

Bergstrom AFB, now called Austin-Bergstrom International Airport (ABIA), was one of the most dramatic military conversions ever accomplished. The city was poised to buy land for a new airport, but fortunate timing of the Base Realignment and Closure (BRAC) round of 1991 allowed Austin to convert the closed air base into an international airport. All 3,197 acres have been transferred to the city for its use.
Background
Bergstrom Air Force Base is located approximately seven miles southeast of downtown Austin, Texas. It began operations on September 19, 1942. During it's more than 50 years of use, a variety of hazardous and non-hazardous materials were used that may have impacted the environment.
Contaminants
Volatile organic contaminants (VOCs), pesticides, petroleum hydrocarbons, metals, and low-level radioactive waste.
Media Affected
Groundwater and soil.
Remedial Actions
All remedial actions have been implemented. Contaminated soil has been excavated and landfill caps installed. Landfill maintenance and long-term groundwater monitoring continue.
The new ABIA represents a perfect match between meeting the needs of the community and making closing military installation facilities available for reuse. This base was placed on a fast-track cleanup schedule so it could meet the airport's opening deadline of April 1999. A team of city and state agencies, EPA Region 6 and the Air Force Base Conversion Agency, now known as the Air Force Real Property Agency, expedited site investigation and cleanup plans. Environmental cleanup was integrated with the construction of ABIA to facilitate and expedite the property transition. The City of Austin estimates it saved $200 million in land acquisition and runway construction costs alone by transforming the former AF base into the $690 million international airport.
EPA Contact
Chuck Hendrickson (6PD-F)
U.S. Environmental Protection Agency
1445 Ross Avenue, Suite 1200
Dallas, Texas 75202-2733
(214) 665-2196
FAX (214) 665-7263
E-MAIL Address: hendrickson.charles@epa.gov
State Contact
Abigail Power
Texas Commission on Environmental Quality
Remediation Division - Corrective Action Section
P.O. Box 13087
Austin, Texas 78711-3087
(210) 403-4060
FAX (512) 239-2346
E-MAIL Address:  Abigail.Power@tceq.texas.gov
Facility Contacts
BRAC Environmental Coordinator
Mark K. Davis
AFRPA-EXC
2261 Hughes Ave., Suite 121
San Antonio, TX 78236-9821
(210) 395-8271
E-MAIL Address: mark.davis.5@us.af.mil
Christiana Hewitt
AFRPA-EXC
2261 Hughes Ave., Suite 121
San Antonio, TX 78236-9821
Christiana.hewitt.ctr@us.af.mil
Carswell AFB location on Texas Map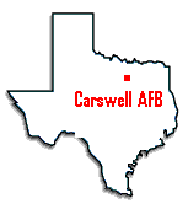 Carswell is a 3,253 acre former Air Force Base on the west side of Fort Worth, Texas. Carswell was selected for closure under the Base Realignment and Closure (BRAC) round of 1991. The majority of the base was realigned as the Naval Air Station/Joint Reserve Base, Fort Worth. A federal prison has taken over 104 acres, including the former base hospital. Approximately 303 acres were transferred to the Westworth Redevelopment Authority (WRA) for multi-use redevelopment. The off-base 247-acre Weapons Storage Area was transferred to the Army as a joint-use reserve training facility. A small part of the base was realigned to the adjacent Air Force Plant No. 4. All property transfers were completed Summer 2007. There is a National Priorities List (NPL) trichloroethene (TCE) groundwater plume that extends under the golf course property on the main part of the former base from Air Force Plant No. 4, which has been designated a Superfund Site. The TCE plume under the golf course property is being addressed by a permeable reactive barrier (PRB) that was constructed in 2002. An Explanation of Significant (ESD) was issued addressing the fact the plume under the golf course would no longer be on federal property after the golf course was transferred.
EPA Contact
Noel Bennett
U.S. Environmental Protection Agency
1201 Elm Street, Suite 500
Mail Code 6LCR-RC
Dallas , Texas 75270
(214) 665-8514
E-MAIL Address: bennett.noel@epa.gov
State Contact
Timothy Harlow
Texas Commission on Environmental Quality
Remediation Division
P.O. Box 13087
Austin, TX 78711-3087
(512) 239-3150
E-MAIL Address: timothy.harlow@tceq.texas.gov
Facility Contact
Gordon Smith (AFCEC/CIBE)
3515 So. General McMullen Dr.
San Antonio, TX 78226-1710
(210) 395-7929
E-Mail Address: elmer.smith.3@us.af.mil
Dallas Naval Air Station location on Texas Map
Former Dallas Naval Air Station Background: The City of Dallas established Hensley Field near Dallas in August 1929 as a training field for reserve pilots. The facility was named for flying instructor Major William N. Hensley in the 1920s and one of the few on board the first trans-Atlantic dirigible crossing in 1919.
The city leased the site to the United State Army for a dollar a year. The field became the Air Corps Reserve Base in the Eighth Corps Area. At the beginning of World War II the Army extended their lease to 40 years. In March 1941, the Navy began maintaining operations at the base and shortly afterward established a naval reserve training base on 160 acres (0.7 km2) adjacent to Hensley Field.
In December 1941 Hensley Field became headquarters of the Midwest Area of the Air Corps Ferrying Command, after Maj. Thomas D. Ferguson, commander of the field, was made control officer for the Middle West Area of the United States. The installation was closed in 1998 as part of the 1993 Base Realignment and Base Closure conducted by the Department of Defense, but partially reopened in the early 21st-century to accommodate military training requirements.
The base was later re-commissioned as it is today, with the half that housed the aircraft-related facilities (such as the runway, hangars, etc.) going to the Texas Air National Guard, and the half with the bulk of non-aircraft related facilities going to the Army Reserves and a small area to Marine Force Reserve. Vought Aircraft Industries operates a government-owned, contractor-operated (GOCO) plant adjacent to NAS Dallas.
Site Status
Currently, all soil cleanup activities have been completed at the site. Only groundwater remediation activities remain. Under an agreement with the City of Dallas and the U.S Navy, all remediation must meet the State of Texas (Texas Commission on Environmental Quality) residential cleanup numbers for contaminants. The residential standard applies to all media (soil, groundwater, surface water, sediments, etc.). This agreement also requires the Navy to clean up the groundwater by 2017. The groundwater cleanup remedy chosen by the Navy is monitored natural attenuation.
However, in January of 2009, the Navy submitted to TCEQ a proposed change in the monitored natural attenuation remedy for some of the TCE groundwater plumes at NAS Dallas. The newly proposed remedy, called a plume management zone, would require the Navy to monitor the plume periodically, but would not require the cleanup of the TCE. The Navy would have to ensure that there were no unacceptable exposures to TCE for each media pathway (groundwater, surface water, sediment, etc.). As of April of 2012, the land owner, the City of Dallas, has not agreed to this change; therefore, a different remedy must be implemented by the Navy. Also, the indoor air pathway of buildings located above TCE groundwater plumes at NAS Dallas must be addressed. EPA has recommended to TCEQ that if a building (non-industrial use) is occupied above a TCE groundwater plume, then indoor air sampling should be performed at that building. There are currently four occupied buildings at NAS which are located above a TCE plume. The Navy has proposed to TCEQ to sample these buildings for indoor air (TCE) sometime in 2012.
EPA Contact
Rich Mayer (6PD-F) U.S Environmental Protection Agency
1445 Ross Avenue, Suite 1200
Dallas, Texas 75202-2733
(214) 665-7442
FAX (214) 665-7263
E-MAIL Address: mayer.richard@epa.gov
State Contact
Allan Posnick
Texas Commission on Environmental Quality
Remediation Division
P.O. Box 13087
(512) 239-2332
FAX (512) 239-2346
E-MAIL Address: aposnick@tceq.texas.us
Navy Contact
David Criswell
U.S. Navy
4130 Faber Place Drive
North Charleston, SC 29405
(843) 743-2130
FAX (843) 743-2142
E-Mail Address: david.criswell@navy.mil
Kelly AFB location on Texas Map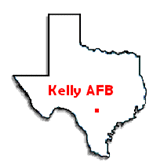 Kelly AFB was established in 1917 and closed in 2001. The site consists of 4017 acres; about half was realigned to Lackland Air Force Base (including the runways) and the other half has been transferred to the Port San Antonio for redevelopment as an air, rail, and logistics, aerospace and industrial complex. Port San Antonio was created as a political subdivision of the State of Texas to redevelop the base to support growth for the region's economy. It is run like a business and is self-sustaining; its income is derived from customers and leased properties. In 2010 the Port San Antonio was named Base Redevelopment Community of the Year in recognition of their efforts to transform Kelly into a center of commerce and innovative development which is serving as a growing economic engine for the region.
The former Kelly AFB attained whole-base transfer in September 2010 when the Air Force demonstrated to EPA that necessary remedial actions were in place and operating properly and successfully. The transfer agreement requires the Port to allow the Air Force to continue cleanup and monitoring as long as necessary to meet EPA requirements and the Texas Commission on Environmental Quality's (TCEQ's) groundwater protection standards (GWPS).
EPA Region 6 and TCEQ have participated throughout the closure and cleanup process, providing technical guidance, regulatory oversight, and attending public meetings. A citizen's Restoration Advisory Board still meets regularly to gain input from the public and disseminate information. The TCEQ now has primary responsibility for regulatory oversight through a Permit and Compliance Plan. Remediation may continue for another 20 years in some areas onsite.
Watersheds
Kelly is located on an alluvial area consisting of sand, gravel, silt, and clay. The shallow aquifer depth varies from about 1 foot to 35 feet below ground. Below that, the Navarro Clay is an aquitard which extends to about 400 feet below ground and blocks shallower groundwater from moving deeper. Contamination from Kelly does not affect the Edwards Aquifer; the Edwards recharge area is located farther to the northwest in the Hill Country. The eastern side of Kelly drains southeastward toward Six Mile Creek and the San Antonio River. The central and western portions of Kelly drain toward Leon Creek. Leon Creek has a mostly urban drainage area of 237 square miles and discharges to the Medina River and then the San Antonio River. Numerous ditches and urban stormwater outflows make up the majority of surface water flow but groundwater seeps also contribute to surface water flow. About two miles of Leon Creek are within the boundaries of former Kelly. Specific uses in this area designated by the State are primary contact recreation, public water supply, and high-quality aquatic life.
The Air Force initiated the Leon Creek Monitoring Program in 1989 to document the physical, chemical, and biological conditions and trends of the creek upstream, adjacent, and downstream of Kelly. The monitoring program includes surface water and sediment sampling, toxicological and biological monitoring, and measurements of water flow and elevation at more than 50 locations. It provides information for risk assessment, data for permitted outfalls, differentiation between on- and off- base sources, and information to refine the groundwater/surface water interface conceptual model.
Contamination and Cleanup
Kelly operated as an airfield, supply and fuel depot, and aircraft maintenance and repair facility which included parts cleaning, stripping, painting, and metal fabrication and plating. Primary contaminants included degreasers and solvents such as TCE, PCE, benzene, chlorobenzene, petroleum products, chromium, and other industrial waste components.
Numerous cleanup mechanisms are in use based on the individual site situation, such as:
building demolition
soil and building foundation excavation and removal
groundwater extraction and recovery for treatment and to prevent migration
permeable reactive barriers to treat groundwater and allow it to flow through
electric resistance heating to volatize and extract organics
trenches, slurry walls, and impermeable barriers to divert groundwater and recover contaminants
injection of biological materials to enhance aerobic and anaerobic degradation
bioventing to enhance biological degradation
soil vapor extraction to remove volatized contaminants
institutional controls
natural attenuation
The TCEQ Compliance Plan requires long term monitoring to continue. An extensive semi-annual Compliance Plan report is prepared. This document describes ongoing monitoring and remediation and makes recommendations for future activity. Nearly 1000 wells on and off site are regularly sampled. This information is used to evaluate groundwater flow conditions, ongoing cleanup relative to the GWPS, well functions in order to make adjustments such as repairing, redeveloping, replacing, or adding new wells, and altering treatment methods to address any problems and increase effectiveness.
Contaminant sources have been identified and removed or isolated. Remaining contamination, mainly related to TCE and PCE in groundwater, is declining. Smaller areas onsite, containing other contaminants such as benzene and chlorobenzene, are also generally declining. A few areas show increasing concentrations which may be due to plume migration, barrier bypass, or incomplete treatment; they are receiving extra scrutiny and additional aggressive treatment if necessary. Systems in place are designed and working to prevent additional contamination from migrating offsite. Nearly 200 recovery and extraction wells are located within Kelly and the surrounding area.
The GWPS for TCE and PCE is 5 ug/L. The areas with the highest concentrations above GWPS are confined onsite. Large groundwater plumes containing TCE and PCE above the GWPS also extend nearly three miles offsite to the east of Kelly. The extent is becoming smaller and concentrations have substantially declined since the Kelly sources were cut off or removed. Most areas are less than 20 ug/L (TCE) and 10 ug/L (PCE). Small areas with higher concentrations are located adjacent to Kelly and are receiving aggressive treatment.
Recent monitoring at Leon Creek surface water stations and sediment stations near locations where groundwater is known to seep into the creeks indicates that the existing Kelly groundwater treatment systems appear to be preventing migration to the creek.
Vapor Intrusion Study
In May 2008 and February 2009 EPA R6 investigated three residential areas to determine if soil gas from offsite groundwater plumes could be a potential pathway to indoor air. Samples were collected in both hot and cold seasons to account for different weather conditions. All of the samples were well below TCEQ action levels and only three samples exceeded the screening level; one of those was probably due to interference from products in the household. The data and information was personally provided to each individual homeowner, to a local Congressman, and in public meetings. No additional work is planned.
Summary
Groundwater contamination above TCEQ's GWPS exists at Kelly, with the highest concentrations on site. Sources have been identified and removed or contained. Remaining offsite plume concentrations and extent, mainly containing TCE and PCE, are declining. Extensive monitoring is in place. TCEQ is actively involved with the site and the Air Force has pursued additional remediation when necessary. The property was transferred to the Port San Antonio which has allowed additional economic development and job creation for the area.
EPA Contact
Kathy Thomas (6PD-F)
U.S. Environmental Protection Agency
1445 Ross Avenue, Suite 1200
Dallas, Texas 75202-2733
(214) 665-2229
FAX (214) 665-7263
E-MAIL Address:Thomas.kathryn@epa.gov
State Contact
Mark Weegar
Texas Commission on Environmental Quality
Remediation Division - Corrective Action Section
P.O. Box 13087
Austin, Texas 78711-3087
(512) 239-2360
FAX (512) 239-2346
E-MAIL Address: mweegar@tceq.state.tx.us
Facility Contact
Norma Landez, BRAC Environmental Coordinator
143 Billy Mitchell Blvd, Suite 1
San Antonio , Texas 78226-1816
(210) 925-3100, ext 311
FAX (210) 925-3511
E-MAIL Address: norma.landez@afrpa.pentagon.af.mil
Red River Army Depot Map Location in Texas
Background
The Red River Army Depot (RRAD) is an active United States Army Facility covering 19,081 acres in northeastern Texas in Bowie County. 765 acres have been, or are scheduled for, transfer under the 1995 Base Realignment and Closure (BRAC). The remaining 18,316 acres were on the proposed BRAC 2005 list.
However, after the final Commission decision, RRAD was not closed but was realigned. Under BRAC 2005, approximately 5,000 acres were transferred to the Local Redevelopment Authority. The Lone Star Army Ammunition Plant (LSAAP) is located adjacent to RRAD and will be closed under BRAC 2005. LSAAP consists of 15,546 acres. The major operational facilities on RRAD include maintenance and reconstruction of light-tracked vehicles; demilitarization of out-of-specification ordnance; ammunition storage; renovation, maintenance, modification, rectification of the Hawk, Chaparral, and Patriot missiles; and track- and road-wheel rebuilding of a wide variety of specialty vehicles. The majority of the acreage is used for ammunition storage and/or timber management.
Major Issues at RRAD
RRAD has known groundwater contamination under the various manufacturing buildings at the Site. In addition, a Dense Non-Aqueous Phase Liquid (DNAPL) plume has also been encountered under the storm water conveyance ditches at depths down to 35 feet. This DNAPL will act as a continuing source to contaminate groundwater for the foreseeable future. In order to protect Panther Creek, two permeable reactive barriers (PRBs), specifically, mulch biowalls, were installed. There is also known sediment contamination off-post in Panther Creek.
Site Status
The groundwater contaminant plume has migrated towards Panther Creek and has historically impacted Panther Creek. The mulch biowalls are acting as a barrier to prevent any further contamination of Panther Creek. They cause the contaminated groundwater to be remediated in the PRB prior to reaching Panther Creek.
Environmental Threat
Historically, the EPA and Texas Commission on Environmental Quality (TCEQ) have had numerous discussions with RRAD concerning the impacts to Panther Creek and off-post groundwater mitigation. Remedial measures have been taken to mitigate the continued impacts to Panther Creek and the groundwater (particularly off-post groundwater).
RRAD issued a performance based contract (PBC) to KEMRON Environmental Services in 2006. RRAD must complete an Operating Properly and Successfully (OPS) determination before the final Finding of Suitability to Transfer (FOST) can be made.
Site Contaminants
Congressional Interest
Since RRAD and LSAAP were both on the BRAC 2005 list, historically, there has been a high level of congressional interest. Information Current as of April 24, 2012
EPA Contact
Greg Lyssy (6PD-F)
U.S. Environmental Protection Agency
1445 Ross Avenue, Suite 1200
Dallas, Texas 75202-2733
(214) 665-8317
FAX (214) 665-7263
E-MAIL Address: lyssy.gregory@epa.gov
State Contact
Kirk Coulter
Texas Commission on Environmental Quality
Federal Facilities Team
P.O. Box 13087
Austin , Texas 78711-3087
(512) 239-2572
FAX (512) 239-2346
E-MAIL Address: kirk.coulter@tceq.texas.gov
Facility Contact
Ross Ramsauer, BRAC Environmental Coordinator
100 Main Drive, SIORR-BTO
Red River Army Depot
Texarkana, Texas 75507-5000
(903) 334-2594
E-MAIL Address: ross.ramsauer @us.army.mil
Reese AFB Map location on Texas Map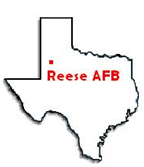 Reese AFB closed in 1997 as a result of the 1995 round of BRAC base closures. It formerly occupied about 2,987 acres west of Lubbock, Texas. A 520- acre outlying field in Terry County was sold to an individual. The remaining property has been transferred to the Lubbock-Reese Redevelopment Authority. A total of 22 Solid Waste Management Units and numerous areas of concern were investigated and remedies have been put in place. Remedies included: SVE (Soil Vapor Extraction), groundwater pump-and-treat, soil removals, and capping of a large landfill. Operating Properly and Successfully (OPS) demonstrations were approved by EPA for the Southwest Landfill Area Plume and the POL Area in February 2004; final groundwater closure of these two sites was approved by TCEQ in September 2013. The Tower Area Plume extends off base approximately 2.5 miles. The major contaminant is TCE (trichloroethene, a solvent), which impacts private wells east-northeast of the base. While the on-site cleanup is part of the Compliance Plan issued by TCEQ, the plume is also subject to a RCRA 7003 order issued by EPA in 1993. A requirement of the 7003 order is that the Air Force provide an alternative drinking water source to the impacted homeowners; this requirement is being phased out as cleanup of the Tower Area Plume nears completion. The EPA approved an OPS document for the Tower Area Plume in 2006. An enhanced groundwater remediation system was implemented 2007-2010, greatly reducing the contaminant plume. Cleanup goals are nearly met for the Tower Area Plume, with final cleanup expected in 2015 or 2016.
EPA Contact
Chuck Hendrickson (6PD-F)
U.S. Environmental Protection Agency
1445 Ross Avenue, Suite 1200
Dallas, Texas 75202-2733
(214)-665-2196
FAX (214)-665-7263
E-MAIL Address: hendrickson.charles@epa.gov
State Conact
Maureen Hatfield
Texas Commission on Environmental Quality
Remediation Division - Corrective Action Section, MC-127
P.O. Box 13087
Austin, Texas 78711-3087
(512) 239-2034
E-MAIL Address: Maureen.Hatfield@tceq.texas.gov
Facility Contact
Stanley G. Pehl, REM
BRAC Program Manager
AFCEE/CIBW
2261 Hughes Avenue, Suite 155
Lackland AFB, TX 78236-9853
(210) 395-8277
E-Mail Address: stanley.pehl@us.af.mil