Tribal Onsite Sewage Treatment in Region 9
Septic systems and advanced onsite wastewater treatment technologies rely on soil to treat sewage and sanitary wastewater. In some areas of Region 9, nitrates from onsite systems have degraded ground water. Nitrate contamination in aquifers may also indicate the presence of other onsite system contaminants, such as viruses. Contamination from onsite systems can result from:
Poor siting
Poor design
Excessive loading
When properly sited, constructed, operated and maintained, onsite wastewater treatment systems do not endanger underground sources of drinking water. Where these systems provide higher levels of treatment, they may actually serve as a valuable source of aquifer recharge (check state and local reuse standards).
When is an onsite wastewater treatment system a Class V well?
At least one of these criteria must be met:
The system has capacity to serve 20 or more persons per day.
The system receives non-sanitary waste, such as that generated by manufacturing, chemical processing, industrial fluid disposal, automotive repair or recycling, or if the system receives sewage containing biocidal agents (such as sewage from recreational vehicles or portable toilets.)
If you own or operate a system that meets one of these criteria, you must submit inventory information using this online form, or, if you prefer to mail it to EPA, use Form 7520-16: Inventory of Injection Wells and mail it to the Tribal UIC Wastewater Contact listed below.
NOTE: Single family residential septic systems receiving only sanitary waste are not regulated as Class V injection wells but are subject to local and state regulations.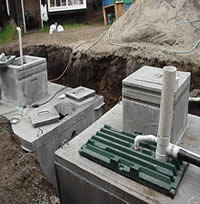 Residential septic tank installation in Santa Cruz County, CaliforniaLocal and state regulations apply to onsite wastewater systems throughout Region 9. Injection well owners are responsible for determining all applicable requirements for their system. In addition to the inventory requirement noted above, all onsite sewage treatment systems must comply with the requirement to not endanger underground sources of drinking water found at 40 CFR part 144.12. No other specific federal requirements apply to these systems, however, EPA may impose further requirements (e.g., permitting on a case-by-case basis).
Tribal UIC Wastewater Program Manager
Leslie Greenberg (greenberg.leslie@epa.gov)
Drinking Water Protection Section (WTR-3-2)
US EPA Region 9
75 Hawthorne Street
San Francisco, CA 94105
(415) 972-3349
---